Location
The Secret Garden at the Rectory
711 Princess Street
Alexandria, VA 22314
About this event
Thursday, April 7 | 5pm, 6:30pm
The Immortal Beloved: Love Through the Sound of the Cello
Amit Peled, cello | Allison Freeman, piano
After a breathtaking debut with sold-out performances in the Secret Garden in April 2021, internationally renowned Israeli-American cellist Amit Peled and his 1695 instrument by the Italian master Giovanni Grancino make a return appearance for a program built around the passion, seduction, longing, and despair of Beethoven and Brahms's hidden love affairs.
This program named after Beethoven's famous letter to an unnamed love, (Dear Immortal Believed) is a celebration of two significant works by lifelong bachelors Beethoven and Brahms. Both wrote glorious music and had a life of many unrequited love affairs.
The weighty and plaintive Brahms Cello and Piano sonata in E minor with its explosive end where both the pianist and cellists fingers fly at an incredible pace, and the masterpiece that is Beethoven's Cello Sonata No. 4 in C major will never sound as up close and personal as in our Spring Garden.
* A glass of Riesling will be served
"A glowing tone, a seductive timbre and an emotionally pointed approach to phrasing that made you want to hear him again" The New York Times
"Fiery and intelligent, Peled really shone in a bold and dramatically conceived interpretation" The Strad Magazine
Concerts are presented at 5pm and 6:30pm. Concerts are planned for the Secret Garden and could be moved indoors or please note the rain date will be Friday.
The Program
Beethoven: Cello Sonata No. 4 in C major, Op. 102, No. 1, Free Sonata
(for cello and piano)
I. Andante - Allegro vivace
II. Adagio - Tempo d'Andante - Allegro vivace
Composed: 1815 (age 44-45)
Published: 1816, Bonn: Simrock (age 45-46)
Brahms Cello Sonata No. 1 in E minor, Op. 38
entitled "Sonate für Klavier und Violoncello", was written by Johannes Brahms in 1862–65.
Composed: 1862 –65
Publisher: Simrock
The event is made possible with the support of the Embassy of the Federal Republic of Germany, Washington DC
As well as Mitchell Hertz & Anne Carlucci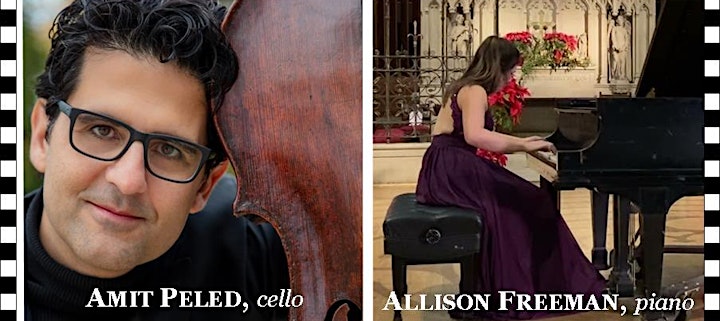 AMIT PELED
Praised by The Strad magazine and The New York Times, internationally renowned cellist Amit Peled is acclaimed as one of the most exciting and virtuosic instrumentalists on the concert stage today. Having performed in many of the world's most prestigious venues, including Carnegie Hall and Alice Tully Hall at the Lincoln Center in New York, the John F. Kennedy Center for the Performing Arts in Washington D.C., Salle Gaveau in Paris, Wigmore Hall in London, and the Konzerthaus Berlin, Peled has released over a dozen recordings on the Naxos, Centaur, Delos, and CTM Classics labels. Musical America named Peled one of the Top 30 Influencers of 2015.
ALLISON FREEMAN
Allison Freeman is an award-winning pianist and is equally established as a soloist and collaborator. She earned her Master's degree at the Peabody Conservatory of Johns Hopkins University, and her undergraduate studies at Oberlin Conservatory. Allison currently works as a collaborative pianist at the Peabody Conservatory.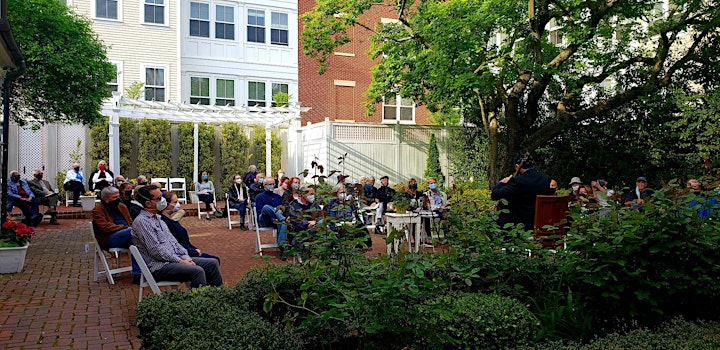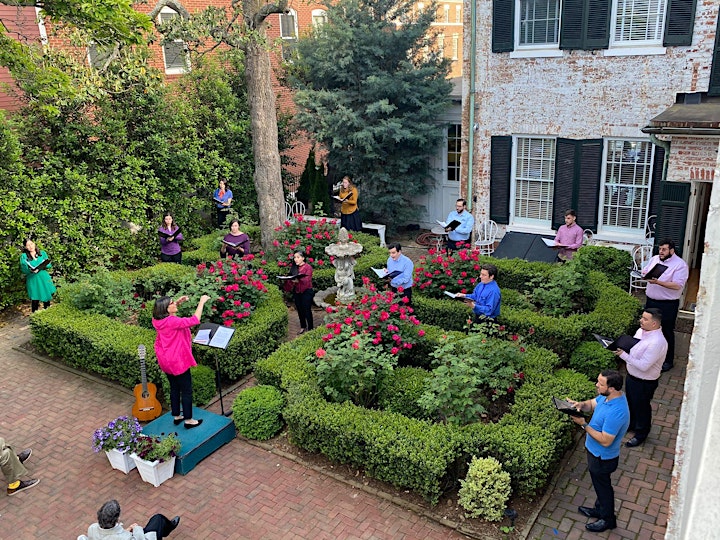 Classical Movements will take precautions to limit the risk as much as within our power and requests the cooperation of the audience in these preventative measures, so that we can again enjoy live music and support musicians in our community. Audience members are required to wear masks, as will staff and musicians when not performing.
Due to COVID, guests are strongly encouraged to avoid using public restrooms. If needed, restrooms will be available upon request.
Please note: Seating will be provided for concerts. Chairs will be socially distanced between individuals or groups. To maximize social distancing, seating will be assigned by the presenters.
Tickets are non refundable.
Classical Movements has a small fund to offer limited discounted tickets to veterans, students, underprivileged families, and disabled concert-goers, with the generous support of John H. Hart and Musical Movements for Change. Please contact us for more information.
For ticket requests and wheelchair accessibility; please contact Alessandra@ClassicalMovements.com or call (703) 683-6040, ext. 203 for special accommodations.
Tickets and seating assignments will be communicated by email the day prior the concert. All seats have a clear view of the stage.
Additional important instructions, tickets and concert programs will be provided by email only.
Classical Movements will provide more information about alternative forms of transportation to access The Rectory on Princess Street, 711 Princess St by email before the event. You can also go to https://www.alexandriava.gov/GOAlex for more information about available options. We encourage all patrons to park off-street through the provision of nearby garages or lots. Many parking garages and lots are located conveniently in the area. There is a parking garage at N. Alfred St Garage, 117 N. Alfred St, $5/hr ($25 daily max, $10 evening max) and a surface parking lot at Cameron/St Asaph Lot, 517 Cameron St, $2.50/hour ($10 daily max, $5 evening/weekend max). Visitors are encouraged to bike, walk or take the Metrorail Yellow or Blue lines to the King Street Station and take the free King Street Trolley, or DASH or Metro buses. For DASH schedule information visit, www.dashbus.com. For Metrobus schedule information, visit www.wmata.com. Bicyclists may visit www.alexandriava.gov/GOAlex for the City's Bikeways Map, which features the City's best on-street and off-road bikeways, as well as locations of grouped bicycle parking.
We discourage you from using on-street parking. To ensure legal parking, read all posted signs before parking.
Limited off-street private parking is available on a first-come-first-served basis at the following locations:
Classical Movements, 711 Princess Street, Alexandria, VA 22314
Fitness Together Alexandria's main entrance, 300 N Washington Street building, Alexandria, VA 22314
Seasons Culinary Services, 715 Princess Street, Alexandria, VA 22314
About the Rectory
Built in 1785 and the home of Classical Movements' offices since 2014, the building formerly served as the rectory of the nearby historic Christ Church, once the church of George Washington. Since then, it has been owned by several distinguished Virginians and has been a commercial space since the 1960's.
Located in the heart of beautiful Old Town Alexandria at 711 Princess Street, the Rectory is minutes away from the shops and restaurants of bustling King Street and is easily accessible by bus and metro.
Like and follow the Rectory on Facebook