The Immediate Family Super Group at Wall Street Theater
About this event
Please note that proof of vaccination or a COVID Negative test taken no more than 72 hours out from show date must be presented for entry. In addition masks are required inside the theater (when not drinking) per municipal mandate. Please let us know if you have any questions.
The Immediate Family is a unique group of iconic musicians who have played together for decades but never as their own band. Known for their long, illustrious careers backing up such Hall-of-Fame artists such as James Taylor, Keith Richards, Jackson Browne, Linda Ronstadt, Carole King, Stevie Nicks and Crosby, Stills, Nash & Young, guitarists Danny Kortchmar and Waddy Wachtel, drummer Russ Kunkel, and bassist Leland Sklar have come together, along with guitarist Steve Postell, to perform their own songs as The Immediate Family, a band that can legitimately be called a supergroup.
The Immediate Family's new self-titled full-length album contains twelve original songs, including a rendition of the Waddy Wachtel/Warren Zevon cowrite "Things to Do in Denver When You're Dead." The album's two bonus tracks are live versions of Zevon's "Johnny Strikes Up the Band" and the Danny Kortchmar/Jackson Browne collaboration "Somebody's Baby."
The new album kicks off with a blast of electric guitars with the lead-off track, "Can't Stop Progress." The fiery three-guitar interplay intertwines throughout the rest of the album on songs like "Fair Warning," "Time to Come Clean," and "Turn It Up to Ten." The band's love of rock 'n roll's roots surfaces in the funky, bluesy tones of "Slippin' and Slidin'," "Everything That's Broken," and the Brill Building-esque "Damage." The big beat of Kunkel's drumming and Sklar's subtly inventive bass work further energizes the band's music. "There's nothing like playing with those two guys," Kortchmar raves. "These guys really understand songs. They listen first before they start pounding."
While technically a "new" band, the band members' years of experience playing together create a quite unique, thoroughly invaluable group dynamic. They share a kind of mental connection, so there is no need for a lot of discussions. "When you play together for this long," Kortchmar reveals, "things just fall into place very quickly and easily; we understand each other and understand what each other is going to do." One important communicator, however, is the song itself. "Each song tells us what it needs," Wachtel adds.
The high comfort level has made The Immediate Family a highly democratic collaboration. "Everyone is involved in the the production," remarks Kortchmar. "That's the way we do it. With guys like this, everyone is going to have an equal say." Given this approach, and the fact that all five guys have producing experience, the group served as the album's producers.
Their collaborative nature also extends to the songwriting, as the guys often turn to each other for input on their songs. "I know if I turn in something good, the band can turn it into something great," Wachtel confides.
Postell, for example, brought in several songs - "Everything That's Broken," "House Will Fall," and "Time to Come Clean" - Wachtel and Kortchmar helped to fine-tune, while Wachtel also supplied a slide guitar lick that was the missing piece to Kortchmar's "Divorced," which Wachtel also co-wrote. The Immediate Family's excellent musicianship and songcraft is expected due to the band members' extraordinary resumes; however, with strong soulful vocal arrangements, Postell provides a key contribution here, with his high tenor not only blending well with Kortchmar's and Wachtel's, but adding another dimension to the group's vocals. While each song's writers typically handled the main vocals on their own tunes, Postell sings lead on Kortchmar's "A Thing of the Past," because the band thought his voice fit the tune best.
When it came time to record, the Immediate Family laid down seventeen songs during their three days in the studio. "We went in knowing what we wanted to do," explained Wachtel. "Everyone knew what to play, and we went for it." It helps that they were in familiar territory at their pal Jackson Browne's studio and had as an engineer Niko Bolas, whom they've known since he was a teenager. "Everyone involved in it is like family," says Kortchmar. "It was a very gratifying situation."
The precipitating event behind the band's formation occurred four years ago when Kortchmar secured a deal for a solo album with a Japanese label. Taking a chance, he called Kunkel and Sklar. Although Wachtel was on tour with Stevie Nicks, he had a couple days free and flew in for the session. Postell, who was friends with Kortchmar and knew the others, was already doing pre-production for the album and stayed to play on the recordings. The sessions were so fun that Kortchmar invited everyone to join him for the Japanese tour. When the time came to name the band, Danny instantly suggested The Immediate Family because, as he explains, "that is exactly what we are!"
The Family's full history traces back to 1970-71, with fabled producer Peter Asher, who was producing James Taylor's first Warner Brothers album, playing the central role in bringing the musicians together. Kortchmar was already on-board, having played with Taylor a few years earlier in the band The Flying Machine. Asher brought in Kunkel, who was drumming on a Asher-produced John Stewart album. Later, Taylor caught Sklar performing in a band and proclaimed that he had seen "the greatest bass player ever."
When it came time for Taylor's tour, Asher had Kunkel, Sklar and Kortchmar be the backing band. This move, Kortchmar notes, was huge for them, and very innovative too. Asher's record-and-tour approach provided great opportunities for backing musicians to have continuing relationships with the artists. "You really end up having 'skin in the game' by performing the songs with the artist," Kortchmar explains. "In other words, you care more about the song than just going in, recording them, and going home. This becomes a personal experience."
Wachtel crossed paths with the guys a couple years later. Shortly after doing a Bobby Womack session with Sklar, he encountered Kunkel on the street because they both were driving '57 Chevys. He met Kortchmar when they were booked together for a Tim Curry recording session. Wachtel thought he wouldn't like his perceived guitar rival but, he admits, "we loved each other the second we met."
The four went on to tour with Carole King's 1974 Wrap Around Joy tour, and King's Thoroughbred album and tour. Since then, the recordings and tours have continued by the thousands. There are the well-known pairings with Taylor, King, Ronstadt, Zevon, and Browne, plus Crosby, Stills, Nash & Young, several Eagles (Joe Walsh, Glenn Frey, Don Henley) and Rolling Stones (Keith Richards, Bill Wyman, Mick Jagger), as well as Ringo Starr, Bob Dylan, Bob Seger, Harry Nilsson, J.D. Souther, Randy Newman, Joni Mitchell, Rod Stewart, Hall & Oates, and Bonnie Raitt. The list is virtually endless.
In the early 70s, Sklar, Kunkel, and Kortchmar, along with in-demand session keyboardist Craig Doerge, also had a band known as The Section, which released several albums of instrumental rock/funk/jazz fusion music. Wachtel recalls Kortchmar inviting him over to play with the band. He did, but ultimately felt he didn't mesh well with that type of music. He did, however, say he'd love to play with them if they were interested in doing some rock 'n roll. "That was about 45 years ago," he shares. "It took that long for us to go ahead with it."
The Immediate Family has kept quite busy during the pandemic, releasing the two EPs Slippin and Slidin' (which debuted at #6 on Billboard's Blue Chart) and Can't Stop Progress, each one including newer originals along with "covers" of well-known tunes (the Wachtel/Zevon cowrite "Werewolves of London," the Kortchmar/Henley cowrite "New York Minute", and the Kortchmar original "Machine Gun Kelly"). Eager to get back to playing live shows again, the band will be touring in the fall following the release of The Immediate Family.
"We are very proud of the people we've gotten to work with," Kortchmar states, "but we're also thrilled to be playing our own music." Wachtel concurs: "For it to be the four of us – these brothers that I've had for all these years – digging it the way we do and for people liking it, is more than a dream come true. It's too wonderful for words. I didn't see this coming, and now I can't imagine it having not happened."
If it sounds like their careers would make a good movie, you're not wrong. Danny Tedesco, the filmmaker behind the acclaimed The Wrecking Crew documentary, is currently hard at work on The Immediate Family documentary, expected to be released in 2022. The band also recently recorded new material at Henson Studios (formerly A&M Studios) in Los Angeles.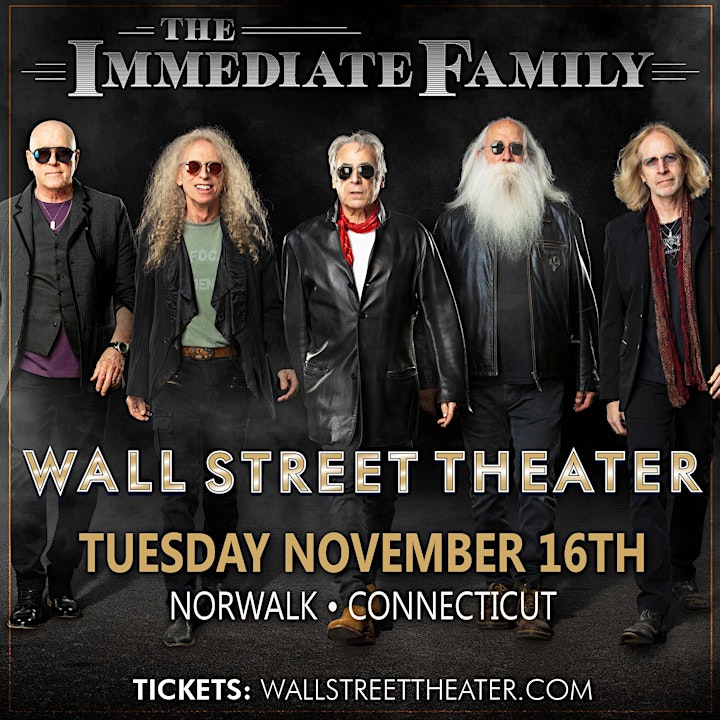 Performers
Date and time
Location
Refund policy
Organizer of The Immediate Family