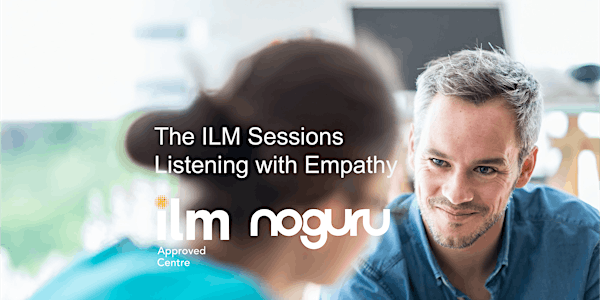 The ILM Sessions: Listening with Empathy
This session will focus on how we can be fully present and how to display empathy. We will also provide information on our ILM programmes
About this event
What if someone REALLY listened to you?
Have you ever come away from a conversation thinking 'they just didn't listen to me'?
That's probably happened more than once and it can be very frustrating. In social and in work contexts, people sometimes fail to be fully present. And sometimes they aren't showing us they care enough or have empathy about things that matter.
Imagine how it might feel to have conversations with people who have great listening skills.
Now imagine you developed those skills yourself, and how you could make a difference.
As a manager/leader or prospective coach/mentor, listening is an essential tool of our trade. We need to be fully immersed in conversations to:
seek clarity and meaning
show people we care enough
develop a true understanding of reality
This session draws on the experience of our acclaimed ILM coaching and mentoring programmes and looks at some concepts to help us listen actively and to be there, with empathy and presence.
The online seminar will help you focus on this key skill with practical take-aways for your role and social life.
Could you become a coach or mentor?
The ILM sessions also give you the opportunity to find out more about how to professionalise your coaching and our host John Drysdale will be talking about the route that many follow; through studying with our ILM Centre.
Becoming a coach gives you freedom and choice. The freedom to work when you want to and the choice to do the things you care about and with the people you most want to work with.
Book you place today!
FREE eBook 'Questions for Leaders'
With our compliments to all attendees of The ILM Sessions, an invaluable resource, packed with incisive questions for leaders and managers.