The Illiberal Thought Collective: Central Europe and Beyond
Event Information
Location
Rome Auditorium
1619 Massachusetts Ave NW
Washington, DC 20036
Description
The Johns Hopkins SAIS European and Eurasian Studies Program, the SAIS Foreign Policy Institute, and the Center for European Policy Analysis (CEPA) cordially invite you to join us at the SAIS Washington campus on Friday, March 6, 2020, 10:00-2:30pm for a conference on The Illiberal Thought Collective: Central Europe and Beyond. This half-day conference brings together European and American scholars to explore the origins and development of illiberal political and economic thought in Central and Eastern Europe and Russia, the networks that support it, and its intellectual ambitions. What do today's illiberal or politicians want? How do they justify it? What strategies do they use to spread their ideas? How are they connected internationally? And to what end?
Registration is required for on-campus participation. Lunch will be served.

This event will be webcasted live at this link: https://youtu.be/tmpLbGuXqAE
Members of the media, notice of intent to bring recording equipment is required. For media requests, special accommodations or questions, please contact Cristina Benitez at cristina.benitez@jhu.edu. Please kindly provide five business day advance notice for accommodation requests.
10:00am Welcome
Erik Jones, Johns Hopkins SAIS
Mitchell A Orenstein, University of Pennsylvania

10:10am Keynote Address
Stephen Holmes, New York University School of Law
"The Light that Failed: Why the West is Losing the Fight for Democracy"

1045am Panel Discussion: Illiberal Political Thought
How has illiberal political thought developed? Through what networks and communities? What are its intellectual ramifications? And political influence?
Chair: Charles Gati, Johns Hopkins SAIS
Daniel Kelemen, Rutgers University
Jan Kubik, Rutgers University; University College London
Marlene LaRuelle, George Washington University
Alina Polyakova, Center for European Policy Analysis (CEPA)

12:15pm Lunch

01:00pm Panel Discussion: Illiberal Economic Thought
Where do alternatives to mainstream neoliberal economic thought come from? What are their conceptions of economic and social development? What is their relation to neoliberal thought? And sources of influence?
Chair: Matthias Matthijs, Johns Hopkins SAIS
Aron Buzogany, University of Natural Resources and Life Sciences, Vienna
Mitchell Orenstein, University of Pennsylvania
Maria Snegovaya, Johns Hopkins SAIS; Center for European Policy Analysis (CEPA)

02:30pm Conclusion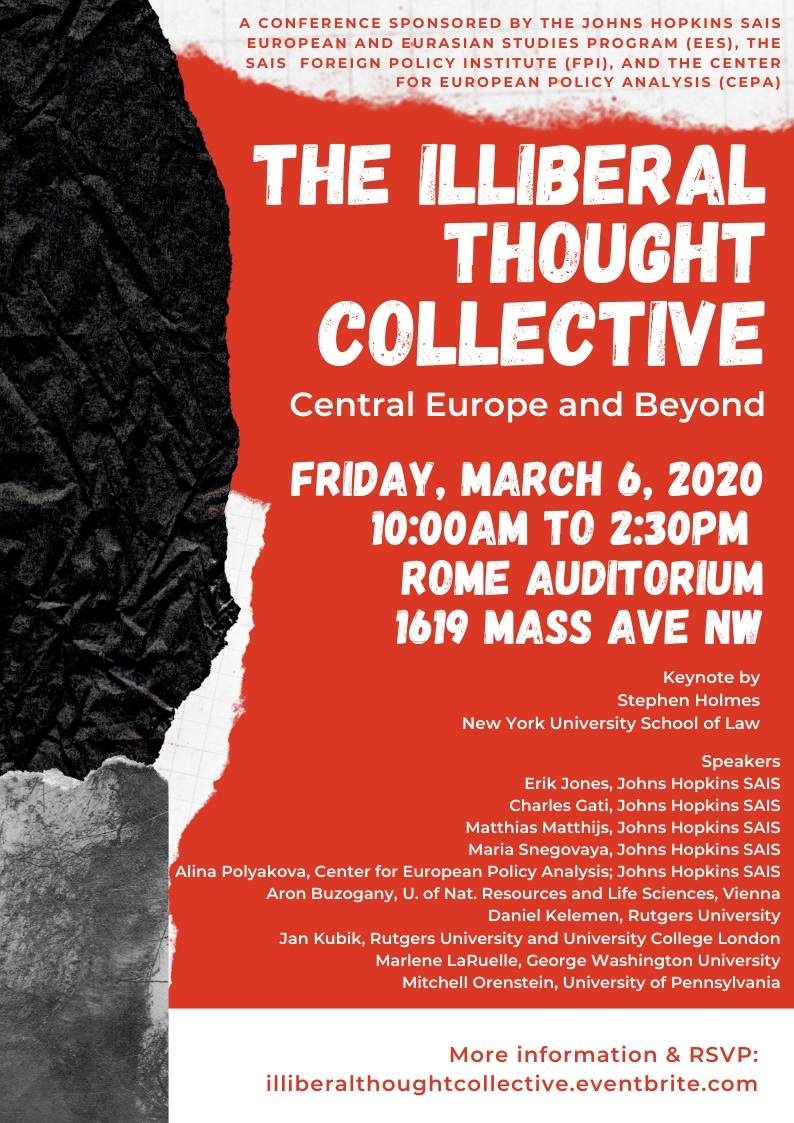 Date and time
Location
Rome Auditorium
1619 Massachusetts Ave NW
Washington, DC 20036