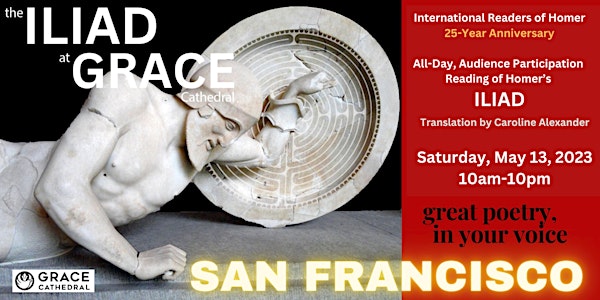 THE ILIAD AT GRACE • San Francisco - a Public Reading Event
Join your voice with ours in this unique participatory marathon reading—and live the revival of the ancient art of public storytelling!
By International Readers of Homer
Date and time
Saturday, May 13 · 10am - 10pm PDT
Location
Grace Cathedral 1100 California Street San Francisco, CA 94108
Refund Policy
Contact the organizer to request a refund.
Eventbrite's fee is nonrefundable.
About this event
The International Readers of Homer is honored to partner with Grace Cathedral in offering an all-day, audience participation reading of Homer's Iliad at San Francisco's glorious Cathedral.
Ticket sales close Tuesday, May 9 at 11:30 PM.
Your ticket includes:
All-day access to Grace Cathedral
General seating to hear the live reading & musical interludes
Option to read a 3-minute passage of the Iliad during a time slot and in the language of your choice (space permitting, first-come, first-served)
Mediterranean boxed lunch & dinner from Za'atar of San Francisco
Refreshments during the day
Opportunity to walk the Grace Cathedral labyrinth
This reading features the first complete translation of the poem in English by a woman, the noted classics scholar Caroline Alexander. Readers and listeners will experience the noble music of Homer, carried down through the ages, now in Alexander's rich poetic voice.
In a contemporary take on the oral tradition, participants take turns reading passages from the poem. Over the course of the day, the audience hears the tragedy, folly and horrors of the Trojan War and may be surprised to find how relevant this classic poem is in our modern age. Caroline Alexander herself will read the invocation in Homeric Greek.
This event may be photographed. By attending this event, you consent to having your photo/likeness/recordings posted publicly and on social media. Grace Cathedral is a community partner of this event and you may receive a one-time mailing from them.
Program Information at International Readers of Homer
25-Year Anniversary of International Programming
For 25 years, the International Readers of Homer has been producing multi-arts events dedicated to the diachronic and universal epics of Homer, with the organic participation of the audience. We have presented readings around the world in places such as the Library of Alexandria, the Megaron in Athens, the 92nd Street Y in New York, and the Getty Villa in Malibu.
In each literary and musical celebration, hundreds of people of all ages and backgrounds read aloud, one after the other, the Iliad or the Odyssey in a contemporary translation of the host country. The pre-assigned passages are read, sung or performed in dozens of languages.
These events represent a participatory approach to the important intellectual and artistic contribution of Homer to global culture and include significant educational and social dimensions.
At a time when cultural diversity and participatory approaches to the arts have become more pertinent than ever, the International Readers of Homer suggests an innovative interactive experience that can appeal to and bring together a diverse number of audiences.
Frequently asked questions
Can I introduce myself or share my thoughts on Homer? Should I apologize if I mess up?
Can my child or an elderly person read?
Can I read in a different language?
I speak American Sign Language. Can I read?
Can I walk the labyrinth at any time?
About the organizer
The International Readers of Homer works closely with partner organizations to bring readings of Homer and related programming to local communities. Past partners have included municipalities, museums, universities, schools, libraries, cultural foundations, NGOs, and fellow literary arts organizations both in the U.S. and abroad.
Our collaborative working process is designed to ensure that all programming meets the needs and interests of our partners and the communities they serve. In addition to marathon audience-participation readings of the Iliad and the Odyssey, we organize related art exhibitions, musical and dance performances, lectures, seminars, and workshops.

For more information on how you can bring The International Readers of Homer to your community, send us an email at info@internationalreadersofhomer.org.