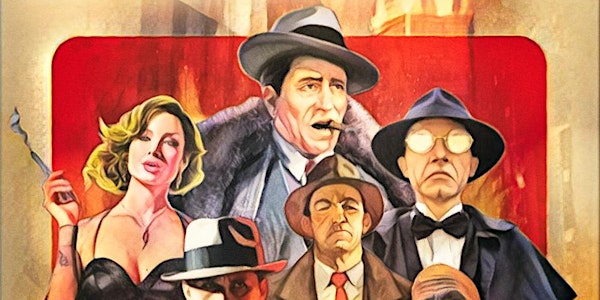 The Iguana Gang Mafia Thriller
Four mobsters hired to do a job get more than they bargained for when they try to steal the worlds rarest reptile.
Refund Policy
Contact the organizer to request a refund.
Eventbrite's fee is nonrefundable.
About this event
In the style of classic radio dramas of the 1940's we present the most anticipated audio event of the year. This is an AUDIO event only. Think of it like a live radio broadcast, or live podcast. https://theiguanagang.com
INCLUDES TWO RADIO CHRISTMAS CLASSICS!!!
A fun Christmas story starring Jack Kruschen 'A Present for Benny' featuring even more gangsters by SUSPENSE.
Raymond Burr stars as a ex-con set for revenge in 'Out for Christmas' by SUSPENSE, a forgotten classic Christmas episode!
Tony 'THE BOSS' Maciano
The organizer of the heist, 'The Boss' hatches the plans for the caper and keeps the goons in line. He's also an excellent safe cracker.
Lucia 'CRAZY LEGS' Flamingo
The girlfriend of 'The Boss' Lucia is known for her beautiful gams that seem to go on for days, and not very bright.
Bobby 'NINE LIVES' Bilotti
Bobby is the luckiest goon in the business. He always seems to get out of a fix without a scratch. This guy just can't be killed.
Maria 'TWO CLIPS' Racaluci
Don't let the pretty face on this dame fool you. Maria is as deadly as the rest, with a tendency toward over-kill when she unloads on her enemies.
Vinny 'THE CHIN' Scuffo
People assume he gets his nickname due to his ugly mug, but the surly Chin is known for taking one heck of a punch. The legend is he's never been knocked down in a fistfight.
Alfonso 'TRIGGERMAN' Ambramo
Quick with a gun, Alfonso is know for his itchy trigger finger and precise aim. He is quick-witted with a sharp tongue.
ALSO, CHECK OUT THE COLLECTIBLE NFT COLLECTION FROM WRITER DIRECTOR ALEX EXUM!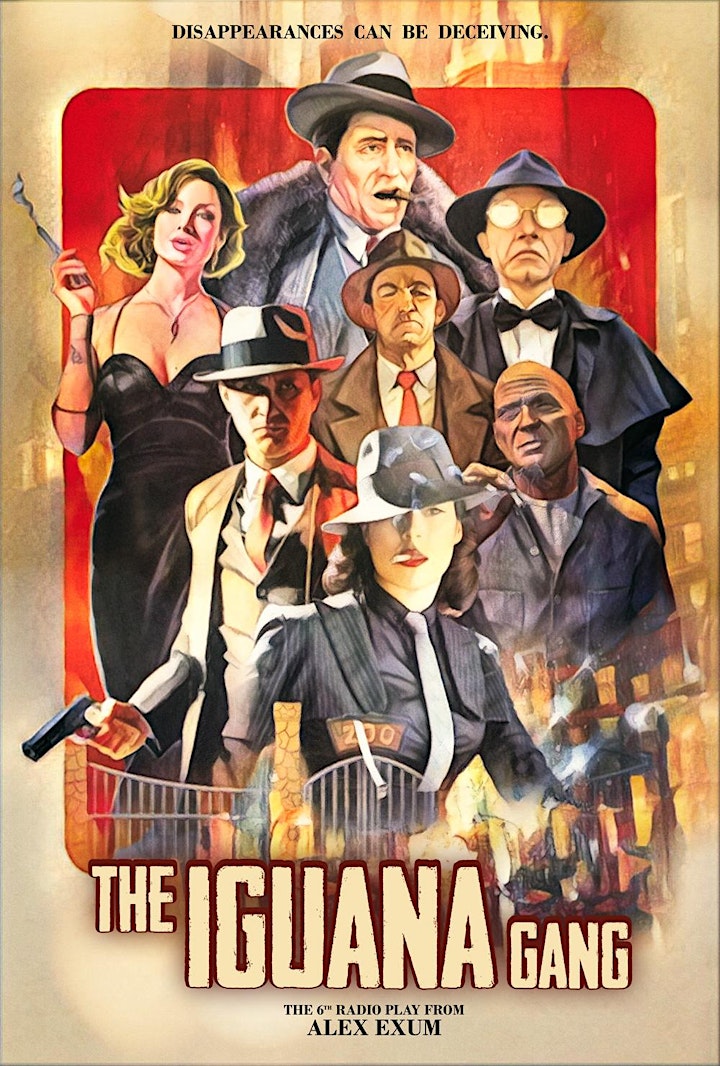 Frequently Asked Questions:
CHRISTMAS DAY, DECEMBER 25, 2022 at 6 PM PACIFIC
This is an online event only. Think of it like a live radio broadcast, or live podcast.
WILL THIS AIR ON 562 LIVE RADIO?
No. This is a paid event requiring tickets. Tickets are available here on eventbrite only.
HOW DO I LISTEN TO THE SHOW?
You will be sent a private link with your ticket to the live audio player online before the show.
Yes! This is PG thriller fun for the whole family. No foul langues or adult themes. There will be depictions of murder. Parental guidance is suggested.
Approximately 1 hour.
FORE MORE INFO: https://theiguanagang.com/
Copyright © 2022 all rights reserved. 562 LIVE LLC.