The Idaho Songwriters Association presents Sisters in Songwriting (4/23/17)
Description
April 23rd: Barbara Laing, Darian Renee, Terry Holder
The Idaho Songwriters Association presents a new program for 2017! SISTERS IN SONGWRITING highlights the creativity of women songwriters in Idaho by putting their talents on stage before an appreciative audience. These concerts support women as they network, collaborate and celebrate each other through music.
This concert series is an original idea by songwriter, Brook Faulk, who will produce the show in collaboration with the ISA.
These concerts are free to the community and all ages are welcome. The series is supported by volunteers and underwritten by The Idaho Songwriters Association.
Please plan to arrive 15 minutes before show time. Otherwise, your free ticket may be reassigned.
Concerts will be staged in the beautiful Sapphire Room on Sunday evenings. Doors open at 5:00 pm, show starts at 6:00 pm and will be over before 9:00 pm. There will be three to four songwriters performing in the round. Songwriters will perform only original songs.
FREE and open to the public! Reserve your table here!
Doors at 5pm, show at 6pm.
--
The Sapphire Room has a full food, bar and signature cocktail menu that is served before and during the show. This is an all ages event with FREE, convenient parking.
Please join us in the Riverside Grill before the show! Show your server your ticket to get 'buy one, get one free' entrees!

Many tables in the Sapphire Room are at bar height. Those requiring lower or ADA accessible seating will be most comfortable in the "Preferred- ADA Accessible option" section. Those seats are first come, first served and available for purchase by any guest.
100% refunds are available until 48 hours before the event. Refunds cannot be processed after the event occurs for any reason.

Boise's best kept secret! The Sapphire Room at The Riverside Hotel, 2900 Chinden Blvd. Garden City, Idaho 83714.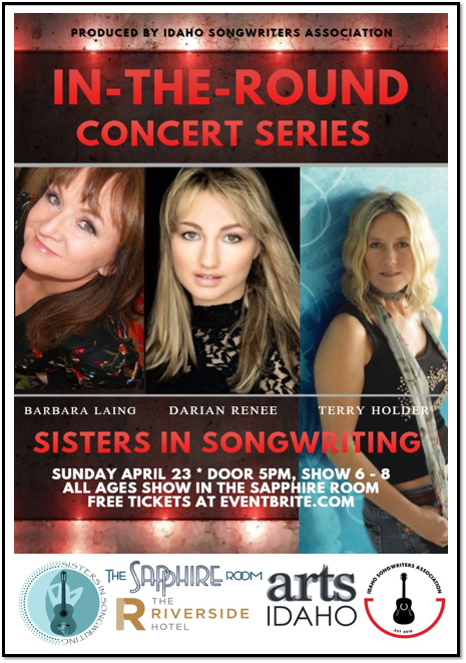 ---
Need assistance? WE CAN HELP! Please call 208-331-4930 to order over the phone. Phone orders are available from 9am - 6pm, Monday - Friday. If you need help after-hours or on weekends, please email music@riversideboise.com (fastest) or leave a voicemail at 208-331-4930 and we'll get back to you as soon as we can. Thank you for supporting local live music!