Description
We warmly invite you to join us at The iCFO Private Equity Conference.
This is a Premier gathering of sophisticated private equity Investors, Institutional Investors, Angel Investors, VC's, Family Offices, Wealth managers, and other Investment professionals gathering to discover High Quality & Cutting edge early and later stage growth oriented companies.

Presenting companies will feature game-changing technologies and innovative business models across multiple industries.
Many of the companies are post-revenue and others are at the point where they have recently begun the commercialization of their products or service.

ICFO Capital for nearly a decade has been a successful catalyst in providing quality monthly Investment Conferences, connecting companies with investors and investment community, to some of the most dynamic, under-followed, early & later stage companies across multiple industries, while also bringing together all sides of the investment community for quality deal flow, and peer-to-peer networking.

---
CONFERENCE FEATURE

The agenda will feature a combination of presentations by CEO's, Founders, Investors, Investment professionals, Breakout sessions, One-on-one investor meetings, and Networking. and the opportunity for investors to meet with management of presenting companies on a one-on-one basis.
Pre-arranged one-on-one meetings for presenting companies and investment professionals

Networking Breaks

Company Presentations, by CEO's of Growth, Early & Later Stage Companies

Deal flow sourcing networking

A full agenda of Presenting Companies
---
PRESENTING COMPANY BENEFITS

Private Equity funds, Venture Capitalists, Angel Investors, Family Office Managers, Wealth Managers, among others.

One-on-one meetings with selected investment professionals

Save Substantial Time Finding and Reaching Qualified Investors.

Maximize exposure, feedback, guidance, and potential funding!

Get Valuable Input from Partners of Foremost Investment Groups.

Improve your Leverage with Investors for Better Deal Terms

Discover New Investors and Partnership Opportunities to Build your Company.

Build Personal relationships with investors and investment professionals

VIP Networking Reception for maximum exposure

Your company summary printed in our conference material to be handed out to conference attendees.
---
ANNOUNCEMENTS
Software BETA Testing Release Announcements

PITCH TO INVESTORS MADE EASY!
Access to thousands of investors and capital resources online.
We invite you to take part in beta testing of our groundbreaking crowdfunding platform. At iCFO, we believe in empowering Entrepreneurs to catapult their business with driving sales and gaining financial resources. Access to funding resources no matter what stage your company!
---
SPONSORSHIP OPPORTUNITY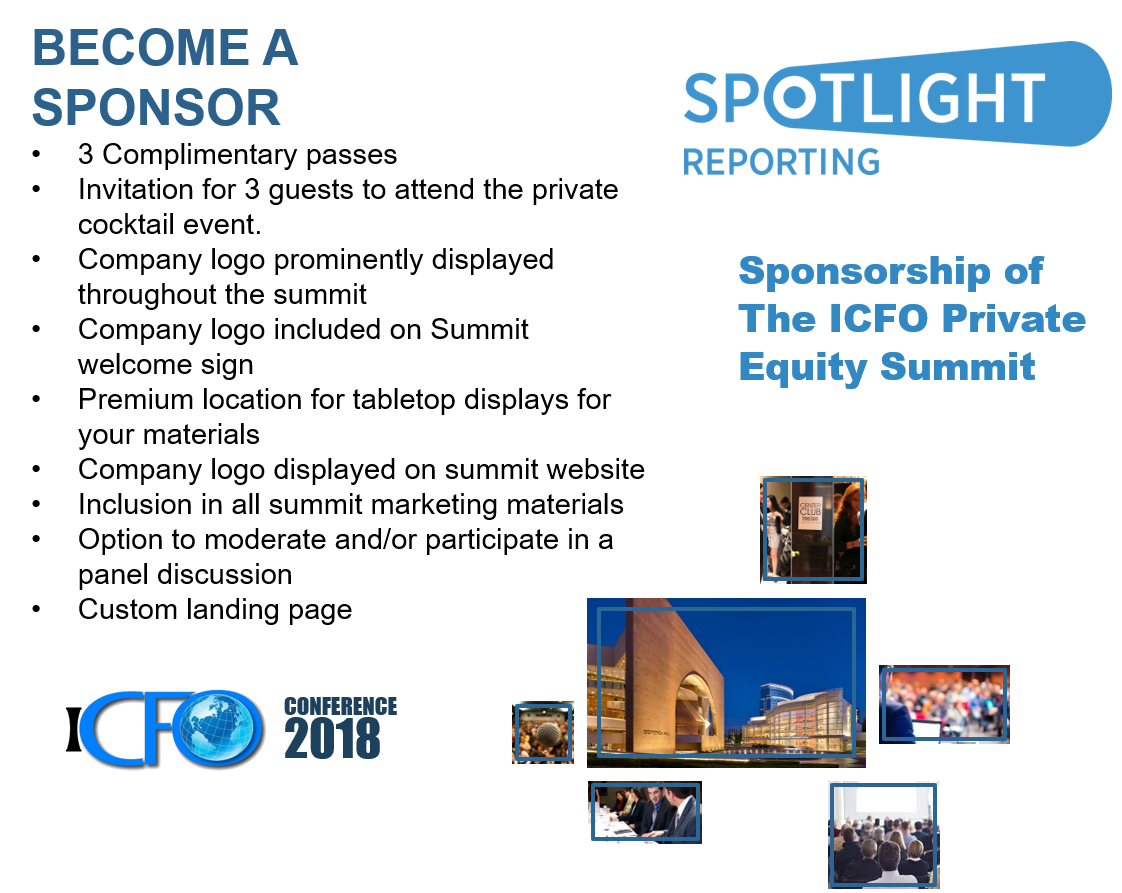 TO SECURE YOUR SPONSORSHIP OR INQUIRE ABOUT OTHER SPONSORSHIP OPPORTUNITIES, PLEASE CONTACT US TODAY.

---
GUEST SPEAKER(S) & PANELIST
Michael Karas - Mr. Karas is the President and Founder of Karas & Partners, Inc. Mr. Karas seek exceptional founders and management teams in technology, real estate and aviation. His focus is in acquisitions, and dispositions of mission critical recurring revenue businesses, together with the capital formation of early stage and middle market companies both public and private. Mr. Karas past experiences include President of First Canadian Bancorp Inc., a private equity firm directing partnership investments in operating companies, including financings, acquisitions and mergers with a focus on strategic exits. Prior to that Mr. Karas was the Managing Director of a public-traded Real Estate Investment Trust REIT. Mr. Karas have attended The University of Western Ontario, major in Business and Economics.

Tom Ren - Tom Ren founded Global XLR in 2012 based in Houston, Las Vegas and Suzhou. The company's mission is to provide best in class tools and services for suppliers and buyers. Prior to Global XLR, Tom Ren founded AECsoft USA in 1999, founded AEC Global (Shanghai) in 2007 and served as Chairman and CTO for both companies until January 2011 when the companies were acquired by an NASDAQ-listed e-procurement software company. Mr. Ren spearheaded the creation of AEC's flagship products including the Total Supplier Management System, Supplier Diversity Management System and eSourcing System. These software products have been licensed to hundreds of Fortune 1000 companies and government agencies to automate their supplier management and sourcing processes. In October of 2010, Gartner Group ranked AECsoft's Supplier Management System as the highest scored supplier information management system in the entire world.


​​Jordan Cox - Jordan Cox is an associate in the Orange County office. His practice includes patent prosecution, patent litigation, and due diligence. He also works with clients to further develop a strategy to create untapped value from existing technologies. Mr. Cox received his J.D. from the Georgetown University Law Center. At Georgetown, Mr. Cox served on the Georgetown Journal of Law & Public Policy. Before coming to law school, Mr. Cox double-majored in Physics and German Studies at Brigham Young University where he graduated with honors. As a Fulbright Scholar, Mr. Cox investigated phase transitions occurring on the order of femtoseconds in ammonium sulphate crystals with time-resolved x-rays and third-harmonic laser pulses using a pump-probe method. Mr. Cox worked as a summer associate in 2014 before joining the firm as an associate in 2015.
COMPANY PRESENTERS
(Presenting companies will be announced)

If you are interested in attending, please register in a timely manner, as it is anticipated attendee seating will fill up quickly. Thank you

Featuring quality, growth oriented, disruptive technology companies across multiple industries.

Early stage, Mid stage, and Later Stage, Private & Public Companies
---


SPONSORS & STRATEGIC PARTNERS
New conference partners and sponsors are working closely with iCFO Capital in 2018 to bring added value to our clients and members. Contact iCFO Capital to be personally introduced to our sponsoring organizations.

---
VIP COCKTAIL RECEPTION

GRAB A DRINK AND EXCHANGE CARDS WITH LIKEMINDED INVESTORS
Orange County curates sophisticated and stimulating nightlife spaces for guests to mix.
YOU'RE INVITED TO A VIP COCKTAIL RECEPTION!
Join us at The OC Plaza Bar & Lounge 6:00pm to 7:00pm

---
CONTACT US
SAN DIEGO OFFICE
8880 Rio San Diego Dr, Suite 800 | San Diego, CA 92108
Khris Thetsy | (619) 819-8268 | kthetsy@myicfos.com
Richard Copeland, CPA | (858) 603-2067 | rcopeland@myicfos.com
Robert Ruiz | (619) 534-6175 | rruiz@myicfos.com
Matthew Joy | (619) 202-6735 | mjoy@myicfos.com
Teresa Marcus | (714) 803-1231| tmarcus@myicfos.com

LOS ANGELES OFFICE
HOWARD HUGHES CENTER
6080 Center Drive, Suite 600 | Los Angeles, CA 90045
Michael Lerma | (310) 309-7443 | mlerma@myicfos.com
For more information about our annual summit visit our website at: www.icfocapital.com/private-equity