Description
To celebrate the launch of my new book, The Icarus Deception, you're invited to a talk, Q&A and Icarus Session. I'll be signing books for half an hour afterward.
I hope it will be a powerful way to start a new year.
I'll be talking about (and reading from) The Icarus Deception and V is for Vulnerable. After my talk, we'll do some Q&A and then we'll have the first ever Icarus Session.
Later that night, at hundreds of cities around the world, there will be local Icarus Sessions, but we'll start here, with a dozen or so readers invited onstage to share their art with the audience.
For more about the Icarus Sessions in your neighborhood, and how they work, visit this page at Meetup Everywhere. If you'd like to present at the event in New York, read this link first, then visit this form to put your name in the hat.
It's after New Year's, so you won't be doing much at work anyway, and it's after lunch--no snacks at this event, sorry. But it is before an entire year where you can make a ruckus, and I hope the timing works out for you.
Check out the group pricing, while it lasts. Hope to see you there! (Doors open at 12:30) Tickets are transferable but not refundable...
(Will there be copies of the LP and the behemoth limited-edition book as door prizes for a lucky few? Yes there will.) Any profits go to the Acumen Fund.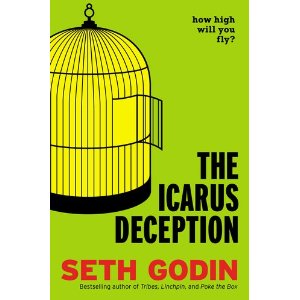 Like most live events, tickets are transferable but not refundable.