The IBM Predictive Governance Forum

Tuesday, February 28, 2012 at 8:30 AM

-

Wednesday, February 29, 2012 at 4:00 PM (EST)
Event Details
Dear IBM Data Governance Council Members,

Data Governance Programs are popping up all over the globe.  It isn't hard to get one started anymore.  But it is hard to be good at it and to make it last.  In fact, I see more programs taking one step forward and two steps back – narrowing focus to demonstrate results – to fall in line with other IT projects than chart a clear path towards larger transformation.

But lets be clear – Data Governance is about Business Transformation.  We can't change organizational behavior to take data seriously if we can't change how we work.  

We in the Data Governance Council have a that Data Governance is a coordination of people collaborating on common goals and purposes – to use data as an asset. That vision requires that piecemeal project management of data issues must evolve into systemic governance structures and methods, whose goals and purposes themselves transcend the people, applications, and interactions.

Until last year, we didn't fully know how to close the gap between where we are today and where we'd all like to go.  But today we see the way forward, and the Data Governance Council is embarking on a bold new program to develop Predictive Governance: systemic ways of describing our world and  modeling potential interactions to understand what works and how to improve it.

Traditional scientific analysis says that to understand a problem you have to take apart the issue and decompose it into all its components and sub-components and find the root cause.  

But this assumes there is always just one root cause and one thing to blame:  
    "Data Quality in our branch operations is atrocious, so we have to fix our incentive structure."
    "Our network was hacked and our customer data was exposed, so fire the CISO."
Its almost irresistible to search for scapegoats to common problems using simple cause and effect analysis.  

People rarely ever imagine that
Individual data quality problems are symptomatic of larger systemic challenges in the information supply chains we have created over decades to handle information flows from source to target;
    and no CEO expects that network hacks are the result of systemic weaknesses in IT systems that are themselves a reflection of organizational culture and priorities.

Its hard to accept that people created the systems that enable Poor Data Quality, Global Jurisdictional Jungles, Metadata misunderstanding, Lax Security, Privacy Invasions, and Big Data Mischief.  No one deliberately creates these problems.  No one wants them to continue.  But they do continue nonetheless because people really don't understand the elements and interdependencies of the systems they have created.  

The point of Predictive Governance is that we work in large ecosystems and we must work to understand them.  If we can't describe our ecosystems, we can't rise above the superstitions and organizational behaviors that constantly hold us back.

This event will explore the ideas and methods behind Predictive Governance, new Enterprise Data Governance Solutions that integrate multiple business and IT domains, and Internet Jurisdiction and Multi-Stakeholder Governance in the context of global regulatory confusion as an archetype of Predictive Governance Challenges.

These are big problems and we are working on big solutions.  

See the agenda.  Read our blogs.  Understand our mission.  Be prepared to interact.

This is a thought leadership forum for change.  Join us and make a difference.

Best Regards,
Steven Adler, Chairman IBM Data Governance Council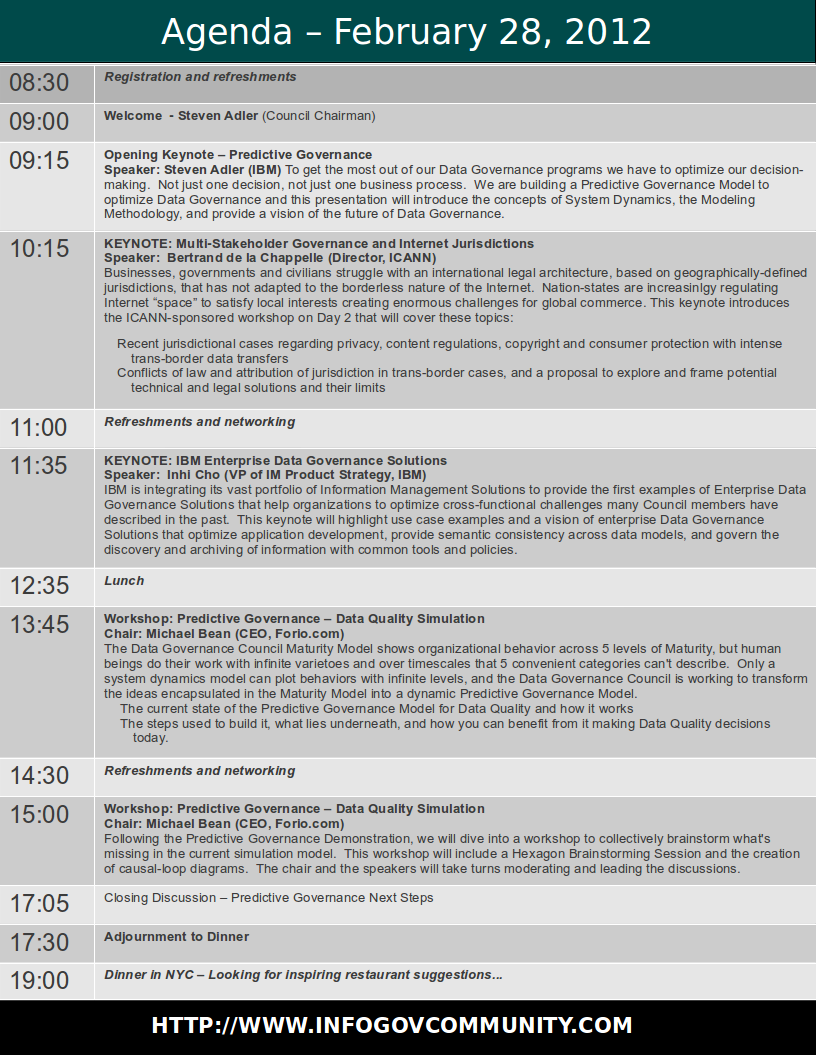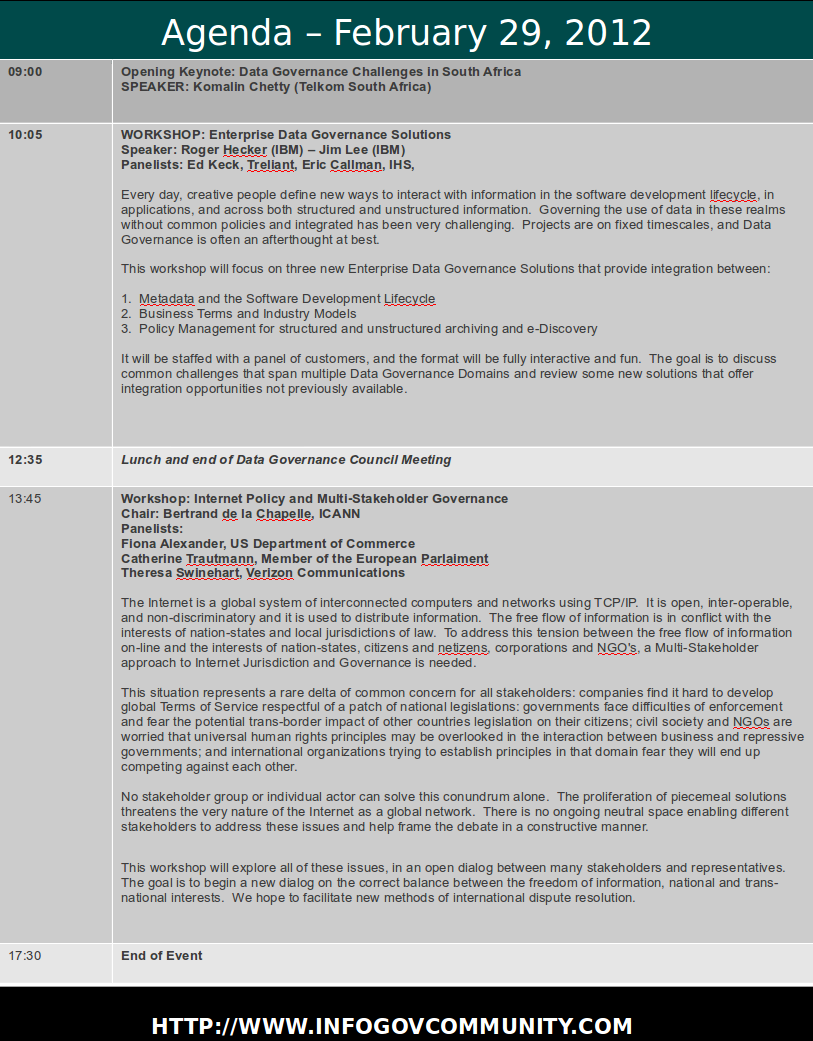 When & Where

IBM
590 Madison Avenue
New York, NY 10021


Tuesday, February 28, 2012 at 8:30 AM

-

Wednesday, February 29, 2012 at 4:00 PM (EST)
Add to my calendar
Organizer
The IBM Data Governance Council is a group of 50 global companies that have pioneered best practices around data governance.
Data governance helps organizations govern appropriate use of and access to critical information such as customer information, financial details and unstructured content, measuring and reporting information quality and risk to enhance value and mitigate exposures.