The iambassador - Travel Dudes - ITB Travel Tweet-up 2020
Description
This year, we celebrate the tenth edition of the ITB Travel Tweet-up - the premier travel influencer party during ITB Berlin. Returning to Muse Berlin for a fifth straight year, we'll once again have great networking opportunities, fabulous food and drinks, and exciting prizes to be won!
The focus of the #ITBTweetup is to relax, have some fun after a busy day at ITB and network. Once again, we expect to welcome travel influencers/bloggers and digital marketers from around the world. Anybody who is in Berlin visiting the ITB fair and who is interested in online travel & influencer marketing, social media and/or blogging is welcome to join!
Thanks to our Premier Partner, MATTA, guests can expect a Malaysian-themed evening, with food, wines and fun prizes: 3 one-week trips to Malaysia including return flights with Malaysia Airlines from London. So flights, hotels, accommodation and tours are included!
In addition, our Prestige Partners, Evaneos will join in the fun and also bring some exciting travel prizes!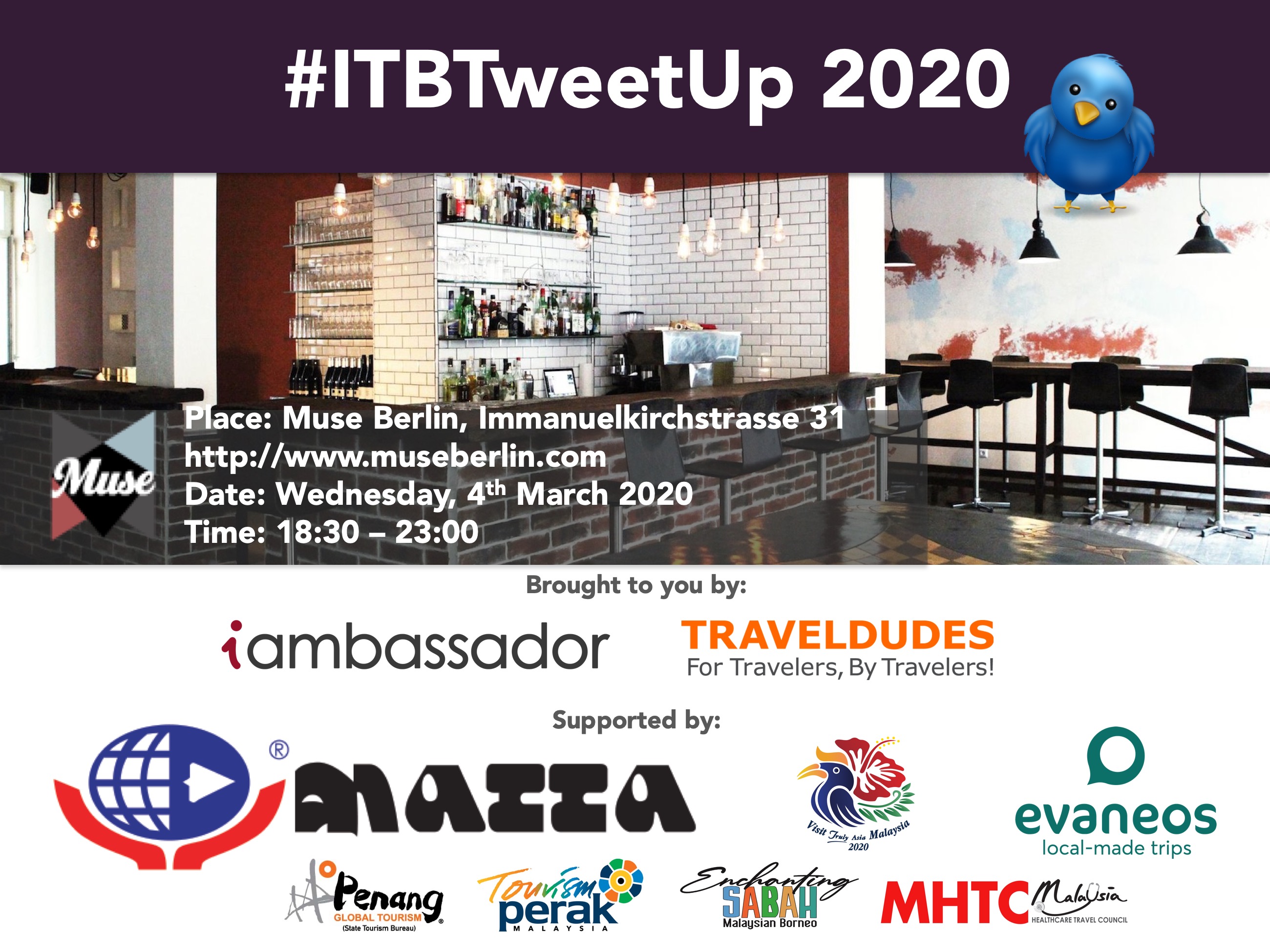 We have more events at ITB itself. If you are a travel blogger, join us...
Wednesday 10 am - Hall 4.1 / 113 - coffee and croissants with Evaneos
Wednesday 3:30 pm - Hall 26a / 108, 118 - cocktails and snacks with MATTA
Thursday - 4 pm - Hall 26a / 108, 118 - cocktails and snacks with MATTA
The event is organized by: iambassador, Travel Dudes, The Social Travel Summit

Supported by:
Premier Partner: Matta www.matta.org.my
Prestige Partners: evaneos www.evaneos.com

Thank you for your partnership!
Supporting the event is still possible! Contact us for more info!
Venue: Muse is a Thyme Supperclub.
Long tables, low lighting and comfy chairs. Our hosts want people to feel at home at Muse.
Watch how they grew their business using Instagram: vimeo.com/154197632