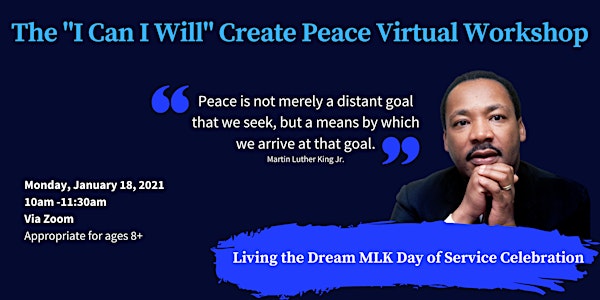 The "I Can I Will" Create Peace Virtual Workshop
Part of the Living the Dream MLK Day of Service Celebration
About this event
Everyone can do something. In this interactive workshop, presented by HopeWorks, we will talk about all the things – big and small – that we can do to create peaceful, healthy relationships and communities.
Participants are encouraged to have art materials ready because after our discussion, we will spend time listening to music as we create art to inspire healing, equity and transformation.
Please be ready with any art supplies you have, including crayons, colored pencils, markers, cardboard, or a journal.
Appropriate for ages 8+
Questions? Please contact Vanita Leatherwood, Executive Director at vleatherwood@wearehopeworks.org.
How It Works
After you register, you will receive a confirmation email containing the link to join the event on Zoom. We will also provide a phone number and password if you want to call-in instead.
You are not required to create a Zoom account or install special software to attend. You can use any computer to join via the link, or call-in from any mobile or landline phone. (It's recommended that you have a reliable internet connection or cell phone service!)
At the time of the event, just click the link or call-in!
New to using Zoom? Check out our guide for tips and instructions!
Accessibility
Our goal is to make virtual events as accessible as possible, however we are still learning how to use Zoom ourselves. The chat box feature will be available during this event. Unfortunately, at this time, we do not have the option for closed captioning during live events. If you have any specific questions, concerns, or suggestions about access please contact the Community Engagement Department at outreach@wearehopeworks.org.