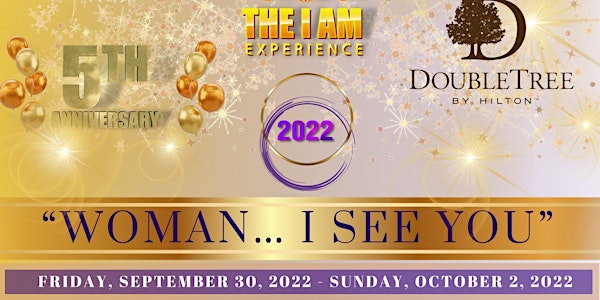 The I Am Experience - Woman... I See You
We will take some time for ourselves and enjoy some of the pleasures of life and of being a woman. Let's Relax, Relate, Release, & Recharge!
When and where
Location
525 W Lafayette Blvd 525 West Lafayette Boulevard Detroit, MI 48226
About this event
Women wear so many hats from day to day and we rarely take time to focus on our well-being. So, over the past four years, we have discovered, who we are, explored the mutual similarities and characteristics of other cultures, taken off our masks, refined who we were, and now we are taking time to identify ourselves the way God did in Genesis, Very Good. When He created everything else in this world He said it was good. But when He created man/woman, He said it was Very Good. Very good we are, and we shall be. Woman… I See You!!!
We would like to cordially invite you to our 2022 I Am Experience Women Conference. This year will be our 5th Annual Conference hosted by The Acquisitionist, Inc. The theme for this year's conference is entitled, "Woman… I See You", where we will focus on ourselves Mentally, Emotionally, Spiritually, and more. There will be an opportunity to participate in our workshops, panel discussions, prayer breakfast, shop with our local vendors, get massages, manicures, meditations, and more!!!
All events will be held at the DoubleTree Suites by Hilton Hotel Downtown Detroit Fort-Shelby. The Conference Schedule will be as follows:
September 30, 2022, begins at 6:00 PM, and doors open at 5:30 PM
October 1, 2022, begins at 9:00 AM, and doors open at 8:30 AM
October 2, 2022, begins at 5:00 PM, and doors open at 4:30 PM
There are only a few rooms on hold for this event. The cost for each room is $269 plus taxes, fees, and gratuity ($309.35 with fees). Self Parking overnight is $28 and $36 for valet parking. The link to make your reservation is: www.my-event.hilton.com/theiamexperiencewomaniseeyou/
The phone number of the hotel is 313-963-5600 if you require additional details for your reservation.
For all sponsorship inquiries, you may call Orena Perry at 313-221-4410.
Register and tell a friend or two. We will see you there!!!