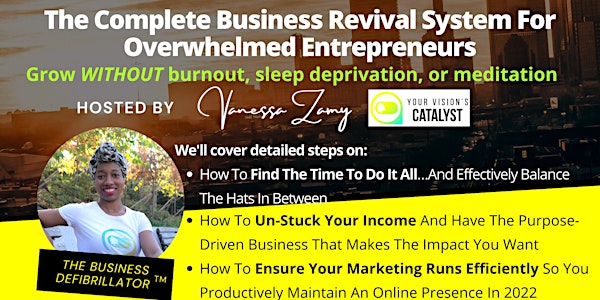 The Hustle & Breathe Framework™: Grow without Burnout and Overwhelm
The Insider's Guide to Reviving Your business for long term success (without the headaches and burnout)
Refund Policy
Refunds up to 7 days before event
Eventbrite's fee is nonrefundable.
About this event
How To Grow Your Purpose-Driven Business & Turn Bottlenecks Into Breakthroughs…without falling in the 'Hustle-trap' and fighting burnout
90 Minute Workshop Targeted to Helping You Revive Your business for Long Term Success (without the Headaches)
In this 90 minute no BS workshop, you will be guided by speaker, best selling author, and professor at Portland State University's School of Business Vanessa Zamy, as she guides you on how to put behind the toxic hustle culture and scale your business through business efficiency, strategy, and better management.
Who Should Attend:
CEOs overwhelmed with their next steps and business goals
Entrepreneurs needing clarity in their business
Product- and Service-based businesses who want to learn how to monetize their message and get more visibility
Entrepreneurs looking to get more quality leads and more effective relationships
CEOs looking to clear the junk out of their mind and get clarity, definition, and direction
Time Management
Nope. Don't be afraid. This is not some fluff about how to manage your time. Instead, this section is about managing disasters, avoiding burnout and making sure you balance all the hats without ever tripping.
Business Efficiency
You've just been running a business and that's why you're looking for an impact. This is where you get to un-stuck your income, but also start running your business in an efficient and strategic way.
Marketing Strategy
Let's face it. Marketing is everything. But you already hate money sucking platforms, right? This is where you get a 5-step framework to prevent overwhelm and maximize your sales and marketing.
-=-=-=-=-=-=-=-=-=-=-=-=-=-=-=-=-=-=-=-=-=-=-
GRAB YOUR TICKET Now!
-=-=-=-=-=-=-=-=-=-=-=-=-=-=-=-=-=-=-=-=-=-=-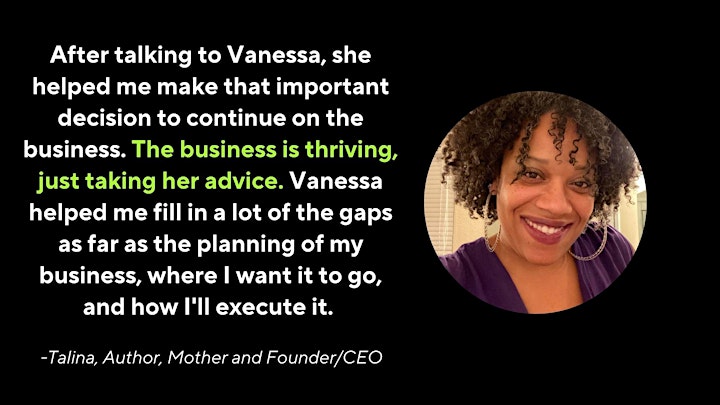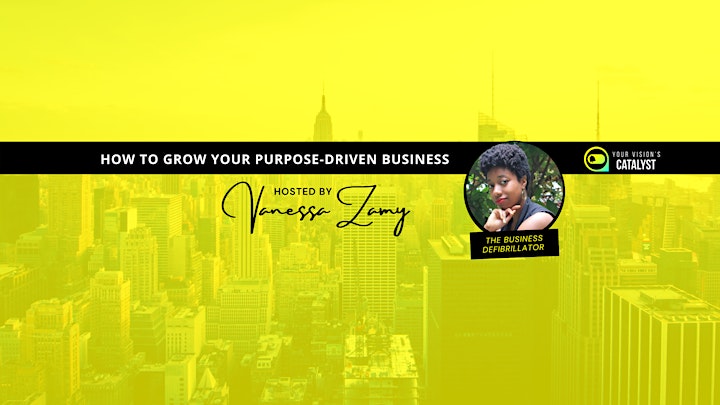 "Being A Business Owner, CEO, or Entrepreneur is Easy…"
Said no one ever!
Have you ever observed this pattern?
Go ask around…
Your other business owner or solopreneur friends…
Do they feel doing business is easy?
And you will be surprised to know that all of them share the same feelings as you…
Going out on your own is hard…
But the point where you're at now demands work…
❌You're a frustrated, overwhelmed, struggling, discouraged entrepreneur who dreams of someday becoming a calm and confident full-time entrepreneur with abundant time and financial freedom.
❌And that's leading you to work crazy hours, distraught your focus, miss time with your friends and family, and put your personal well-being behind just because a few internet gurus tell you to hustle until your dreams come true…
❌You still have to figure out how to get more exposure and visibility about your business before you can move forward.
❌Chances are you've also struggled with the idea that social media just sucks up time and money and doesn't produce results (which is bumming you out).
If any of that feels like you, then you're in the right place…
Vanessa knows how that feels because she was there herself...lots of times!
And in this workshop, she will guide you on how you too can experience true freedom as an entrepreneur doing what you love, live the life of a successful business owner, and avoid working 60 hours a week or neglecting your life…
How? By helping you understand and adopt the three pillars of business through THE HUSTLE & BREATHE FRAMEWORK™…
-=-=-=-=-=-=-=-=-=-=-=-=-=-=-=-=-=-=-=-=-=-=-
REGISTER Now!
-=-=-=-=-=-=-=-=-=-=-=-=-=-=-=-=-=-=-=-=-=-=-
GRAB YOUR TICKET Now!
-=-=-=-=-=-=-=-=-=-=-=-=-=-=-=-=-=-=-=-=-=-=-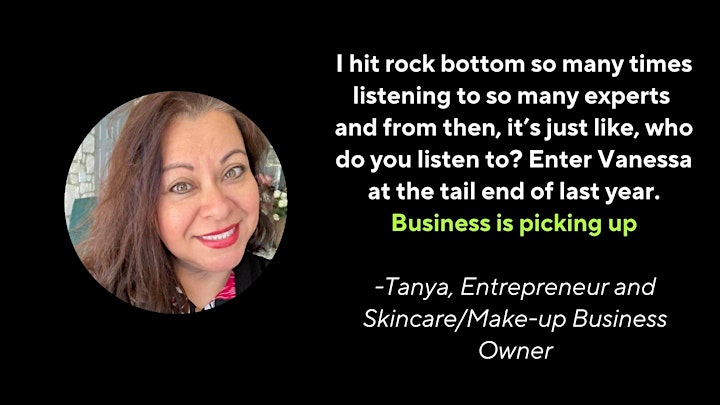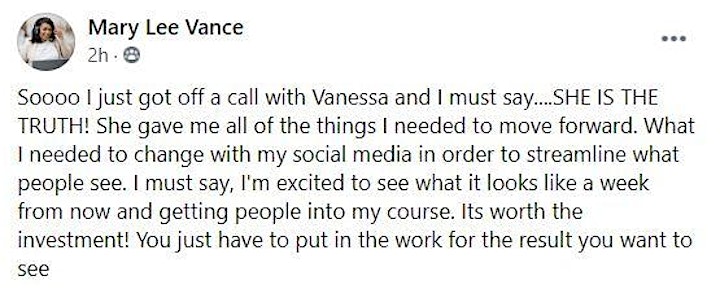 And that's not all...We're going to talk about several other aspects including:
Avoiding entrepreneur burnout
​Pivoting effectively and intentionally during any disaster
​​Finding the time to do it all...and efficiently balancing the hats in between
​Un-Stucking your income so you can have the Purpose-Driven Business that makes the impact you want
​Implementing an easy, simple way to define clear strategic priorities in your marketing and sales
​Demystifying what focus truly looks like and what it means for your business
​Ensuring your marketing runs efficiently so you're productively maintaining an online presence in 2022
===================
And who am I? I am a business expert, keynote speaker, and bestselling author of FINISH: The Solopreneur's Guide To Getting Stuff Done. I have been dedicated to helping full-time employees transition to entrepreneurship, time freedom, and financial freedom by growing their business while employed. Since starting my business while employed in 2019, I was able to peacefully and calmly leave my six-figure day job in early 2021 and never look back.
Through my consulting company, Your Vision's Catalyst, I work with high-achieving, ambitious CEOs to increase their efficiency, productivity, and profitability so they can reduce overwhelm while growing their profit-producing, purpose-driven business. My motto: keep it simple, then keep it movin'! So far, I have been featured in Fast Company, NPR Marketplace, and on the 2021 Women To Watch list by The Women In Business Club. My background includes strategic leadership roles at Fortune 500 companies.
-=-=-=-=-=-=-=-=-=-=-=-=-=-=-=-=-=-=-=-=-=-=-
Grab Your Ticket TODAY for the next Training! REGISTER Now
-=-=-=-=-=-=-=-=-=-=-=-=-=-=-=-=-=-=-=-=-=-=-
HAVING A SUCCESSFUL BUSINESS CAN AND SHOULD BE THE CALMEST, CONFIDENT PROCESS YOU EVER FOLLOW
You CAN have enough time to do everything you want to do,
Posting on Instagram, TiKTok, Clubhouse, Facebook, and LinkedIn does NOT have to feel like yelling into an abandoned building
Let's increase your sales next year!
Let's get you more of the right clients and customers!
Let's leverage your social media to grow your attention-grabbing online presence!
GRAB YOUR TICKET NOW!
Your ticket includes:
✓ 2 hour long live ZOOM workshop where you will be able to ask questions specific to your situation
✓ PDF workbook before the event
✓ Copy of the video recording of the event to be sent to you within 24 hours after the event
-=-=-=-=-=-=-=-=-=-=-=-=-=-=-=-=-=-=-=-=-=-=-
REGISTER Now!
-=-=-=-=-=-=-=-=-=-=-=-=-=-=-=-=-=-=-=-=-=-=-