The Hummingbird Collective: Concert (Workshops too :)

Saturday, June 6, 2015 at 3:00 PM
Event Details
WOW! We're pretty darn excited about these two "birds" flying in from Colorado! Not only is "The Hummingbird Collective" performing a Supper and Songs CONCERT but they're also giving TWO WORKSHOPS! "Cosmic Singing" (Sat 3-6) and "Living your VIBRANT Life" (Sun 3-5). We've got room in the B&B if you want to treat yourself to a Wonderful Weekend! Hey! Why not bring Mom? or Dad? or a Grad-uate?  What a unique and memorable gift...!

International touring artist Lisa Bell has teamed up with Janis Kelly to tour as "The Hummingbird Collective". Their mission: to infuse the world with positive music and messages. Their goal: spreading joy, healing and empowerment across the nation and around the world, while benefitting each community they visit.
LISA BELL has a B.A. in Vocal Performance and has opened for Stanley Jordan, Oleta Adams and the JVC Winter Park Jazz Festival. Lisa has shared the same bill as Christopher Cross and Boney James. She sings "Jazz On The Tracks" performances aboard scenic trains in the Rocky Mountains and across Italy. (And now she can add Stillwaters Supper and Songs to her list!) www.lisabell.com

JANIS KELLY  is a life-long musician, performer, and musical "instigator."  She's spent decades educating and activating bodies, minds and souls through the power of music. Honored to have shared the stage and studio with such legends as Carole King, Earth, Wind and Fire, The Neville Brothers, Tower of Power, and Rufus and Chaka Khan, Janis has seen first-hand how music helps build bridges of peace, harmony and understanding.  www.janis-kelly.com
"I believe that positive music can make the world a better place," says Lisa Bell. Sounds good to us--How about you? Sneak a peek at this video, then come and hear The Hummingbird Collective LIVE at Stillwaters!
Peace through Music
Mary, Jeff, and Dug the dog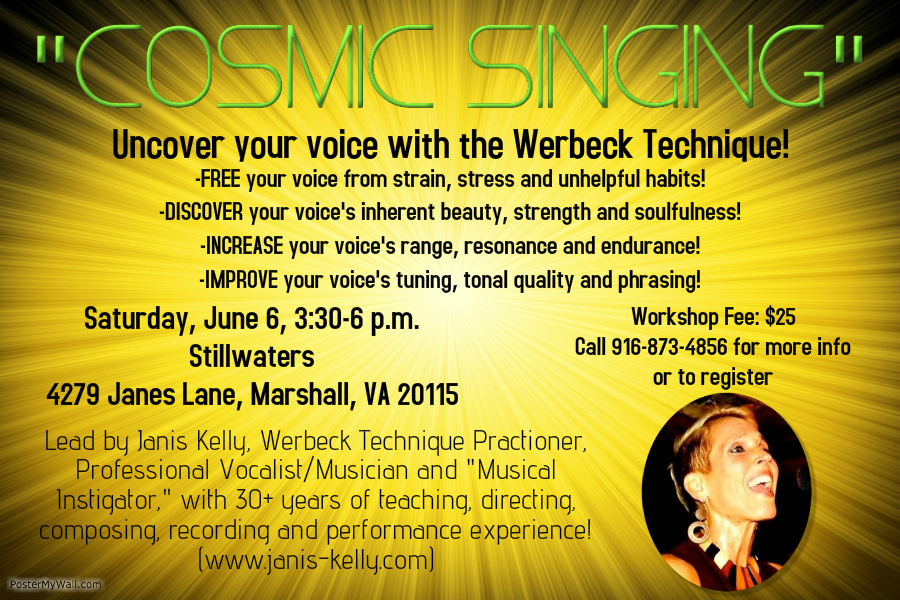 When & Where

Stillwaters
4279 Janes Ln
Marshall, VA 20115


Saturday, June 6, 2015 at 3:00 PM
Add to my calendar
Organizer
Supper and Songs is a house concert series hosted by Stillwaters Foundation volunteers Mary Shapiro, Jeff Wolf and friends to "build community and create Peace through Music". We have events at least once a month which include a potluck SUPPER (at 6 pm) and SONGS by professional touring musicians (concert time depends on the day). We end with dessert and a fun, informal open mic (where anyone who wishes shares poetry, stories and songs). "Tickets" are donations to the performers and are available on line or at the door. All ages are always welcome, and polite pets on leash when we're outdoors (April to Oct). We provide chairs and potluck supplies and Stillwaters' big beautiful event tents provide shelter (so the show goes on, rain or shine).  Questions? Call Mary at 540-364-1739. We look forward to meeting you!

* * * OFF SITE events: Note location & READ details. See you there! * * *

* * * * *
2018 Stillwaters SUPPER AND SONGS Calendar
SATURDAY, JANUARY 6, 7:00 PM
Lea
SATURDAY, JAN. 27, 7:00 PM
Rupert Wates, melodic art / folk with a splash of jazz

*** SUNDAY, FEB. 11, 4:00 PM ***
Sparky and Rhonda Rucker, award winning history in story & song

*** SUNDAY, MARCH 18, 4:00 PM ***  
Celebrate Spring with
Woven Green

*** SATURDAY, APRIL 28,  7:00 PM ***
Chris Anderson & The Harried Americans 
   SATURDAY, MAY 19, 7:30 PM
Melissa Chavez and friends, classical and opera
 
3rd Annual
Solstice Soul Shine Festival
with WOVEN GREEN
JUNE 15, 16, 17
Music, drumming, healing village, labyrinths, sound bath, yoga,  workshops, organic food, and camping!
 
SUNDAY, JUNE 24, 7:00 PM
"WOMEN WAGE PEACE" documentary premier of Israeli and Palestinian women working together for peace and reconciliation. http://jerusalemprayerproject.org/women-wage-peace/
SATURDAY, JULY 7, 7:00 PM
St. Thom Cats
SATURDAY, JULY 21, 7:00 PM
EMBRACING LIFE! after loss.
Applied meditation with The Managed Mind, Inc
SATURDAY, SEPT. 1, 7:30 PM
Isabel Taylor: singer-songwriter grounded in 60s and 70s acoustic folk

SATURDAY, SEPT. 22, 7:30 PM
Orpheus Jazz: standards we dance to!



SATURDAY, NOV. 3,  7:00 PM
Dan Frechette & Laurel Thomsen: diverse & harmonious violin & guitar

SATURDAY, NOV. 17, 6:00 PM
"A Heart for Art"  5th Annual pARTy featuring musicians,
poets, & visual artists sharing their original affordable GIFTS

* * * OFF SITE events: Note location & READ details. See you there! * * *
Marshall, Virginia is 45 miles west of Washington, DC. just 3 miles off 66.