Description
The 5th annual Humboldt Mile is a 'chip timed' USATF certified one mile-run supporting Hope For The Day's Proactive Suicide Prevention programs. Dark Matter Coffee, THREE RUN TWO, Sip of Hope Coffee Bar, and Nike bring this community event to you!
All ages and skill levels are encouraged to join us in Chicago's beautiful Humboldt Park for this celebration of life! This event will feature different skill level flights, for the competitive runner's all the way to walkers, strollers and dogs welcome as well!
This 5th year will feature a first ever live post-race awards ceremony, and an expanded post-race activities area!
This event is realized through the help of many partners in prevention to produce the Humboldt Mile, including the generous support of the Alderman's office of the 26th Ward, the Chicago Park District, the Chicago Department of Cultural Affairs and Special Events [DCASE]!
100% of the net proceeds benefit Hope For The Day's Proactive Suicide Prevention programs.
---
RACE DAY DETAILS
Event Date: JUNE 6, 2020

Starting Location: 1400 N. Humboldt Blvd, Chicago IL (See site map below)


Registration: $30.00

Bag Check & Pre-Race Activities Open: 9:00 AM

First Step Off: 11:00 AM

Awards Ceremony: 1:00 PM

First 800 registrants get a Nike Race Day shirt.

Race Order: Participants will seed themselves. All levels of physical ability, families, children and pets are welcome to participate and join the fun!
Wave 1 Race (Hard effort)


Wave 2 Run (Moderate effort)


Wave 3 Jog/Walk (Relaxed effort)
---
Packet Pickup Information
--> Packet Pickup will be hosted exclusively at Sip of Hope Coffee Bar
--> There will be packet pickup at the race, but we strongly encourage you to grab your gear before race day to minimize line build up!
--> For general questions or special accommodations like group pickups for schools, and organizations please send an email to Events@hftd.org
--> Bring a digital or printed copy of your registration.
--> One person can pickup multiple packets. We will have you sign out each individual packet.
ALL PICKUP DATES ARE AT... Sip of Hope Coffee Bar
3039 W Fullerton Ave
Chicago, IL 60647

PICKUP #1: MAY 16, 2020 || 10:00am-2:00pm

PICKUP #2: MAY 23, 2020 || 10:00am-2:00pm

PICKUP #3: MAY 30, 2020 || 10:00am-2:00pm
PICKUP #4: JUNE 2, 2020 || 5:00pm-7:00pm
PICKUP #5: JUNE 4, 2020 || 5:00pm-7:00pm
---
Course Route & Site Map
The Humboldt Mile boasts a half-mile straight away southbound down the center of Humboldt Boulevard (street closure) as it traverses the scenic heart of Humboldt Park. Post-race festivities include food, refreshments, and music.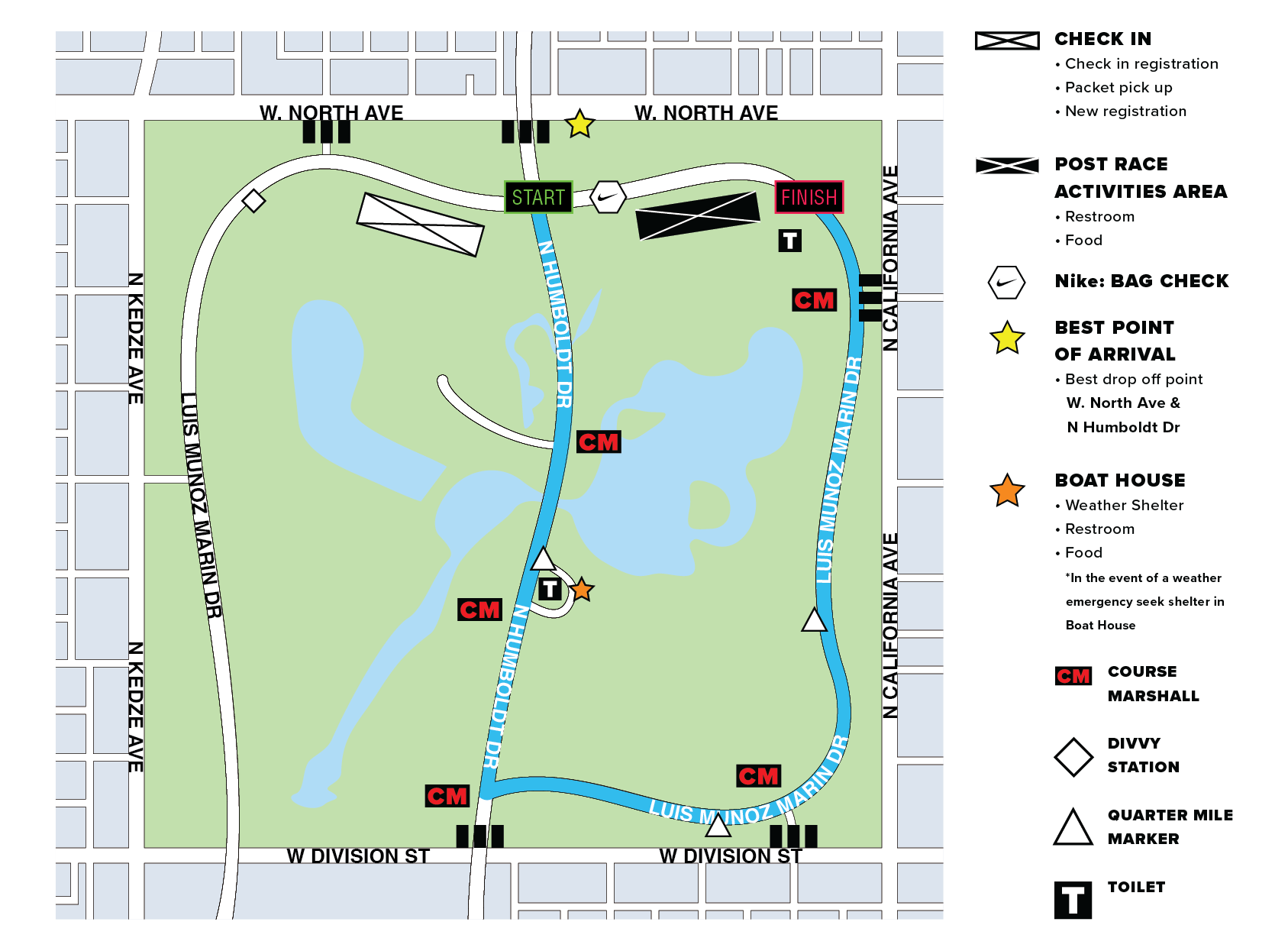 ---
About Hope For The Day
Hope for the Day (HFTD) is a non-profit movement empowering the conversation on proactive suicide prevention and mental health education.
Suicide claims more than 47,000 lives a year in America. It is the second leading cause of death among 15-24 year-olds. The primary obstacle to suicide prevention is silence - silence due to stigmas. Suicide has no prejudice, and each year more than 800,000 die in this silence.
Suicide is a preventable mental health crisis. The biggest obstacle to effective prevention is the silence of stigma. We will reduce rates by raising the visibility of resources for support and providing mental health education to equip and empower a grassroots movement of peer-to-peer proactive prevention that is a sustainable model for evolving social and institutional policies. Prevention starts with a conversation, It's Ok Not To Be Ok.
---
FAQs
1. When & Where is packet pickup?
All dates and locations are at Sip of Hope, 3039 W Fullerton Ave, Chicago, IL 60647
2. What is included with my registration?
The first 800 registrants receive a high performance Nike Race Day shirt.
3. Who can I contact with any questions?
Send all inquiries to Events@hftd.org
4. Is The Humboldt Mile Run chip-timed?
The Humboldt Mile is chip-timed.
5. Do I have to wear the shirt provided?
We encourage you to wear the event shirt but you are free to dress/express yourself anyway you choose.
6. Can children participate?

If they want to be timed and receive an event shirt, they must be registered as a participant.
If they simply wish to participate they are free!
7. Are pets allowed at the event?
Yes, pets are welcomed at the event. They can join the walking group on the course, which will be seeded last.
(a) They should be leashed & (b) Bring bags to cleanup any defecation.
8. Can I get there via public transportation?
Yes. The event check in is at: 1400 N Humboldt Blvd, Chicago, IL 60647
http://www.transitchicago.com/
9. Do I need to bring cash or credit cards?
There will be an opportunity to obtain apparel, and cash or credit cards will be accepted.
10. What do I need at check in?
A printed or digital copy of your registration. Digital is ideal for greenness!
11. Do I need my ID?
All participants who wish to affirm they are over +21 years of age must have ID.
12. How will runners be seeded?
Runners will be self-seeded
13. Are spectators welcome?
Yes spectators are encouraged to come out and support along the course.
14. Will there be parking?
There is public parking available within the park and on city streets where available.
15. Will weather effect the event?
We intend to have a safe event for all. If weather proves to be dangerous to participants it is at the full discretion of the event directors in conjunction with City of Chicago and Chicago Park District officials to determine if the event must be cancelled due to adverse weather conditions. THERE IS NO MAKEUP DATE OR REFUNDS IN THE EVENT OF A CANCELLATION.