Description
Humble Monk and PAR-Projects present:
The Humble Hop Print Shop - An Arts & Education Fundraiser
---
Help us kick off the start of spring by joining us for celebration of beer, art, raffle prizes and more!
We invite you to enjoy music in our parking lot beer garden or venture inside to check out the recently opened Humble Monk Brewery tap room!! Team PAR- will also be helping guests create their your own FREE relief prints!
A percentage of the alcohol sales will benefit the community arts and education programming of PAR-Projects. Their will also be PLINKO and hourly raffles, to keep the party going.
More information including raffle ticket prices will be announced as the event approaches so stay tuned.
- Raffle prizes and games
- FREE relief prints
- BEER SALES benefit PAR-Projects

What more could you ask for?!?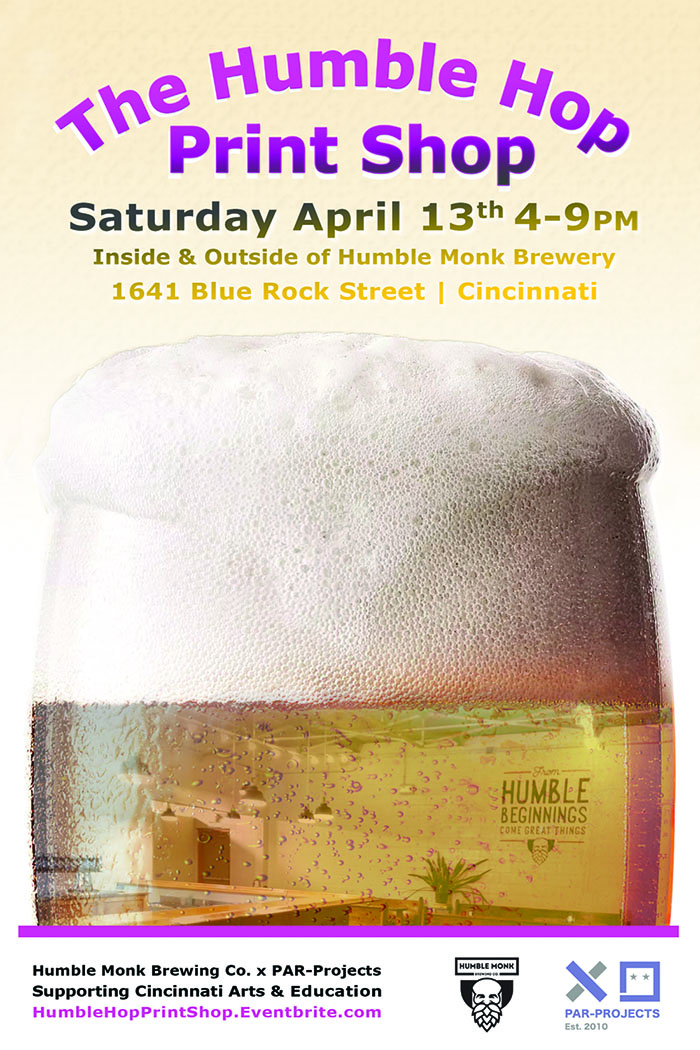 Find it on Facebook at:
https://www.facebook.com/events/313442735856766/

Find us at:
http://www.parprojects.com
---
Professional Artistic Research (PAR-) Projects is a registered 501(c)3 non-profit based in Northside, Cincinnati.
To help raise additional funds, tax-deductible donations will be accepted at the event. And if you can't make the event, but still want to support the efforts of PAR-Projects, please feel free to make a tax-deductible contribution here, via Eventbrite.