OUR AUGUST SHOW HAS BEEN POSTPONED.
About this event
Important Update on 2020 LIVE Show Dates for The Human Experience
In response to the local government's position on prevention care for the Coronavirus, we are postponing The Human Experience.
Until we can gather in such a way that we can enjoy being with one another in an unencumbered way and give guests and performers the unhindered freedom to express their craft, we will wait to gather again for The Human Experience LIVE. 
For those who have already purchased season tickets or tickets for the August show, you have two options: We can send you a full refund or you can bank your tickets for our next live performances, which, depending on the virus, could be a Christmas Show in late 2020. 
We can't wait to be with you again... Thank you for the amazing support!
Jamie George and Paul Farmer
Executive Producers, The Human Experience
The Human Experience is a NEW monthly Live Show Hosted by Jamie George with Special Guests. Plus, all attendees have access to a Private Cocktail Party following the show! All of this will take place inside the renovated Historic Mockingbird Theater at the Factory in Franklin, Tennessee.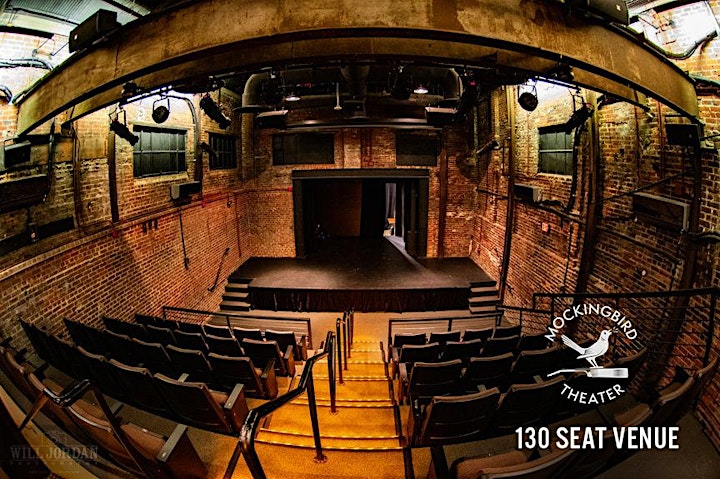 About Jamie George
Jamie George is one of Nashville's seasoned storytellers with more than three decades of experience in coaching, teaching, and public speaking. He has authored multiple books and is a transformational coach focused on emotional health, leadership, and legacy. 
From Grammy Award winning musicians and World Champion Athletes to American teenagers and third world orphans, Jamie's greatest desire is to help people discover the gift they were given that the world can't live without. He feels most alive when he is inspiring, guiding, and releasing others into those unique gifts. 
What is The Human Experience?
The Human Experience is a monthly LIVE show for those who love inspirational stories and entertainment that touches the soul. It's an unforgettable night of masterful storytelling & live performances that will spark your imagination and make you come alive. 
Like watching a movie at the theater, buying tickets to a show on Broadway in New York City, or attending a concert at the Ryman Auditorium, The Human Experience delivers the power of STORY + EXPERIENCE in one of the most charming theater venues around.
The Human Experience is anchored in a powerful story each night, and is certain to captivate your attention and imagination in a unique way.⁠ Each month's show is completely different and is designed to entertain you, encourage you, educate you, and motivate you all at the same time.
Plus, after the show, all attendees have access to a Private Cocktail Party at the theater with Jamie George and Special Guests!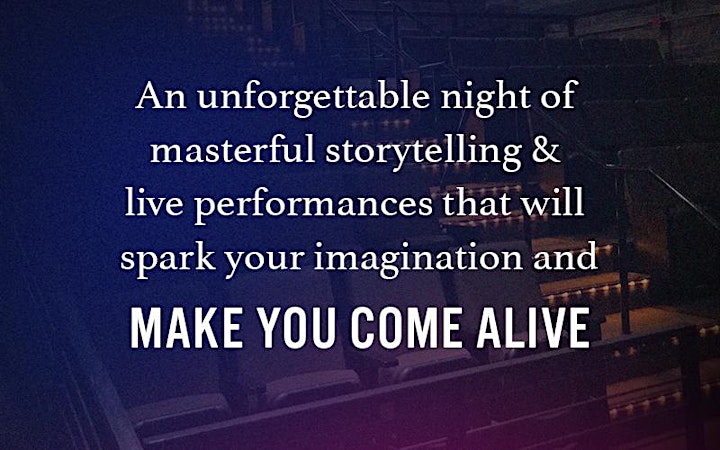 What You Will Experience at Our Show
You will be inspired by stories and live interviews that highlight human struggle in the midst of great accomplishment. 

You will be moved by monologues and musical performances that fuel curiosity and remind you of what truly matters.

You will be entertained and challenged to dream again.

You will be invited to awaken to the true purpose for your life, and you will be encouraged and equipped to go fulfill it. 

This is a show that will let you laugh, and let you cry, and leave us all remembering that life – this human experience – is beautiful, meaningful, and full of wonder.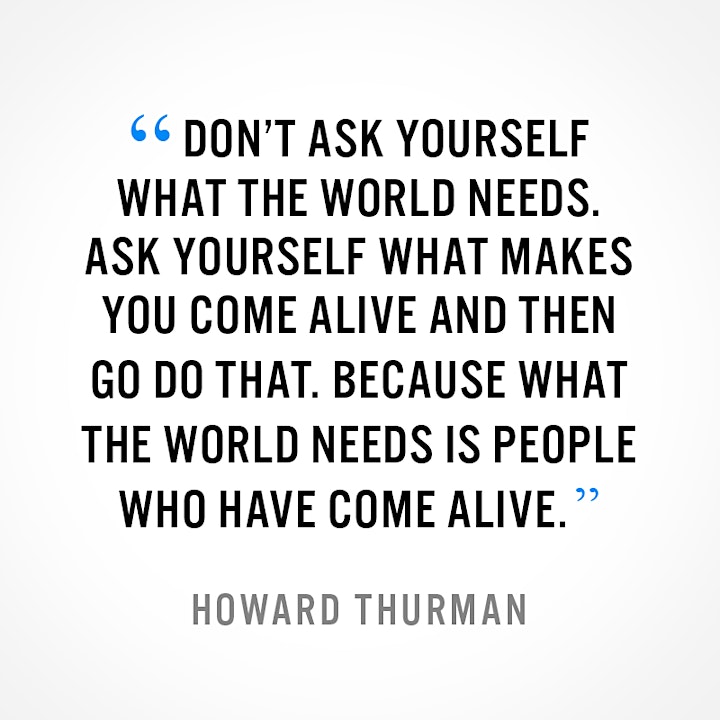 Introduction to the Event – From Jamie George
What Makes You Come Alive?
"Don't ask yourself what the world needs. Ask yourself what makes you come alive and then go do that. Because what the world needs is people who have come alive." Howard Thurman 
Inspiration is defined as an energy that makes your mind, soul, and body feel more alive. 
Imagine for a minute what is actually happening inside your body when you become truly inspired. All it takes is a single brainwave to fire, then neurotransmitters send messages down your spine, throughout your nervous system – all within a nanosecond. 
This spark of inspiration is creativity expressing itself through your very being. The word in-spire literally means to "breathe into" and this breath is the spark of the Divine. "Life" is literally being breathed into you, causing you to experience "inspiratus" [Latin], or "alive-ness". And its power cannot be ignored. It's an energy that causes you to take action – to create something that improves your life. 
This is the essence of The Human Experience.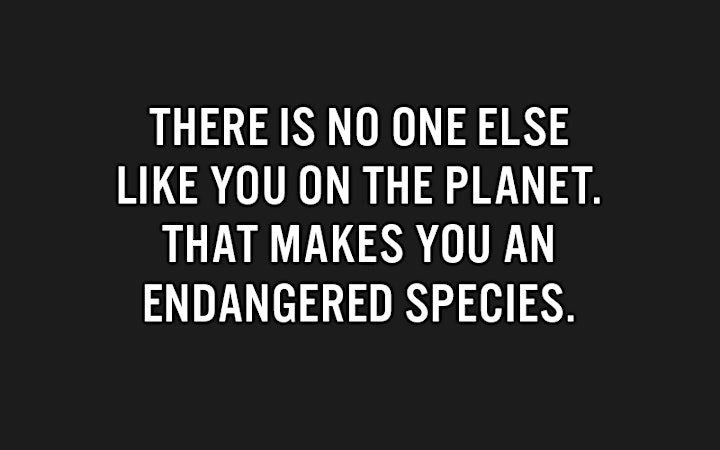 Questions for You
Did you know that you are 100% unique? Meaning, there is NO ONE else exactly like you on the planet. That makes you an endangered species. 

Do you believe we are all connected and a part of something bigger than ourselves? Does the existence of the Divine cause you to live in fear or in love?

Have you experienced that voice that tells you that your life has meaning and that you were placed here on this planet for a purpose? Are you fulfilling that purpose?
You were given a unique superpower that the world needs. When you engage it, you are living out your purpose in the collective Human Experience.
An Invitation to You
The Human Experience is a show about nudging your soul, inciting wonder, and giving you the encouragement to dream again. Perhaps, somewhere along the way, you were told that your humanness is not ok. We're here to tell you that you are more than ok, and that your humanness is what makes this world more beautiful.
Through the power of storytelling and some of Nashville's most gifted musicians, artists, and performers, you will be a part of a live audience gathering to celebrate the impact of our human experience. Our ultimate desire is for you to leave motivated to live every moment and every day fully alive and fully connected to all that is good. 
Here's our invitation to you: 
Come and be inspired.
Come and dream again.
Come and be human.
Come and be you.
Come and be.
Endorsements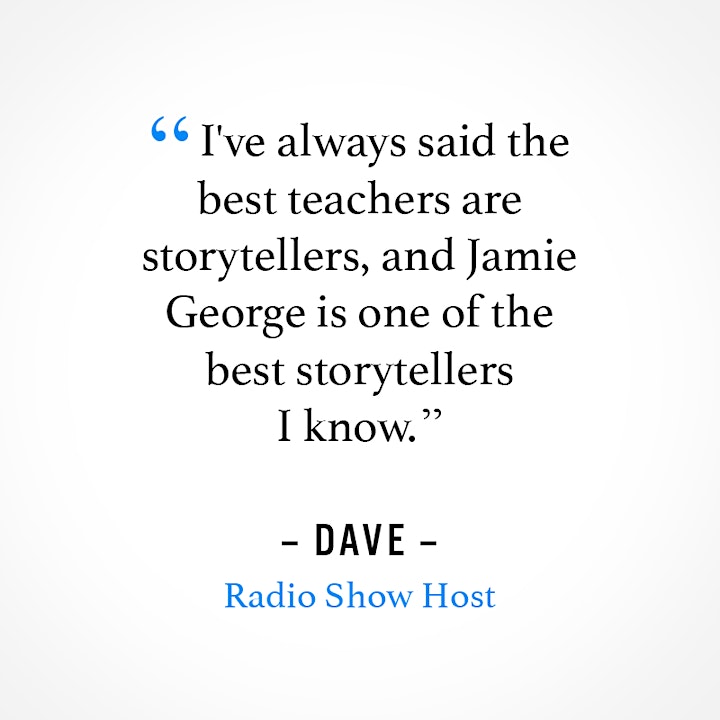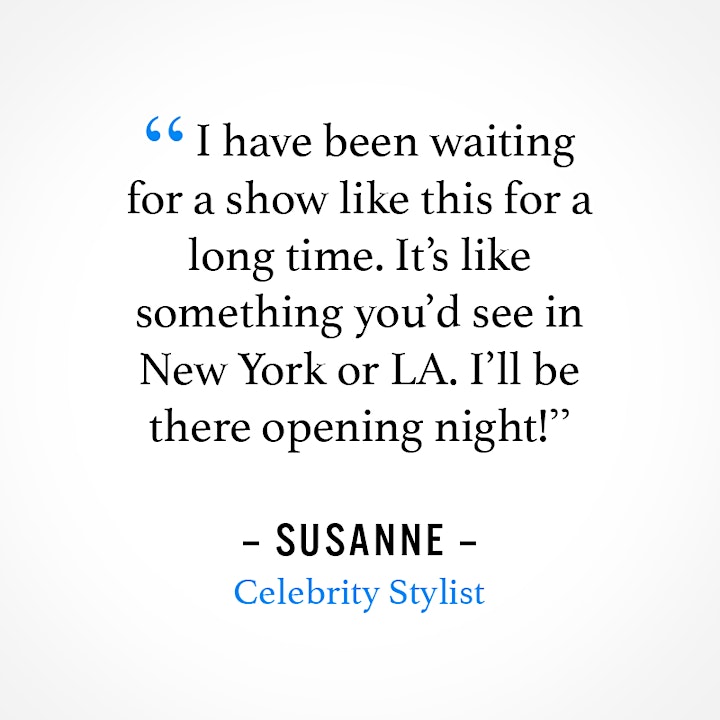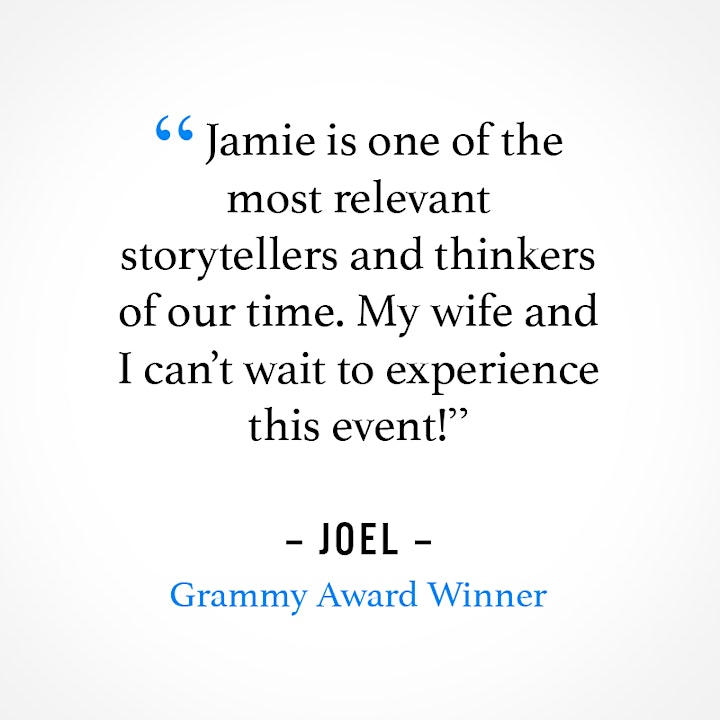 "Jamie George provokes self-reflection. Sometimes the response will be painful, sometimes ugly, sometimes breathtakingly beautiful."
Amy – New York Times Best-Selling Author
"Jamie cuts through stereotypes. He is a friend that we all truly need to hear from."
Jeremy – Internationally Renowned Photographer
"Jamie provides real life solutions that have transformed my life!"
Barry – World Series Champion
"Timely and relevant, Jamie George's much needed, fresh voice will undoubtedly liberate many to live and love richly."
Dimas – Urban Pastor
"Jamie sends you back into the game when all you wanna do is just sit on your ass and watch everyone else play."
Susie – Blogger
"Friend and fellow artist, Jamie is a masterful storyteller with a penchant for real-life situational significance." 
Kevin – Grammy Award Winning Musician 
"It's not an exaggeration to say that hearing Jamie speak changed my life. His stories and questions awakened something deep inside of me and reconnected me with an Ancient Love that has transformed my life."
Patrick – Marketing Leader
"Jamie's been one of my favorite storytellers for years, very soon he'll be one of yours too."
Jon – New York Times Best-Selling Author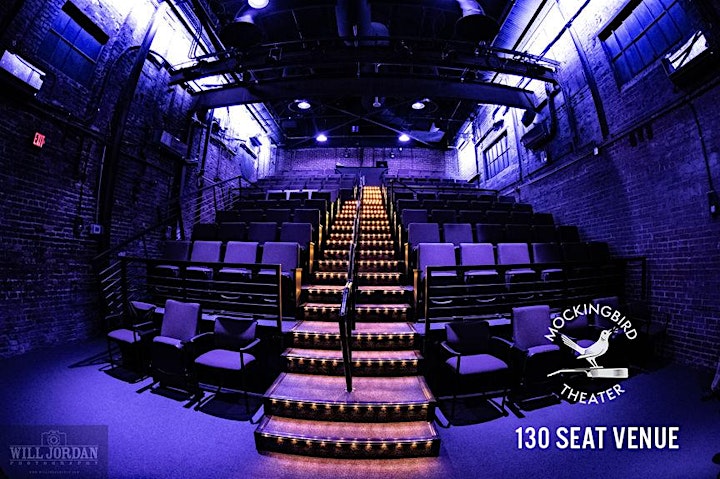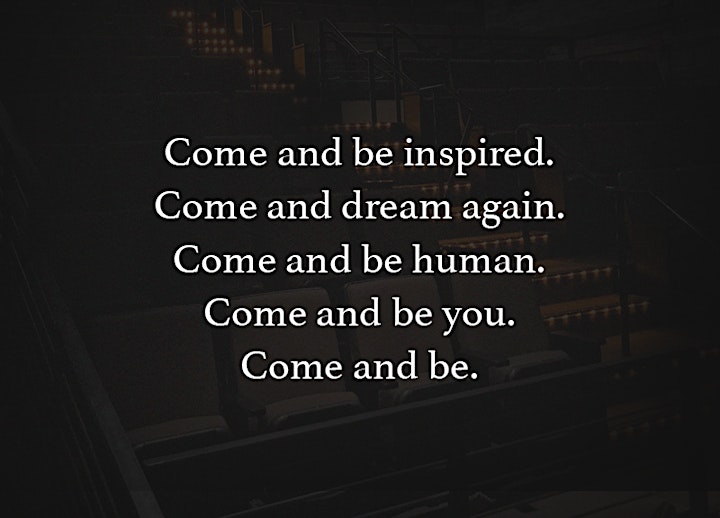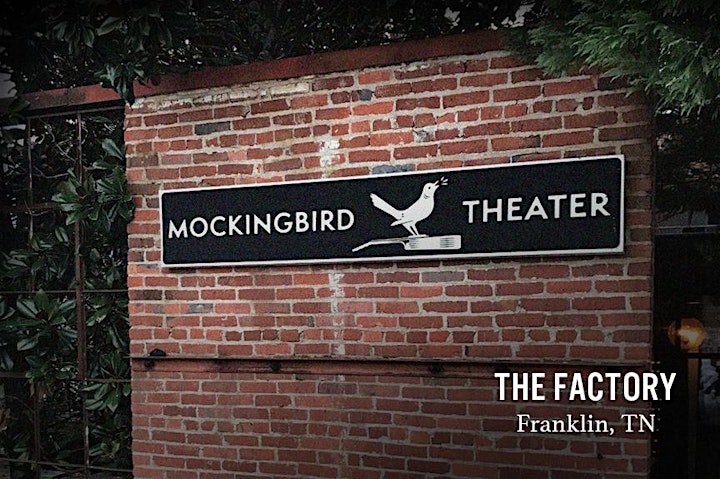 About the Mockingbird Theater
Originally Built in 1929
The Mockingbird Theater is an intimate 130-seat venue that has been recently refurbished with comfortable stadium seating.
Enjoy a Cocktail Before or During the Event 
There is a full Speakeasy Bar located inside the theater, open prior to the event at 5pm and available throughout the show. 
For Directions
The Mockingbird Theater is located in Building 6 at the Factory, 230 Franklin Road, Franklin, TN 37064. 
Ticket Options 
General Admission
$69
Seating is not assigned or reserved
Pick your choice of any seat located behind our reserved VIP seating, first-come first-served

Includes access to a Private Cocktail Party following the show at the Speakeasy Bar at the Mockingbird with Jamie George and his Special Guests
The Speakeasy Bar inside the Theater opens at 5pm
Event doors open at 6pm
VIP (Premium Seating)
$89
Reserved seating close to the stage
Includes access to a Private Cocktail Party following the show at the Speakeasy Bar at the Mockingbird with Jamie George and his Special Guests
The Speakeasy Bar inside the Theater opens at 5pm
Event doors open at 6pm
Season Tickets for 2020
$399-$499
General Admission ($399) or VIP Tickets ($499)
6 Shows in 2020
Guarantees you the best seats available for the remainder of the season
To purchase Season Tickets, click on the orange "Select a Date" button at the top of the page, and choose which night you would like to attend this month. Then you will see an option for purchasing the rest of the season.