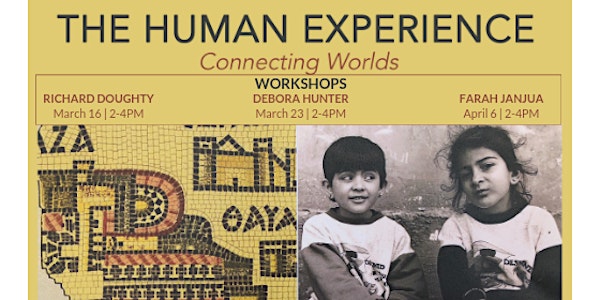 The Human Experience 2019 Workshops
When and where
Location
Keller Town Hall 1100 Bear Creek Parkway Keller, TX 76248
Description
We are excited to announce our series of workshops as part of our Human Experience: Connecting Worlds exhibit, facilitated by the featured photographers.
workshop with RICHARD DOUGHTY entitled "Ethics of Relationship in News from Far Away"
Saturday, March 16 from 2-4PM
FORMAT:"What does it mean to be a responsible citizen of today's global infosphere—especially when it comes to people and places that are unfamiliar? In this presentation/workshop, Richard Doughty will talk about how relationship is one key to examining the ethics at the heart of these questions for both those who produce news and the rest of us who read and view it. Using the experiment in a relationship-based, community-led photo essay that he undertook with a Palestinian partner in the Gaza Strip, participants will explore how our understandings of individuals and groups—often our stereotypes—are products of relationship ethics. Then the group will look at a few current, diverse media products to consider the relationships that guided them. As we become more aware of the relationships that shape our information cultures, we can better make up our own minds about what we read, see and hear.

Our goal for this workshop is to become aware of our own assumptions, myths and stereotypes, the better to find a lens that can clarify our relationships with people both nearby and across the world. We may aspire to always look for history and context in order to form our opinions, but both as producers of news and as consumers we face constraints in many forms. Awareness of them will help us develop compassion towards our fellow human beings, for the rights for all to live in dignity, to speak and to be heard."
workshop with DEBORA HUNTER entitled "Finding Meaning in Photographs of Home:
Saturday, March 23 from 2-4PM

FORMAT: In this workshop, we will examine the ways that photographs of family members in domestic interior spaces offer deep personal significance while revealing cultural values and traditions. Presentation on photographic projects such as Rania Matar's Girl in a Room, Boushra Atmutawakel's Family Homes will provide insight into techniques we can employ to strengthen our own family photographs. Participants are asked to bring favorite photographs from their own family archive to share with others.
workshop with FARAH JANJUA entitled "Photography as an Expression: Finding Meaning in Ordinary People and Places "
Saturday, April 6 from 2-4PM
FORMAT: In this workshop we will explore the basic of photography and what to keep in mind when shooting such as light, composition, patterns, textures, and more. Participants will be invited to look at their own surroundings and notice how everyday things have their own unique beauty and a life that breathes within them. Perceptions will be challenged in order to find ways to see the ordinary as extraordinary. Open to all skill levels. Workshop will include exploring the Keller Town Hall and Bear Creek Park as photographic practice.

Participants are encouraged to bring some of their favorite images for sharing and critiquing if they would like (optional)