Floating between painting, VR worlds, holograms, and more, artist Rachel Rossin carries with her the essence of what it means to be alive.
About this event
How do we account for the tension between technology's infinite, unrestricted promise and the impermanence of being human? Rachel Rossin interrogates this slippage. Floating between painting, VR worlds, holograms, and more, the Brooklyn-based artist carries with her the essence of what it means to be alive. Rossin's work meditates on and pushes the boundaries of human perception, the tenderness, and the vulnerability of empirical experience.
Rachel will speak with Killscreen founder, Jamin Warren, on her childhood underwater and the illusory nature of immersive technology. We'll also talk about Rachel's approach to her process, looking at her recent traveling shows with Rhizome and at Magenta Plains in New York.
This event is part of Killscreen's Theory programming. (See below)
About Your Speaker
Rossin is both a painter and virtual reality artist. In one piece, she explored what is lost in translation between physical and virtual spaces, scanning bits of her paintings and photos she took in her studio and apartment, and using them to make short videos experienced through an Oculus Rift headset in a gallery hung with her work. She's shown in solo exhibitions in New York, and in museums in Basel, Riga, Istanbul and Helsinki. She's also a fellow at New Inc., a cultural incubator founded by the New Museum in New York.
Born in West Palm Beach, Florida, Rachel Rossin began painting at age eight, around the same time she taught herself to write computer code for MS-DOS. She received a B.F.A. from Florida State University, Tallahassee, and went on to combine her painting skills with VR technology.
For research, she might hack action-adventure video games, like Grand Theft Auto or Call of Duty, to better understand how big-budget special effects are executed. By synthesizing traditional art-making techniques with new technology, she examines the boundary between the hyper-real and imaginary, between perceptual and embodied space. Rossin composes arrangements within her installations and paintings to symbolize the subdivision of time and memory in order to distill the larger themes of the broader human experience.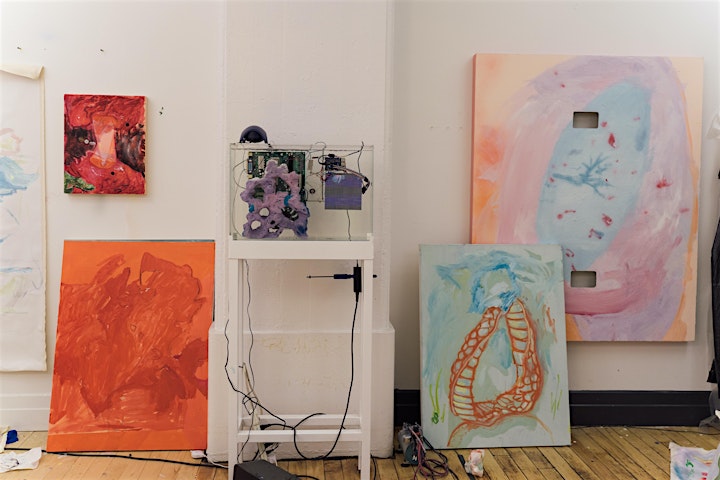 What to Expect
Killscreen divides its events into two categories Theory and Method. Theory courses are lectures, talks, and other one-to-many events. Method events are workshops, immersive, and other smaller hands-on programming.
Once you're registered you can access this experience through your confirmation email or Eventbrite account. Killscreen online experiences are recommended for attendees age 13+.
This online experience will be recorded. A temporary link to the recording will be provided in a follow-up email to all ticket holders within 72 hours after the event. Access to this recording will be available for seven days.
Killscreen is an arts and culture organization committed to advancing the dialogue and practice of games and play. Founded in 2010, we seek to drive the intersection of games, play, and culture through cross-disciplinary collaboration to show the world why play matters. We want to break down the barriers that have traditionally segregated play and games from other creative disciplines and highlight creators with ambassadorial relationships to the world around us.
We encourage you to follow and share the hashtag #KSonline for more incredible online experiences. And check out other material on Killscreen.com, including honest and thought-provoking interviews with some of the best creators at the intersection of play and culture.