THE HUB's First Friday Biz/Social Monthly Mixer for all business professionals, entrepreneurs, fashionistas/stylists and artists.
About this event
Don't miss the return of THE HUB's First Friday Business Mixer taking place on Fri-July 2nd from 5:30 pm to 8:30 pm presented in partnership by the California Black Chamber of Commerce, Sac Cultural Hub, KDEE 97.5 and THE HUB Magazine. Taking place at Season's 52 at Arden Fair Mall in Sacramento. Enjoy the LIVE JAZZ BAND, speed networking, tasty appetizers, no host bar, and raffle prizes (face mask is required). Admission is $10 in advance online and $15 at the door. Limited advanced table reservations for 2 or 4 are $50-$100.
All professional adults in the corporate arena, fashion industry, entrepreneurship, and arts are encouraged to attend for networking, good conversation and good music. When you attend this event consistently, you can expect to:
Increase awareness for you and your business
Build and expand your referral network
Meet new people other like-minded people involved in the local community
Learn about the latest events & opportunities happening in the Sacramento Region area and beyond
Conversate, laugh, relax and enjoy the environment
THE HUB Magazine will be hosting THE HUB's First Fridays at a variety of venues throughout the Greater Sacramento Valley Region in 2021. Join us and support THE HUB's 2021 Small Business Initiative at the level of an Annual HUB Patron or as one of our HUB Impact Partners. Sign up online to become an Annual HUB Patron and receive the following benefits:
Gold card free entry to all monthly First Friday mixers.
Advanced reserved seating and 1 complimentary glass of wine at each monthly mixer.
Individual professional listing with your photo listed and spotlighted in "Who's Who in the Capital City" directory on new launch of THE HUB's First Fridays website in July 2021.
Four (4) issues of THE HUB Magazine mailed to your home or business.
If you are interested in being a vendor at THE HUB's First Friday Business Mixer, call (916) 234-3598 or e-mail contact@sacculturalhub.com.
Promote your business/expand your visibility and e-mail us at contact@sacculturalhub.com for more information about the benefits of signing up as a HUB Impact Sponsor Partner!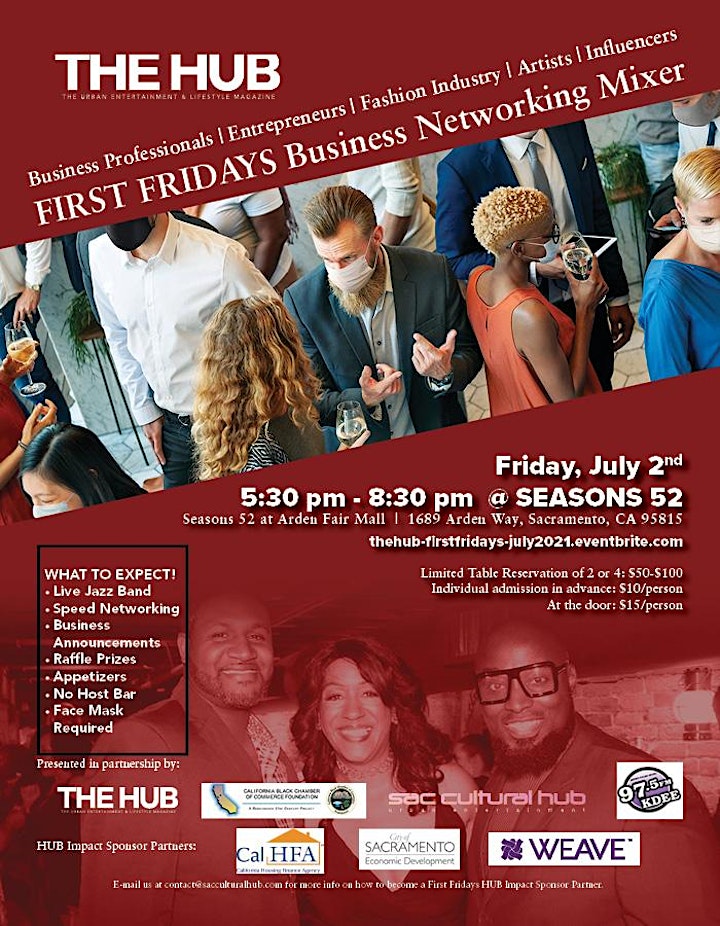 Organizer of THE HUB's First Friday Business Mixer