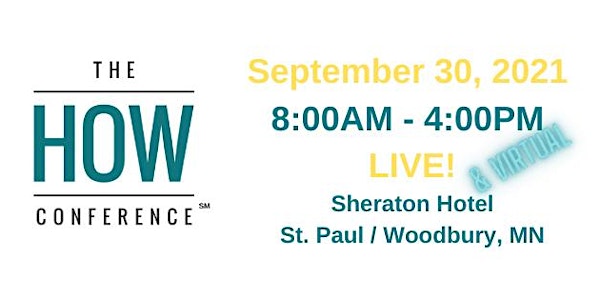 The HOW Conference 2021
TheHOWConference 2021 Live event! 4X your Network with the right connections, Implement the CASH*osophy to scale your business.
When and where
Location
Sheraton St. Paul Woodbury Hotel 676 Bielenberg Drive Woodbury, MN 55125
Refund Policy
Contact the organizer to request a refund.
Eventbrite's fee is nonrefundable.
About this event
The HOW Conference will be your opportunity to meet, connect, grow and learn. What do we mean? If you answer YES, I'm interested to any of the following, don't delay! Get your tickets today for this Live event. It's time to get networking and connecting again! YES, There is a Virtual option in tickets!
Grow in sales confidence. Lean the HOW concept to sell without being salesy.
Learn to 4X your Network by Helping Others Win
Learn HOW maximize your time when you attend LIVE events.
LIVE rounds of Structured Networking. Develop meaningful connections with introductions and conversation.
CASH*osophy to scale your business
Check in and learn more about your content and HOW it stacks up with copyright and trademark laws and if you have the right contracts to keep your business growing.
Grow your business through Networking and choose groups both online or live that meet your needs without being a time waster.
Check in on social media best practices
Decide if a coach is a good option for you and learn what to look for to succeed.
Learn HOW your health habits could be stunting your business growth
Build confidence, learn accountability best practices so you can reach your service-based sales goals.
Sounds like a full day doesn't it?
Kelly Jahner-Byrne, The HOW Gal, has produced the sold out TheHOWConf.com event, OVER 300 LIVE events, The HOW Show, Podcast and leads THe HOW Club. She will share her decades long experiences with the audience to build your business and scale. Our speaker line up is complete, our experts (Kelly's favorites and her team) are ready to pour into you, AND VIRTUAL tickets ARE ON SALE NOW.
Follow us on Facebook and get special offers, information, updates and network with past and current conference attendees. Keep up with conference attendees here.
At a glance:
8:00 AM - General Admission Check in & VIP Desk Opens
8:15 AM - 8:45 AM - Coffee & Connections VIP / Partner ONLY Event
8:45 AM - TheHOWConf Doors Open
9:00 AM - Speakers, Round 1-Structured Networking (AllLIVE/Virtual Attendees)
12:00 PM - 1:15 PM -Lunch -(Break for Virtual attendees)
1:30 PM - 4:00 PM - Speaker, Round 2-Structured Networking (LIVE & Virtual Attendees)
4:00 PM - Nosh&Network - Complimentary for VIP /Partners, ticket, available as add-on for General Admission
Speaker:
HOST: Kelly Jahner-Byrne - The HOW Gal and Founder of The HOW Companies, Director of The HOW Club suite of online entrepreneurs and business professionals, Producer of the Sold Out TheHOWConf.com, Internationally Acclaimed Speaker and Business Coach, Podcast Host of The HOW Show, $1M Non Profit Founder, 2 x Author, Mrs. Minnesota 2001, $1M Sales Leader, Vocalist, Former Managing Director of 2x Award-Winning Women's Networking Organization, Health and Wellness Coach and Coffee Connoisseur!
Presenters: Meet Kelly's team
MC: Stephanie Butler - Demonstrated public speaker and coach. From coaching state title holders that are Miss America bound, to corporate professionals. Presentation expert, she captures your voice and vibe for a winning social impact.
Bob Sansevere - Radio Personality, Podcaster with over 1000 episodes, award-winning journalist, sports writer and commentator for over 30 years. Media expert and voice talent and avid horseman.
Julie Finch - Finch Law Office, former in house counsel to Honeywell and former Assistant Attorney General for the State of Minnesota, serves small business and entrepreneurs, Host of Legal Bits for Business podcast.
Janet Johnson - International Speaker, and agency owner that has generated millions of dollars for clients using online marketing. Former blogger, specializes in Facebook and Instagram advertising.
Lisa Zufall - Founder RockURwebsite, International Speaker, Tech lover, 20 years of website design, SEO and taking business ideas to brands. From tech startups to corporate to thriving in business on 10x more digital stages in 1Q - 2020 than 3 previous years.
Nancy Paradeise - Health and Wellness at any stage of life, with a degree in Health Sciences and over 13 years in the wellness and beauty industry. Former Mrs. Minnesota 2004 and holds top 20 in 11 events worldwide in Concept2 rowing.
The Details - Need to join virtually? No problem! Grab a ticket and all the instructions for ZOOM will be emailed to you. Don't forget with your paid virtual ticket you'll get one for a friend or colleague. We will request the contact details after your booking is complete. Hey, don't forget to begin the connections and make yourself available in our private Facebook group. The HOW Club
HOW do I get there? Minneapolis/St. Paul MSP International Airport is just 20 minutes away.
Where to stay? Stay at the Sheraton. You won't want to miss it. Need a get away, or perhaps a retreat to recharge? The Club Level offers just that. You can book your hotel rooms now and get TheHOWConference rate. Club level $119+ or Standard $109+. Request The HOW Conference rate. Free parking and plenty of shops and restaurants within walking distance.