Description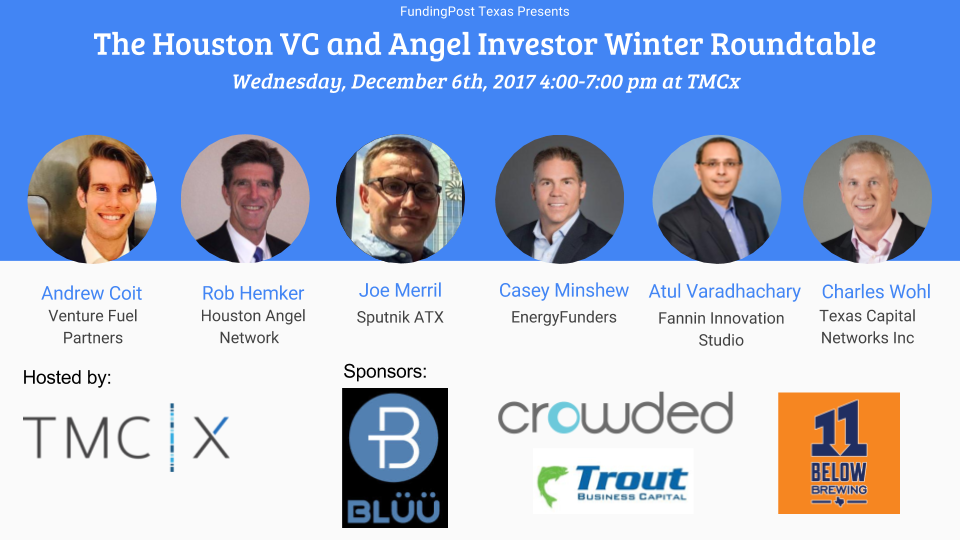 Are you looking to meet investors and learn more about raising capital? You do not want to miss this event. Get registered for The Houston Venture Capital and Angel Investor Winter Roundtable on Wednesday, December 6th, 2017. This spectacular event will take place during at the Texas Medical Center Accelerator facility, and will be a great opportunity to network with fellow entrepreneurs and investors.
FundingPost has hosted 400+ sold-out venture events in 23 cities over the past 16 years and worked with thousands of investors representing over $108 billion.
The afternoon will begin with a panel discussion by investors who will discuss investing in early stage technology companies, share some tips and advice for entrepreneurs, and answer questions from the crowd.
This will be followed by a pitch competition with up to 25 entrepreneurs who will pitch their business in one minute or less!
As always, there will be ample time for networking with the panelists during the breaks and networking reception!
AGENDA:
3:00-4:00 Check In and Networking
4:00-5:00 Panel Discussion
5:00-5:45 Pitch Competition
5:45-7:00 Networking Reception
PANELISTS:
Andrew Coit, Venture Fuel Partners
Rob Hemker, Houston Angel Network
Joe Merril, Sputnik ATX
Atul Varadhachary, Fannin Innovation Studio
Charles Wohl, Texas Capital Network Inc
MODERATOR:
Casey Minshew, EnergyFunders
EVENT ORGANIZER:


Napoleon T. Butic, FundingPost Texas


We will have a panel of local and out-of-town investors focused on pitching to early-stage investors, and what it really takes to get them to write you a check! We will be discussing the things that are most important to them when they are considering an Investment, the best and worst things an entrepreneur can do to get their attention during a pitch, and, of course, the best ways to reach these and other Investors. There will be plenty of time for networking with the Investor panelists during the breaks and networking party!