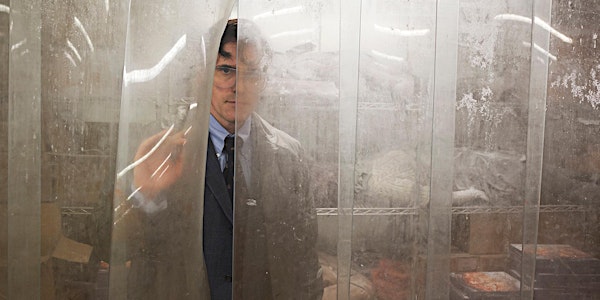 THE HOUSE THAT JACK BUILT (35mm) @ The Secret Movie Club Theater
THE HOUSE THAT JACK BUILT (35mm) @ The Secret Movie Club Theater
When and where
Location
The Secret Movie Club Theater 1917 BAY ST 2ND FL LOS ANGELES, CA 90021
Refund Policy
Refunds up to 1 day before event
About this event
SECRET MOVIE CLUB presents
Part of our New Movies to Unsettle the Sh@t Out of You Series, Thursday, October 20, 2022
LOCATION: The Secret Movie Club Theater, 1917 Bay Street, 2nd Floor, Los Angeles, CA 90021
*Please note entrance/parking is actually in the back of the building. Make a right on Wilson Street, then a right behind the building. We're the first set of black steps after the big gate.
7:30pm THE HOUSE THAT JACK BUILT (2018, dir. Lars von Trier, IFC, Denmark, 155mns, 35mm)
We wrap up our two part series with Lars Von Trier's 2018 The House That Jack Built. In many ways the more successful of his veiled autobiographical movies ( 2014's Nymphomaniac being the first), The House That Jack Built follows failed architect Jack (a fully committed Matt Dillon) as he recounts his life as a serial killer to an unseen (at least for most of the movie) listener played by Bruno Ganz.
Jack details his growing skill at killing people through a number of exemplary "murders" from his life. As Jack grows more confident in terrorizing and dispatching his victims, he also grows strangely more handsome and relaxed (but also more careless). His ultimate fate and the identity of the person he's been talking to prove to be remarkably satisfying.
What's hard to ignore is how clearly Von Trier appears to be wrestling with the public's perception of who he is post his infamous "I sympathize with Adolf Hitler" gaffe at the Cannes' press conference for Melancholia. Jack feels like a stand in for Von Trier. Someone who is incredibly good at what they do but who, ultimately, has to answer for their societal transgressions.
And then again. . .maybe that's not quite it. This Programmer feels Von Trier was unjustly pilloried for what was admittedly a really stupid comment to the press. But even in the context of that moment, Von Trier was actually commenting on his own OCD, his own self-acknowledged desire to control everything.
The House That Jack Built becomes a kind of two way mirror of how someone is perceived by outsiders, how they perceive themselves, and how the truth may be even stranger than either side wants to admit.
Another movie NOT for the faint hearted (children are killed so be warned) that still turns out to be a surprisingly funny dark comedy.
This is a strange, unique, fascinating movie. And one of Von Trier's best.
Best always,
Craig Hammill
Secret Movie Club Founder.Programmer
FREQUENTLY ASKED QUESTIONS
REFUNDS:
We can offer refunds up to 24 hours before showtime. Please request a refund through Eventbrite and we will process ASAP. After that, no refunds. Sorry.
However if something last minute comes up and you can't make the screening, for whatever reason, just write to us before showtime: community@secretmovieclub.com and we'll offer you complimentary tickets to a future screening, good for 90 days. (Disclaimer: Future screening must have available tickets, cannot be a fundraiser, and must be comparably priced)
HELPFUL SECRET MOVIE CLUB (1917 Bay Street, 2nd Floor, LA, CA 90021) THEATER PARKING TIPS:
We recommend that you park just outside our theater. Remember our theater is actually in a beautiful street art alleyway in the back of the 1917 Bay Street building. You get to our entrance by taking a right on Wilson, then a right behind the building. We are the first set of black steps on the right after the big gate.
There is also a parking lot at the corner of Mateo and Violet Street, just 2 blocks from our theater, which costs $7 per car.
HOW CAN WE STAY ON TOP OF NEWLY ANNOUNCED 35MM SCREENINGS, EVENTS, ETC?
You can follow us on Instagram/Twitter: @secretmovieclub or Facebook: @secretmovieclub35mm
You can also subscribe to our weekly email newsletter at secretmovieclub.com or by writing to us at community@secretmovieclub.com and using the header "SUBSCRIBE ME TO NEWSLETTER".
HOW CAN I CONTACT YOU IF I HAVE OTHER QUESTIONS/RECOMMENDATIONS:
You can always email us at community@secretmovieclub.com with any other questions, concerns, thoughts, recommendations.