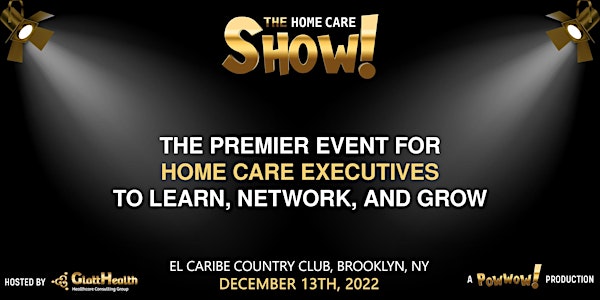 The Home Care Show!
The Home Care Show! is the premier event for home care executives in the tri-state area to learn, network, grow, and explore recent trends.
When and where
Location
El Caribe Country Club Caterers 5945 Strickland Avenue Brooklyn, NY 11234
Refund Policy
Contact the organizer to request a refund.
Eventbrite's fee is nonrefundable.
About this event
7 hours 30 minutes

Mobile eTicket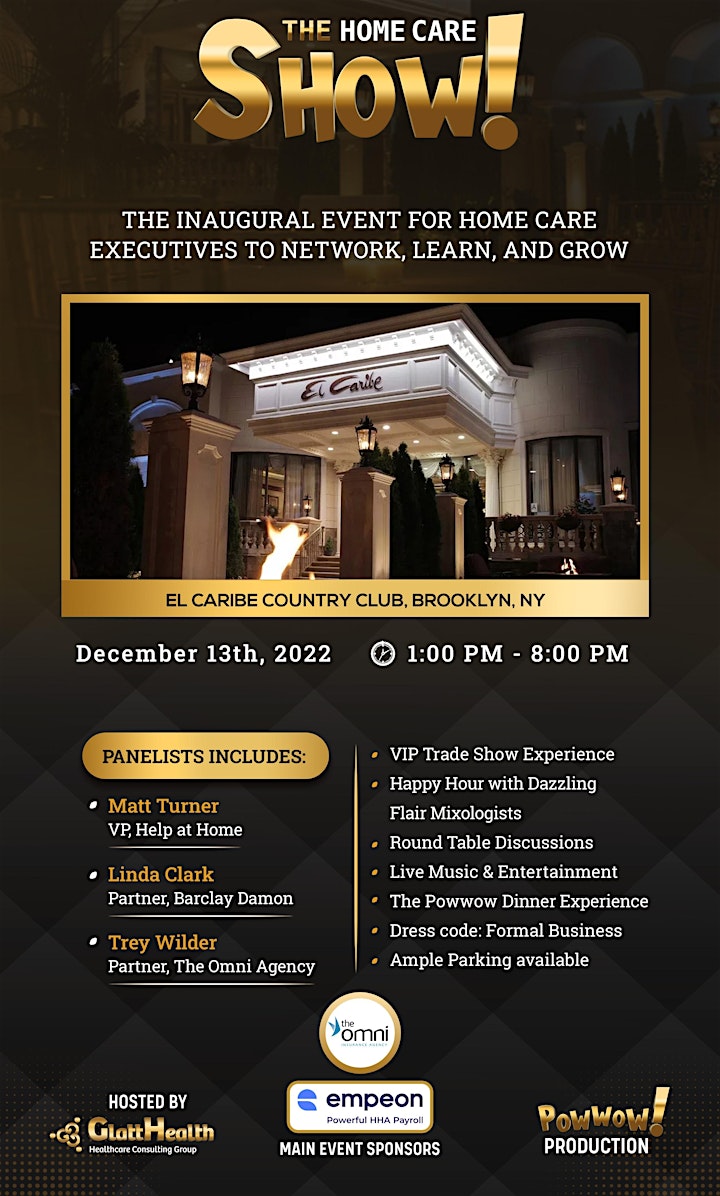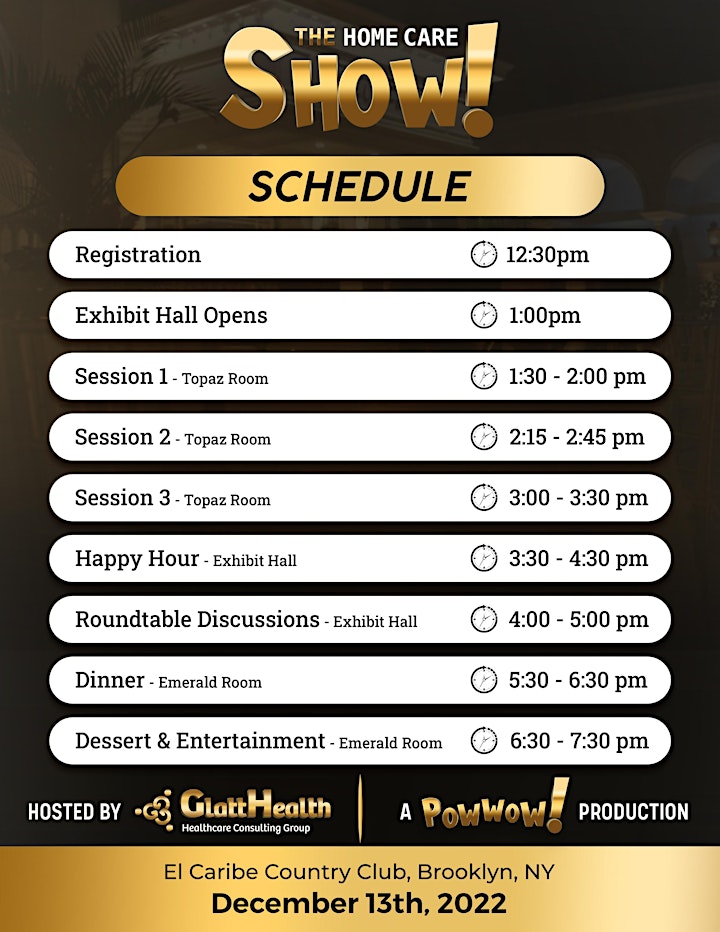 Session 1:
Kickbacks and Clawbacks
by Linda Clark, Partner with Barclay Damon
Session 2:
How to prepare your business for Acquisition
A panel by:
1) Matt Turner, VP of Corporate Development with Help at Home
2) Ryan McCarthy, Director of Healthcare Transaction Advisory with BRG
3) Peretz Rapoport, VP of Product with Empeon
Moderated by:
Anthony Trochtchenkov, M&A Director with GlattHealth Consulting Group
Session 3:
Light Duty and its impact on your premium 
By Trey Wilder SR VP of The Omni Agency and Michael Rosado CPCU ARM, Code rule 59/60 Consultant
Roundtable Discussion:
 "Advocacy Roundtable" – 2022 Year in Review, and actions for the upcoming legislative season. - Kathy Febraio, President/CEO with the HCP
"CTO Roundtable" - Cyber Security and HIPAA; mitigating the risk of a data breach. - Shlomy Levinger, Partner with SpareEye.
"FI Roundtable" – Discuss the unique challenges FI's face, such as unemployment in Consumer Directed Services and similar issues. - Bryan O'Malley, Executive Director with CDPAANYS
"Live-in Services" – The regulation and liabilities associated with 24-hour care. - Andrew Grossman, Partner with RKGM Law
"NHTD/TBI Waivers" – The challenges and benefits of the Waiver programs. - Shalva Sashitzky, NHTD/TBI Waiver Director with Hamaspik of Kings County
"Pre-Service operations" - Redefining intake, NYIA/Maximus issues, and enrollment efficiencies. - Tsvi Vilinsky, Executive Vice President with Bolt.Healthcare
"Recruitment and Retention" – Staffing shortages continue, initiatives to implement today. - Alex Oosterveen, CEO at Caribou
"Staffing Challenges" - Cluster Care, Transportation, the challenges know no end. Let's brainstorm! - Dana Arnone, RN, Founder of All Things Home Care and Reliance Home Senior Services.
"Tech and VBP" - Successful Use of Technology in preparing for Value Based Contracts - Phil Feldman, Director of Revenue Cycle Management with Sandata
"The CFO Roundtable!" - Cost Report, audits and efficiencies to implement today - Moshe Landau, Partner with Home Care Consulting Group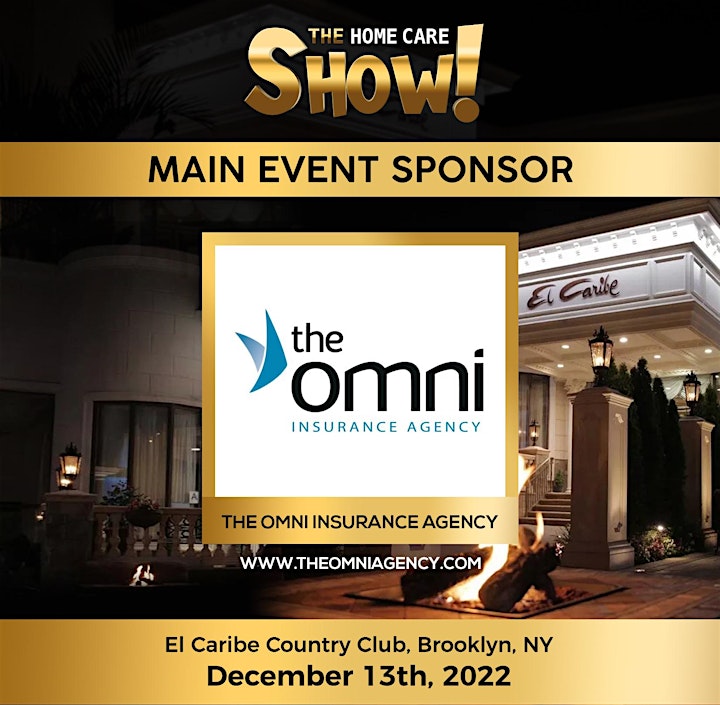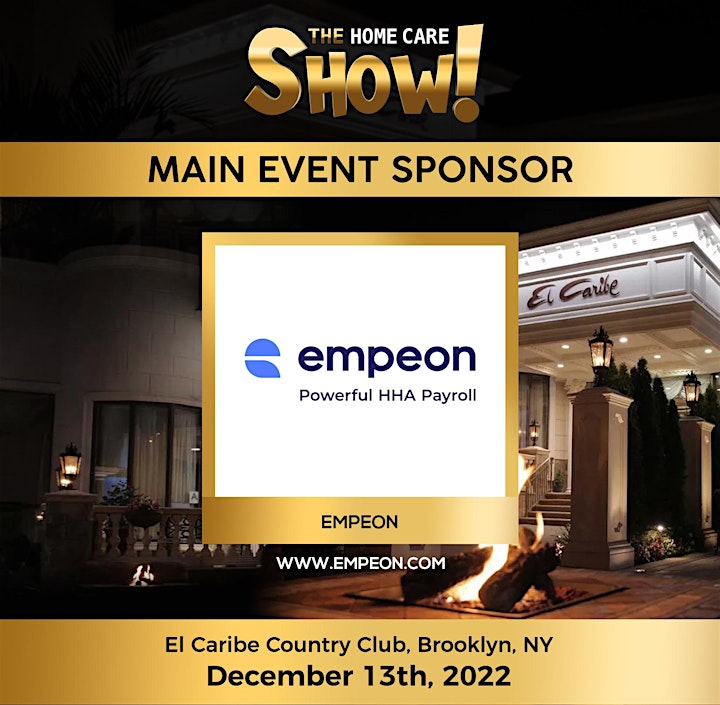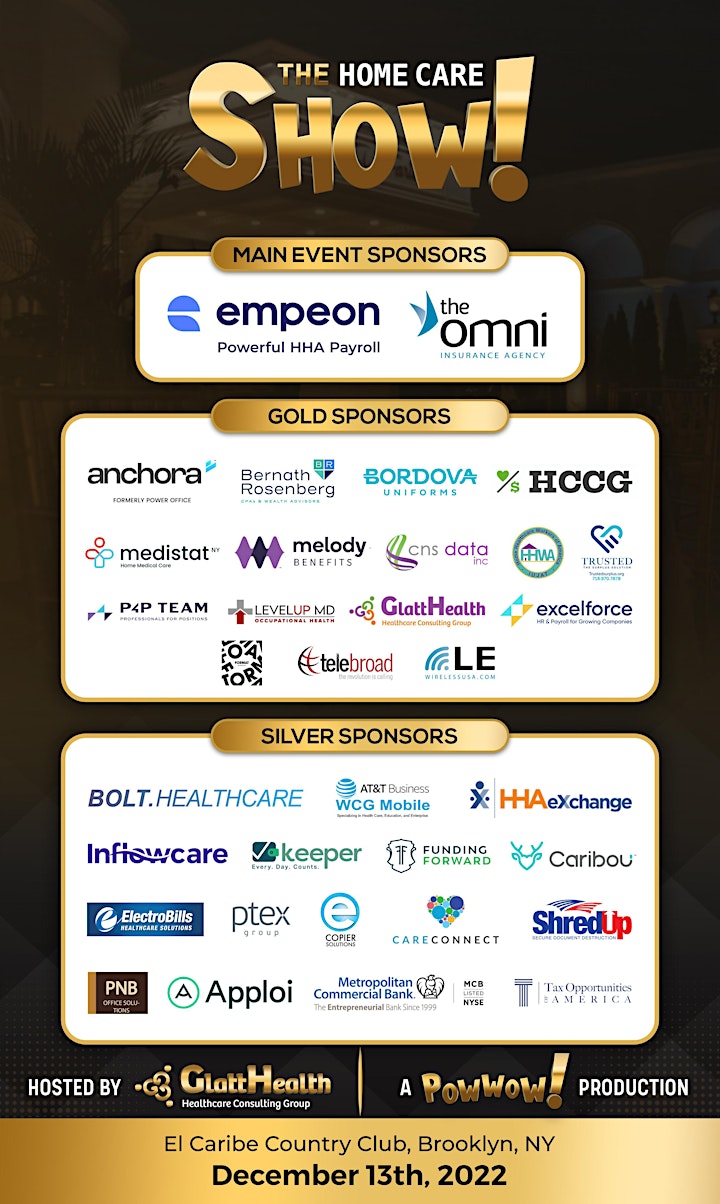 Managed Care Organizations Currently Registered: (updated 12/06)
Centers Healthcare
Fidelis Care
Hamaspik
Healthfirst
Village Care Max
VNS Health
Home Care Agencies Currently Registered: (updated 12/06)
National:
Addus HomeCare - Frisco TX
Help at Home - Chicago IL
New York:
1St Class Care Services, Inc.
Aaa Healthsource, Inc
Able Body Homecare Agency of NY
ACT Care Group, LLC
Addus - South Shore Home Health Service Inc.
Advantage Home Care
Affinity Home Care
Aliah Home care
All Care Home Health Services
AllHeart
Amazing Home Care
AmeriCare
Americare Certified Special Services Inc
Amor Homecare, Inc
Anchor Health Homecare Services
Arvut Home Care
At Home Care Partners
At Your Side Home Care Services
Avondale Care Group
Bestcare
Bezalel Care Management
Bhrags Home Care
Blossom Home Care
Blue Line Agency
BlueBird Home Care
Boulevard
Broadway Home Care
CABS Health Network
Care Connect FI
Caring Home Care
Caring Professionals Inc
Castle Rock Home Care
Committed Home Care
Community Home Care
Cottage Home Care
Crown of Life Home Care
DH Care
Eagle Home Care
Easy Choice Home Care
Edison Home Care
Elim Home Care Agency
Elite Care
Elite Home Health Care
Emanuel Services
Enriched Home Care Agency
Evergreen Homecare Service of NY
Excellent Home Care
Four Seasons Certified Home Health Agency
Four Seasons Home Care
FreedomCare
Friends & Family Home Care Services
Future Care Health
Galaxy Home Care
Geriatric Resource Consultants
Girling Health Care
Goodcare Home Health Services
Greater NY Services
Hamaspik HomeCare
Hand In Hand Together Home Care
Harbor Care
HCS
HDA Care
HealthAide
Healthy Life Homecare, Inc
Heart To Heart Home Care
Heartstrings
Help from the Heart
High Standard Home Care
Hope & Cherish Home Care
HSM Personal Care
HTA of NY
Human Care
Incare Home Health Care
International Home Care Services of NY
JASA Care
Joyful Home Care
L & G Home Care Agency
La'Dorch Homecare Inc
LifeCare
Link Home Care
M & N Home Care
Magic Home Care
Marks Home Care
Marquis Home Care
Marton Care
Metropolitan Homecare Way
Mrs. G's Services, LLC
New Century Home Care
New Millenium Home care
New York Health Care, Inc.
NOLIMITS NYC
Nursing Personnel Homecare
Paramount Homecare
Parent Care Home Care
PellaCare
People Care
Platinum Home Health Care
Preferred Home Care
Prime Home Health
Priority Home Care
Quality Healthcare
Red Sun Home Care Inc.
Regency Home Care
Reliance Home Senior Services
Renaissance Home Health Care
Rise Up
RiseBoro Homecare
Rockaway Home Care
Royal Care
Royal Care Certified Home Health
S&A Unified Home Care INC
Signature Care
Silver Lining Homecare
Sophie's Health Care Services
Summit Home Health Care
Sundance Home Care
Sunray Home Care
Sunshine Homecare Services
Swift Home Care
Tender care
Terrace Homecare
Tower Home Care
Tradition, LLC
Tri-Med Homecare Services
Truecare
Ultimate
Unicare Home Care
United Jewish Council
Unlimited Care
Wellbound
White Glove Community Care
New Jersey:
Ascend Health - Bergen County NJ
Award HomeCare - Ocean County NJ
Emerest Health - Union County NJ
Gardenview Home Care - Mercer County NJ
Goodnight Moon - Ocean County NJ
Right at Home Oradell - Bergen County NJ
Rosemont Care Group - Ocean County NJ
Royal Community Support - Ocean County NJ
Summit Home Health Care - Ocean County NJ
White Glove - Ocean County NJ
Pennsylvania:
Angels On Call - Lehigh County PA
At Peace Health Care Agency - Montgomery County PA
Caring Life Services Home Care - Montgomery County PA
Central Penn Nursing Care - Montgomery County PA
Citadel Home Care - Montgomery County PA
Family Cares - Montgomery County PA
Family First Home Care - Montgomery County PA
Independent Home Health - Montgomery County PA
Lehigh Valley Homecare - Lehigh County PA