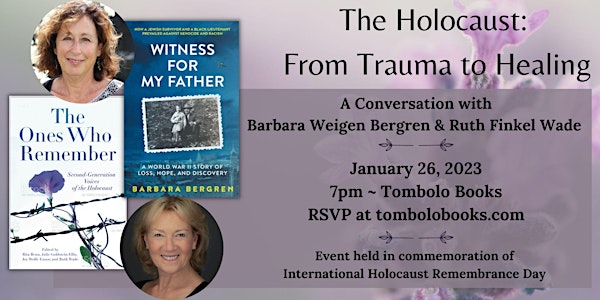 The Holocaust: From Trauma to Healing, Second-Generation Perspectives
In commemoration of International Holocaust Remembrance Day, Tombolo is honored to welcome Barbara Bergren and Ruth Wade to the bookstore.
When and where
Location
Tombolo Books 2153 1st Avenue South St. Petersburg, FL 33712
About this event
Both award-winning authors and daughters of Holocaust survivors, Bergren and Wade share their fathers' story of anguish and resilience in the face of living through the horrors of genocide, dehumanization, and loss. Their books, Witness For My Father and The Ones Who Remember, respectively, reveal their fathers' passages from trauma to healing and how it impacted their own lives. 
Martin Weigen was eleven and Sidney Finkel, eight, when the Nazis invaded their hometowns in Poland. Bergren and Wade discuss the journey that forever changed their lives and that of their families for generations. Committed to their fathers' legacies and educating about the horrors of genocide, they lecture at schools, museums, libraries, community events, and religious organizations.
Purchase your copies of Witness For My Father and The Ones Who Remember at tombolobooks.com