The 'Hollywood In Space' Red Carpet Sizzle Reel Debut At The Crest!

Thursday, February 26, 2015 from 7:30 PM to 9:30 PM (PST)
Event Details
Director Robin Berg and Executive Producer Gregory Markel cordially invite you to attend the red carpet sizzle reel debut of the new Hollywood Sci-Fi meets Real-Life Aerospace Engineering show, 'Hollywood In Space!'
'Hollywood In Space' stars real-life rockstar aerospace engineers Mike Paul Hughes, (Orion, Osiris Rex, Deep Impact), Steve Lee, (Mars Curiosity Rover Team, Hubble Space Telescope), and Dr. Aline Zimmer, (Orbital Mechanics & Spacecraft Systems), who use their "day job" skills to analyze the fantastic spacecraft, aircraft, weapons and technology of Hollywood movies through the eyes of real-world, accomplished aerospace engineers!
How would the Millenium Falcon actually fly? Is Star Trek's "Light Speed" actually possible? Did 'Interstellar's' shuttle craft use anti-gravity?
'Hollywood In Space' is a show made for Sci-fi fans, movie fans, space fans, technology and science fans!
Who's invited?
Cast/Crew + friends and family

Sci-Fi and Space Exploration Fans

The TV & Content Industry

The sizzle reel debut will take place at the incredible CREST THEATER, in Westwood, CA, check it out here!
Come walk the red carpet and join our esteemed cast, SPECIAL GUESTS TBA, and Hollywood Industry Execs to...
Experience the publc debut and exhibition of the 'Hollywood In Space' sizzle reel on the BIG SCREEN of the beautiful Crest Theater! (What Sci-Fi movie spacecraft will Mike, Steve and Aline be analyzing in the reel? You'll have to attend to find out!)

Get a sneak peek at what the INSIDE of the 'Hollywood In Space' spacecraft set looks like!

Ask Mike, Steve, Aline, Robin, Gregory and Kevin about the goals for 'Hollywood In Space' and the contents and making of the reel!

Ask Mike, Steve, and Aline your questions about space exploration, engineering and what they're favorite Sci-Fi spacecraft and tech are!

Find out what motivated our 'Hollywood In Space' host to go from being a punk rock bassist to an aerospace engineer and how he did it!

Ask Steve what working on the Mars missions is like!

Ask Aline to explain just what exactly "Orbital Mechanics" is and its relationship to deep space exploration!

Have your pictures taken with Mike, Steve and Aline and get their autographs!

PLUS...SUPRISES and more to come...watch this page and/or our website and social media channels for updates!
Follow us to become part of the 'Hollywood In Space' Community!
Learn more about the 'Hollywood In Space' cast: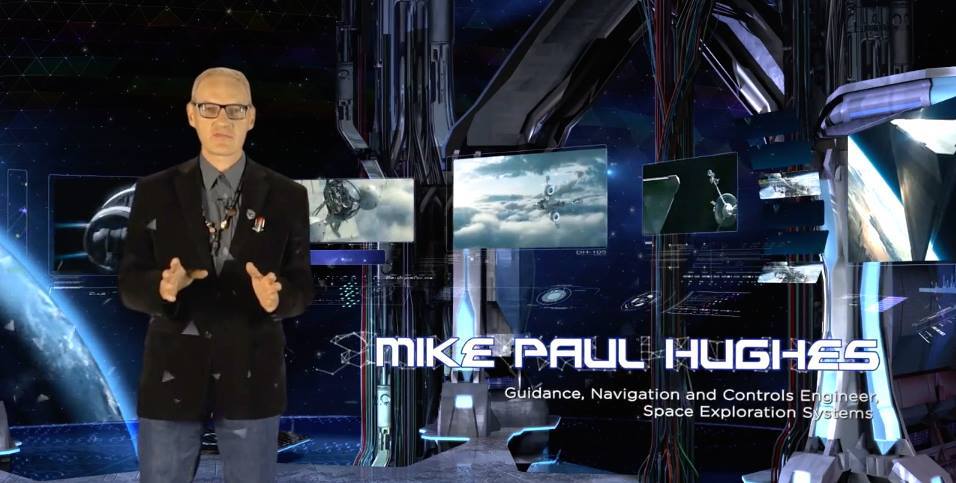 Mike Paul Hughes
Aerospace rock star engineer and former rock bassist Mike Paul Hughes brings tremendous personality, savvy, curiosity and expert insight to the series HOLLYWOOD IN SPACE.  
For the past two decades Mike has worked in the area of Guidance, Navigation and Control systems for spacecraft and entry systems.  He received NASA's Exceptional Achievement Medal for his role on NASA's comet busting Deep Impact mission in 2005.   Mike has worked seven years on the Orion Multi Purpose Crew Vehicle team and recently was honored with the NASA Spaceflight Awareness Award for his work in parachute flight testing.  He has worked on robotic missions to Mars, Jupiter, Europa, comets and asteroids, as well as serving in mission control for Space Shuttle Discovery.  He has background in classical mechanics, electromagnetism, quantum mechanics, general relativity, astrophysics, and astronomy.   Mike has published numerous papers on spacecraft controls, attitude determination, and aerodynamic decelerators.  He is current senior member with the American Institute of Aeronautics and Astronautics, (AIAA) and the American Astronautical Society (AAS).  Mike is a Pennsylvania State University Scholar, receiving his BS with honors and distinction in Aerospace Engineering, and his MS in Electrical Engineering from the University of Southern California.   
Additionally, Mike, is now in his spare time when not solving the problems of space travel, a music producer for Denver based singer songwriters such as Melissa Ivey, Erin Jo Harris and Megan Burtt.  Mike was inspired to pursue the dream of being an aerospace engineer at 22 by the Space Shuttle Challenger disaster.   He is a tremendous role model for the viewers, fans, teens and children who watch 'Hollywood In Space.'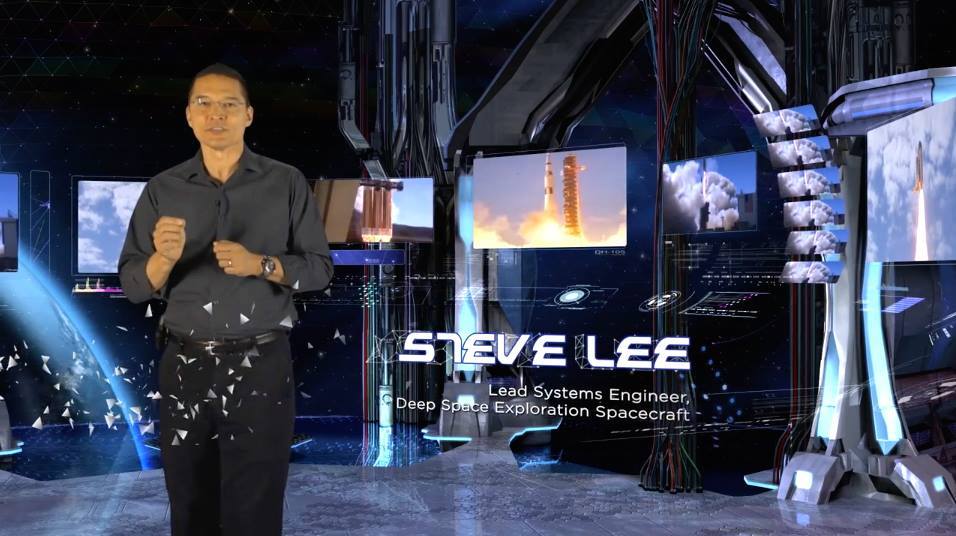 Steve Lee
Deep space avionics hardware and software manager.  Guidance, Navigation and Control Systems Manager, Mars Science Laboratory/Curiosity
Steve is a nationally recognized engineer and personality due to his long involvement in the space program.  He has been featured on several national television shows, including PBS' hit NOVA special, "Ultimate Mars Challenge" and The History Channel's "The Universe: Mars - The New Evidence".  In addition to being an expert in spacecraft control systems, avionics hardware, flight software, and landing radar systems, Steve is a passionate teacher and communicator.  
Steve's passion for space ignited when Apollo 11 landed on the moon on his 7th birthday. It was reinforced with the landing of Viking I on Mars on his 14th birthday and attending Neil Armstrong High School in Plymouth, MN. Of course, classic science fiction influences such as "2001: A Space Odyssey", "Forbidden Planet", and Isaac Asimov's "Foundation" series further fueled his excitement for the unlimited possibilities of technological advancement.
In his career, Steve has held technical and leadership positions on the USA's highest profile missions including: the Mars Science Laboratory (MSL)/Curiosity rover, Mars Reconnaissance Orbiter (MRO), Hubble Space Telescope (Shuttle servicing mission 3A, STS-103), Terra Mission to Planet Earth, the International Space Station, and the Space Shuttle.  He was awarded NASA Exceptional Achievement Medals for MSL and MRO and is the co-patent holder for Curiosity's skycrane descent stage and rover designs.  Steve holds a BS in Aerospace Engineering from the University of Minnesota and an MS in Electrical Engineering from the University of Florida.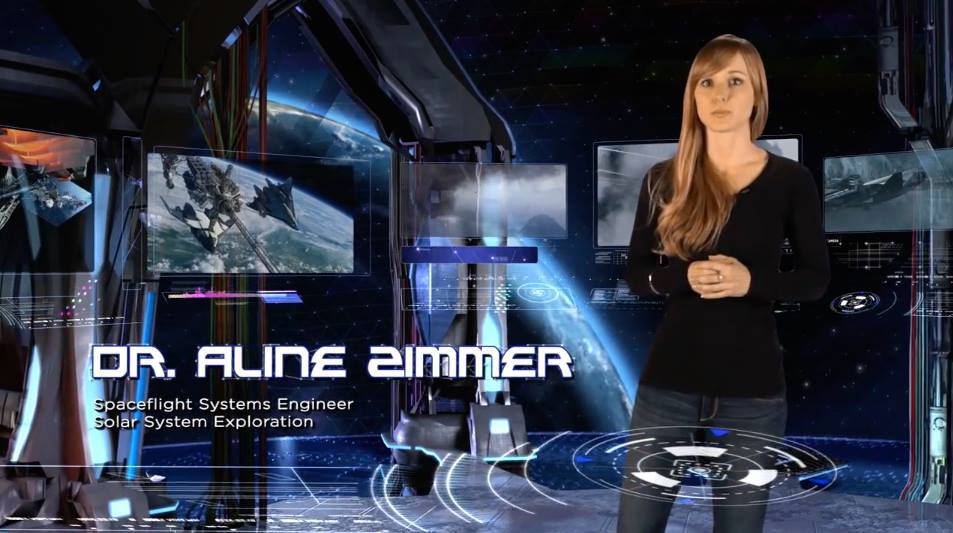 Dr. Aline Zimmer
Spaceflight Systems Engineer, Solar System Exploration
Aline has a lifelong interest in science fiction combined with an outstanding scientific education. Having been fascinated with the concept of human space flight as long as she can remember, her passion for science fiction sparked in her early childhood when watching the original Star Wars trilogy with her father. Combined with her interest in mathematics and science, this passion led her to pursue a career in aerospace engineering.
Born and raised in Germany, Aline received an MS in Aerospace Engineering from the Georgia Institute of Technology and a Ph.D. in Aerospace Engineering from the University of Stuttgart in Germany. Her Ph.D. research focused on human space missions to asteroids used for testing asteroid deflection techniques for Earth impact mitigation and providing stepping‐stones to more distant places in the solar system, thus paving the way for human missions to Mars. Aline has published her work in a wide range of internationally acclaimed technical journals and has presented the results of her research at numerous invited talks, both at international conferences and universities. For her exceptional achievements Aline received numerous distinguished grants and awards, including the Amelia Earhart Award from ZONTA International and the prestigious Leopoldina Prize by the German National Academy of Sciences, awarded to a single researcher only once every other year.
Aline has worked for European, Japanese, and US space agencies and is engaged in cutting‐edge astrodynamics research as well as the development of next generation space missions for the exploration of the solar system, investigating the formation of the Solar System, habitability of other planets and their moons, enabling human missions to asteroids and Mars, and protecting Earth from asteroid impacts. Aline was involved in the development of the MOXIE experiment which will fly to Mars in 2020 and generate oxygen from the Martian atmosphere and thus demonstrate technology crucial for enabling human missions to Mars in the future. MOXIE has received wide media coverage, nationally and internationally, including CNN, BBC, New York Times, Scientific American, and Space.com. Aline currently works on developing a variety of mission concepts such as the exciting Asteroid Redirect Mission, the first-ever mission to identify, capture, and redirect a near-Earth asteroid to a stable orbit around the moon, where astronauts will explore it in the 2020s and return samples to Earth.
With Hollywood in Space, Aline hopes to spark the imagination of the viewers, engage them in science fiction as well as aerospace engineering, and inspire the next generation of space explorers!
-----------------------------------------
 'Hollywood In Space' is directed by Robin Berg and Executive Produced by Gregory Markel for VizualNOW. Design & CGI is guided and created masterfully by Kevin Durland, for Durland Productions.
See you there!
----------------------------------------------
FAQs
 Will I need to bring my ticket physically or on my phone to get in?
Yes.
Are there ID requirements or an age limit to enter the event?
All ages are welcome!
 What are my transport/parking options getting to the event?
There are multiple paid parking lots directly behind the theater as well as street parking. 
 What can/can't I bring to the event?
Please do not bring food or drink into the theater.
 Where can I contact the organizer with any questions?
Please direct all questions to hollywoodinspace3000 (at) gmail (.) com
 Is my registration/ticket transferrable?
Yes, they will simply need to print and bring their ticket to the door.
When & Where

The Crest Theater
1262 Westwood Blvd
Los Angeles, CA 90024


Thursday, February 26, 2015 from 7:30 PM to 9:30 PM (PST)
Add to my calendar
Organizer
Robin Berg and Gregory Markel have launched their new production company, 'VizualNOW' to create content for all mediums, platforms and devices that entertains, educates, elevates and inspires.