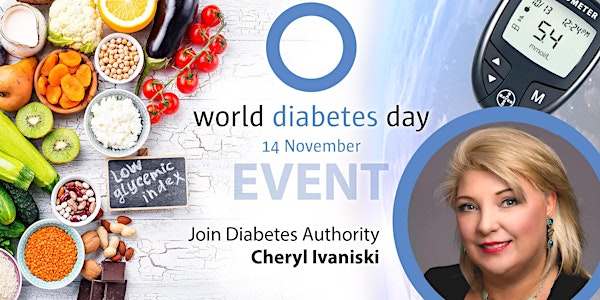 The Holistic Approach to Winning with Diabetes
The Holistic Approach toWinning with Diabetes
When and where
Location
Hilton Garden Inn Burlington 985 Syscon Road Burlington, ON L7L 5S3 Canada
About this event
Are you ready to start living your healthiest life possible? Do you want to stop giving your power away to Diabetes and reclaim your health? Are you tired of feeling frustrated and confused by high blood sugar levels and want to be empowered with the newest, natural ways to maintain optimal levels?
On World Diabetes Day, Thursday, November 14th, join us at our free, LIVE, 2-HOUR event, "The Holistic Approach to Winning with Diabetes" from 7-9 pm in Burlington, ON. You'll learn the best, newest holistic diabetes solutions to help you achieve your health goals.
If you or a loved one is at risk of getting Diabetes, or have been diagnosed with Prediabetes or Type 1 or 2 Diabetes and need help from a holistic solutions expert and advocate, this event is not to be missed!
Having been born into generations of Diabetes in my family, and being diagnosed with Type 1 Diabetes and Hashimoto's disease over 25 years ago, Cheryl Ivaniski, Global Wellness Authority, is aware of how defeated you may be feeling. However, the journey of holistic health she has been on since then and knowing the choices and swaps to make, and having an unshakeable positive attitude and mindset contribute to her healing lifestyle that gives her the energy to live life fully.
During this event, you will learn:
The new ways to manage your Diabetes - the new Holistic Approach that will impact the quality of your life
How to add 5-15 years back to your life naturally
3 simple and easy tips you can use to help normalize your blood sugar levels quickly, safely and naturally
How to combat the number 1 stressor that affects your blood sugar levels - HINT! It is not food or exercise
You should attend if you:
Are at risk of getting Diabetes
Have been told you have pre-Diabetes or borderline Diabetes
Are living with Type 1, 1.5 and type 2 Diabetes and want solutions that will truly help you normalize your blood sugar levels (including your family, friends and care givers for those with Diabetes)
Are frustrated with following your doctor's directives and are not getting the results they are hoping for
Are tired of being tired already
Want to prevent, restore and reverse complications of Diabetes
Are curious about what the holistic approach to diabetes wellness means
BONUS! Diabetes reminds us that life is not promised. A Gratitude Journal is a way to remind us of this. Studies have traced a range of impressive benefits to the simple act of writing down the things for which we are grateful. Your journal will be included in your reservation confirmation. Enjoy it.