Description
THE SOCIALLY ASTUTE | COOP EVENTS | E3000 GROUP | DJ PHIFE | PRESENT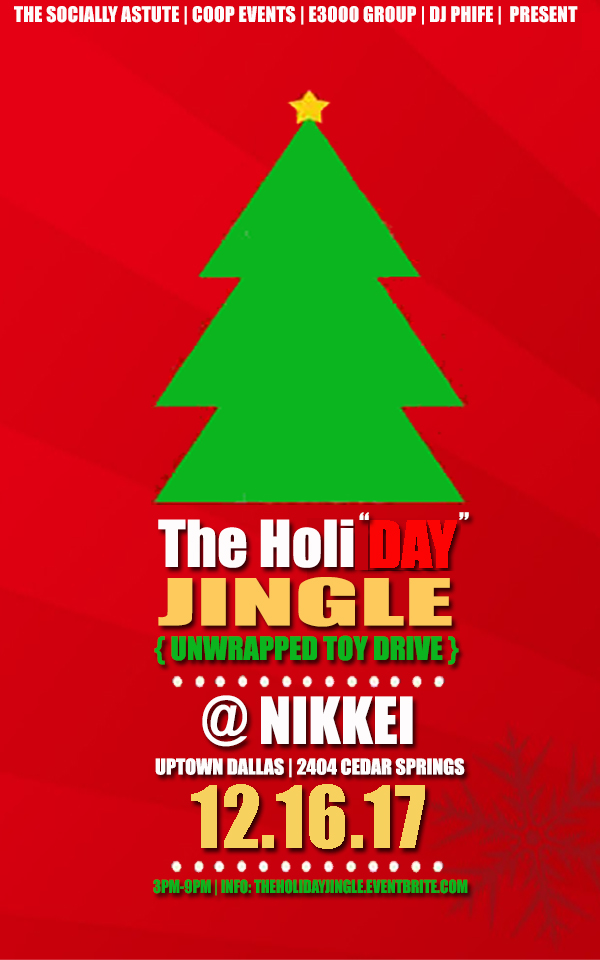 The Holi"DAY" JINGLE
{UnWrapped ToY DriVe}
benefiting Ace's Drive Children's Foundation

12.16.17

@ NIKKEI
Uptown Dallas | 2404 Cedar Springs
{ near Crescent Hotel & Quadrangle}
www.nikkeidallas.com

3PM – 9PM | INFO/RSVP/TIX: TheHoliDAYjingle.Eventbrite.com
This holiday season help us, help others. Your Unwrapped Toy Donation will help underprivileged children in the Dallas/Ft. Worth area celebrate Christmas. In exchange, all toy donors will receive Complimentary admission until 5PM and discounted admission afterwards.
ACE's Drive is a toy drive benefiting the Child Life Dept. at Children's Medical Center (Dallas). The most requested items this year are reading books, coloring books, dolls, action figures, infant toys that light up and/or make noise, and iTunes gift cards. For health reasons, all toys must be new and in original packaging.
We appreciate in advance your support and assistance. Together we can make a difference in a child's life for the holidays.

Instructions for a great experience:
1) Be Sure To RSVP To Receive Complimentary Admission Before 4PM
2) Donate An Unwrapped Toy for Complimentary Admission before 5PM
3) Get Cash For Valet Service OR Park For FREE in Select Side Street Parking.
4) Bring A Friend Or Two And Enjoy A Festive Event Amongst Peers
5) Adorn Yourself In Your Finest Holiday Festive Attire or Fancy Casual Ensemble
6) Party Or Socialize On Multiple Floors With A Rooftop View Overlooking Uptown.
7) Partake in Premium Beverage Service & Celebrate That Special Event
8) Reserve Seating For You And Your Distinguished Guests & Make The Event More Personal
9) Prepare To Be Taken Into Musical Nirvana Whilst Listening To Your Host DJ Phife
10) Arrive Diligently, Consume Wisely & Prepare For A Good Time For A Good Cause!
We look forward to you joining us for this fantastic event: J. Andreus, Michael, George, Damien & Corey