Event Information
Performers
Infamous Stringdusters, Pigeons Playing Ping Pong, Rising Appalachia, Keller Williams, Fruition, Ghost Light, Cosmic Twang, Nicki Bluhm, Kyle Hollingsworth Band, EOTO, Pimps of Joytime, Ron Artis II, Kitchen Dwellers, Holly Bowling, Organ Freeman, Magic Beans, Royal Jelly Jive, Hot Buttered Rum, Achilles Wheel, Diggin' Dirt, The Sweet Lillies, Moonalice
Join us for an intimate 3-day music festival featuring The String Cheese Incident and more at the beautiful Black Oak Ranch.
About this Event
Dear HFH Family,
The Hog Farm Hangout is now the Hog Farm Hideaway. The circumstances of this name change are out of our control but we are eager to bring our inaugural year to life with the same team and community. All of our social platforms, website, and email contacts have been updated. All tickets will be honored and there is nothing you need to do but show up ready to hang at the Hog Farm Hideaway.
As we look at 2021 and beyond, we are confident we will be able to gather in the future. When we do it's going to be a very special event full of connection, love, and music made even sweeter by how much we've missed each other. Many of you are probably wondering about our plans for a June 2021 event specifically. Much like everyone else we are watching the COVID-19 vaccine rollout carefully and thrilled to have a new administration in the White House. We are staying flexible and actively making contingency plans for an alternate date later in the year. We appreciate your patience and understanding as we work through the details. The health and well-being of our community is our highest priority and we will be in communication with updates as the situation develops.
Warmly,
The Hog Farm Hideaway Team
Website :: www.hogfarmhideaway.com
Contact :: info@hogfarmhideaway.com
Instagram :: @hogfarmhideaway
Facebook :: @hogfarmhideaway
Twitter :: @hogfarmhideaway
________________________________________________________________________________________________
Join us for the inaugural Hog Farm Hideaway Music Festival, June 11-13, 2021. Located on the beautiful Black Oak Ranch, this intimate 3-day, family-friendly event features three nights with The String Cheese Incident plus many more artists to be announced!
Black Oak Ranch is home to The Hog Farm, one of the oldest, continuously running communes in the United States. The Hog Farm has a long history of producing and participating in iconic music festivals and events, most notably the original Woodstock Music Festival in 1969. In more recent years, The Hog Farm co-produced Electric on the Eel and The Pignic 1987 - 2001 and Earthdance, 2004-2010. The Kate Wolf Music Festival has been hosted at BOR since 2001. Black Oak Ranch offers an intimate festival site in a majestic setting of oak woodlands, meadows and year round creeks; a perfect place for families and friends to gather.
The String Cheese Incident has a long tradition of bringing the community together and creating magical experiences in beautiful places. The band has not had a west coast annual event since the Horning's Hideout festival in Oregon, which ended in 2013. We look forward to reviving this tradition of magic, music and community at the Hog Farm Hangout next June.
No refunds or exchanges. Event is rain or shine. Artists subject to change. No dogs or pets of any kind.
**Only purchase Hog Farm Hideaway tickets from the official Hog Farm Hideaway ticketing page (you're here!). If you purchase from another source, you risk purchasing a counterfeit or invalid ticket. The Hog Farm Hangout is not responsible for tickets purchased from unofficial sources.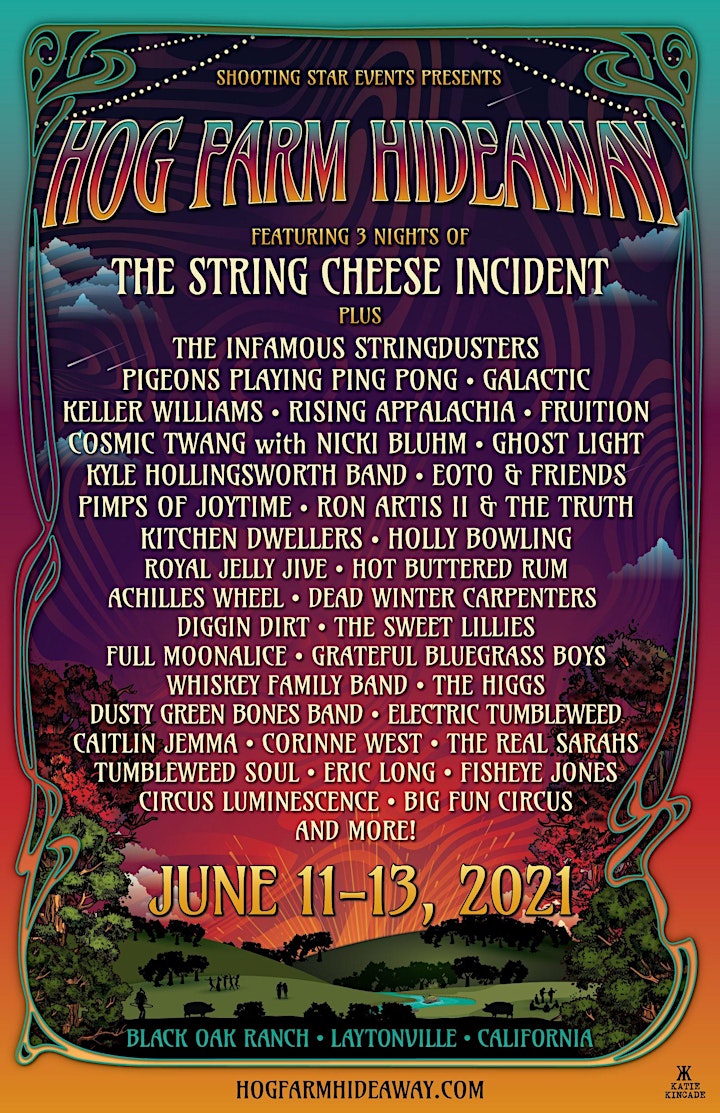 Performers
Infamous Stringdusters, Pigeons Playing Ping Pong, Rising Appalachia, Keller Williams, Fruition, Ghost Light, Cosmic Twang, Nicki Bluhm, Kyle Hollingsworth Band, EOTO, Pimps of Joytime, Ron Artis II, Kitchen Dwellers, Holly Bowling, Organ Freeman, Magic Beans, Royal Jelly Jive, Hot Buttered Rum, Achilles Wheel, Diggin' Dirt, The Sweet Lillies, Moonalice
Date and Time
Location
Refund Policy