The Hive Society Presents: The BUZZ Series Featuring LOE

Sunday, April 19, 2015 from 7:00 PM to 10:00 PM (CDT)
Event Details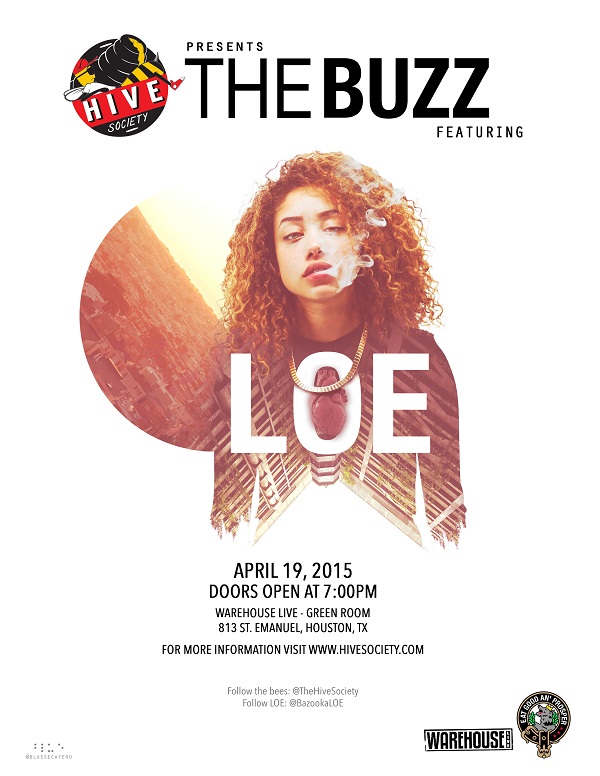 The BUZZ Series is the antithesis to the typical "multiple artist showcase" and the inverse of the "opening act" where many talented individuals won't get the attention they deserve. The Buzz Series: One Artist. One Intimate Setting. One FREE Performance. It will allow all attention to be focused on them to show and prove that they deserve a little 'Buzz' in the industry…
Our first installment of The Buzz Series will feature Houston's own soulful songstress, LOE. She's an artist who we'd wager is on the brink of success. Sure, she's only put out one project while still in school and not of the legal drinking age, but, so what!?!
With an unmistakable aura about herself at the young age of 20, coupled with her smooth, angelic vocals over nostalgic productions, LOE has definitely been a favorite to feature on HiveSociety.com. The release of her debut project HELLOE in 2014, she has definitely set an amazing foundation to build upon in 2015.
Want to learn more about the singer/songwriter/producer? Check out her interview with The Hive Society here. 
Organizer
The Hive Society Inc.
The Hive Society Inc.'s is 501(c)3 non-profit organziation whose mission is to practice and encourage Philanthropy through Music, Culture, and the Creative Arts. The Hive Society's website, HiveSociety.com, serves as the digital platform for the innovative, creative and artistic individuals promoting this mission and leading others to do the same.
The Hive Society Presents: The BUZZ Series Featuring LOE