'The History of Secondhand Fashion, from Trash to Vintage Treasure' Webinar
Sales Have Ended
Registrations are closed
Looking to register for the replay? Visit AdventureClub.com > Virtual Events > Active Replays to browse our active replays, which expire one week after the program's original air date.
Sales Have Ended
Registrations are closed
Looking to register for the replay? Visit AdventureClub.com > Virtual Events > Active Replays to browse our active replays, which expire one week after the program's original air date.
Can't make it live? Register and get access to the full replay for one week! New York Adventure Club | www.AdventureClub.com
About this event
Despite vintage shopping being all the rage these days, buying and selling used clothing is nothing new: throughout most of history, clothing was an extremely valuable commodity that was perpetually traded, resold, and reused until it literally turned into shreds. But when the industrial revolution enabled people to purchase new clothing for lower prices, secondhand clothing became stigmatized as a sign of poverty. This is the story of how secondhand clothing went from an economic necessity to a fashion statement that expressed individual style amidst mass consumerism.
Join New York Adventure Club as we explore how secondhand shopping has evolved throughout history and new ways to appreciate, and incorporate, vintage clothing into our modern wardrobes.
Led by fashion historian Sara Idacavage, this fast-paced and interactive webinar will include:
Creative ways that people have resold, recycled, and repurposed clothing throughout history
How secondhand shopping went from a stigmatized practice to mainstream fashion phenomenon
The reasons why many people choose to buy and wear secondhand clothing
How retailers and auctions houses categorize and determine the value of secondhand clothing
A quick guide to vintage shopping, including what to look for, how to date garments, and the best ways to care for your favorite pieces
Tips on how secondhand fashion practices can be used to create a more sustainable fashion system
Afterward, we'll have a Q&A with Sara — any and all questions about vintage shopping and the history of fashion are welcomed and encouraged!
Can't make it live? Don't worry, you'll have access to the full replay for one week!
See you there, virtually!
*Immediately upon registering, you will receive a separate, automated email containing the link to join this webinar
**For the best possible viewing experience, please ensure you're using the latest version of your internet browser — Google Chrome is the most compatible. Exact technical requirements and a webinar user guide will be shared in the automated confirmation email upon registration.
***A full replay of the experience will be available to all registered guests for up to a week
About Sara
Sara Idacavage is a fashion historian, archivist, and vintage collector with a background in fashion journalism. She has taught courses at Parsons School of Design, the Pratt Institute, and the Fashion Institute of Technology, and is an Associate Editor of The Fashion Studies Journal. Sara previously managed the Parsons Fashion Study Collection, worked as an archivist for prominent American fashion designers, and interned in the costume collection at the Museum of the City of New York.
Testimonials
"Sara is a knowledgeable, enthusiastic and relatable presenter and she puts together fantastic slides. She also developed a sense of community in the chat forum even as we were watching from different locations and time zones." -Rebecca
"Sara did a great job with presenting! Would love more in depth workshops on archival techniques, dating vintage items, and sustainability." -Jackie
"I loved Sara's energetic quality while presenting and the depth of knowledge she has on the subject matter" -Robyn
"Sara had extensive knowledge on the subject and it was presented well." -Susan
"Interesting topic, informative, Sara was very knowledgeable and enthusiastic" -Dianne
"Dynamic and well informed presenter; great insights on vintage/2nd hand; interesting historic overview ; good interaction with audience" -Austine
"Loved the detail and depth that Sara brought to her webinar! She presented a wide variety of information in a way that was compact and easy to understand." -Ashley
"Engaging presentation! Very informative and fun! Such a detailed perspective and I will look for other events" -Jean
"It was loaded with info, moved quickly, had knowledgeable Q&A, and appreciated the fact sheet" -Norma
"I liked Sara's personal photos and her enthusiasm about her favorite topic, her facts were awesome." -Kathleen
Disclaimer
By attending a New York Adventure Club experience, you accept our terms of service.
Categories: Virtual, Art & Entertainment
Organizer of 'The History of Secondhand Fashion, from Trash to Vintage Treasure' Webinar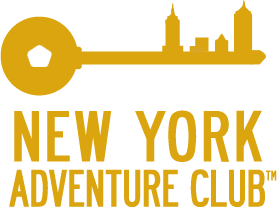 NEW YORK ADVENTURE CLUB
Unlock Your City
We give you insider access to the city's best-kept secrets. But we're so much more than a tour company.
WHO WE ARE

We are a community-driven club that curates the most unique experiences in town, with a focus on history and storytelling. We show you a city you never knew existed, and offer a community you can't live without.
You won't find our special-access tours and exclusive events anywhere else. Think after-hours tours of New York City's most celebrated spaces, themed parties in unexpected locations, and weekend excursions to incredible destinations. All of our events end with social hangouts so you can meet people who love exploring as much as you do.
THE 'CLUB' IN NEW YORK ADVENTURE CLUB

Our current community is more than 23,000 members strong and includes everyone from recent NYC transplants to lifelong residents. Whatever borough you're from (or city or country, for that matter), we'll make it easy for you to take full advantage of the unique places and great people this city has to offer.  
WHERE WE GO
To ensure a one-of-a-kind experience each and every time, we handpick events and outings specifically for the New York Adventure Club community. Recent events include:
* An after-hours tour of New York City Hall
* Special access into some of New York's most coveted private social clubs, including the Explorers Club and National Arts Club
* Petting baby kangaroos, holding sloths, and feeding leopards at Staten Island Zoo

* An NYPD Precinct tour, including a meet-and-greet with detectives and Emergency Service Unit crew members
* A tour of the Polish Consulate led by the Consul General and Vice Consul General of Poland

* A special-access tour of Brookhaven National Laboratory and its Relativistic Heavy Ion Collider (RHIC)
* A Halloween party in a historic gothic crypt, complete with a five-piece brass band
Subscribe with our newsletter to get the inside scoop on the city's most interesting events: http://eepurl.com/1cnVH
Unlock Your City with New York Adventure Club