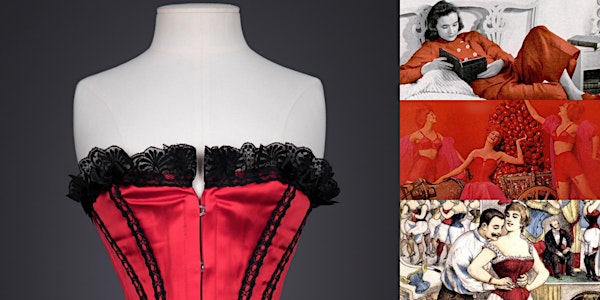 'The History of Red Lingerie: A Symbol of Lust' Webinar
Can't make it live? Register and get access to the full replay for one week! New York Adventure Club | www.AdventureClub.com
About this event
For millennia, human civilizations have worn the color red for a myriad of reasons — ranging from the practical to a means of communicating authority. But when and why did it also come to represent love and lust? And how did women's red intimate undergarments in particular gain an "incendiary" reputation over the past hundred years? It's time to uncover exactly when red lingerie became a symbol of sexuality, and if its reputation is undergoing a change in the 21st century.
Join New York Adventure Club as we trace the history and symbolism of red lingerie, and its journey from commonplace to coquettish; saucy to sexy; and finally into a catalyst for confidence and sexual empowerment.
Led by fashion historian and Underpinnings Museum guest curator Summer Lee, our unique experience into the world of red lingerie will include:
A look at paintings throughout the past several centuries to see how red lingerie was depicted in art
A photo exploration of rare surviving undergarments from the 16th, 17th, and 18th centuries including red stays, panniers, and petticoats
The dualities of red lingerie during the 19th century, and an 1858 rumor that involved Queen Victoria, seduction, and a red petticoat
A discussion of how red foundation garments were reported on throughout the 20th century, ranging from the ridiculous to the "fun" and "smoldering"
The 21st century take on red lingerie, and how in recent years, consumers and designers have challenged its associations with the male gaze and reframed it into a tool for self-empowerment
Afterward, we'll have a Q&A with Summer — any and all questions about red lingerie are welcomed and encouraged!
Can't make it live? Don't worry, you'll have access to the full replay for one week!
See you there, virtually!
*Immediately upon registering, you will receive a separate, automated email containing the link to join this webinar
**For the best possible viewing experience, please ensure you're using the latest version of your internet browser — Google Chrome is the most compatible. Exact technical requirements and a webinar user guide will be shared in the automated confirmation email upon registration.
***A full replay of the experience will be available to all registered guests for up to a week
About Summer
Summer Lee is a fashion historian based in Brooklyn, New York. She earned a Bachelor's Degree in Communications and Media from the City University of New York and a Master's Degree in Fashion and Textile Studies from the Fashion Institute of Technology. Summer acted as co-curator for the 2021 MFIT digital exhibition "The Roaring Twenties and The Swinging Sixties," and guest curator for the 2022 Underpinnings Museum digital exhibition "Incendiary: A History Of Red Lingerie." She can be found on TikTok and Instagram as @summerannelee.
Testimonials
"The presenter was very knowledgeable about the topic! She presented so much information in a way that was easy to understand." -Sophia
"Great presentation on the changing perceptions around red lingerie." -Linde
"The presentation was very interesting and Summer was extrememly engaging!" -Sammy
"Really liked Summer as a new presenter. The content was terrific and so interesting. The videos are always cool to include." -Noelle
"A beautiful history lesson. I've always been quite fond of fashion." -Sarah
"Excellent topic. Good price point. Easy to navigate platform." -Claire
"Amazing presenter! Would love to hear more talks from her." -Victor
"This was such an interesting webinar! I love the history of fashion and how trends have come and gone over the years. Summer Lee presented this topic with great visuals and videos and her knowledge was imparted to us in a really engaging way. I would definitely recommend this webinar to my friends. I loved this - thank you!" -Aliki
"Informative and fun!" -Jo Anna
"interesting facts, wonderful historical overview and engaging visuals" -Shawna
"Knowledgeable presenter, interesting content, visuals were well coordinated with presentation." -Carol
"Well organized presentation from a lively presenter" -Jacqueline
"The subject matter is very different, educational but also fun." -Sammy
\
Disclaimer
By attending a New York Adventure Club experience, you accept our terms of service.
Categories: Virtual, Art & Entertainment