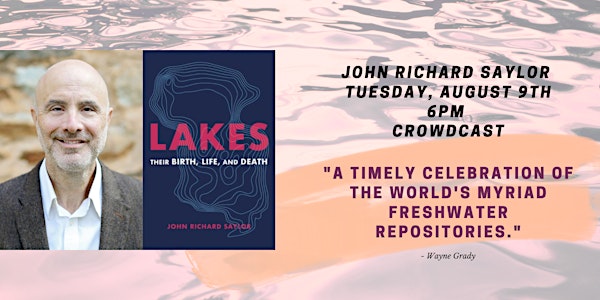 The History of Lakes with John Richard Saylor
Join us for a conversation with professor John Richard Saylor, author of "Lakes: Their Birth, Life, and Death."
Refund Policy
Contact the organizer to request a refund.
Eventbrite's fee is nonrefundable.
About this event
*****NOW LIVE IN THE BOOKSHOP****
Are you passionate about ecology or natural history? Interested in learning more about the world around you? If so, this event is for you. Join us at 6pm on Tuesday, August 9th as we welcome professor and author John Richard Saylor for a reading and discussion of his book, Lakes: Their Birth, Life, and Death. A fascinating examination of our world's freshwater repositories, the book takes a tour of the most interesting lakes, ultimately showing us how deep our connection to these still waters runs—and what we'll lose as they vanish.
This event is free and open to all, but save your seat and your copy of the book with a ticket! (Please note that this event was previously offered as virtual-only. It will now be live in the Bookshop, with a stream via Crowdcast for anyone who cannot make it out to our brick-and-mortar.
(If you can't make it to the store, don't worry: we'll also stream live using Crowdcast. Register at the link: Join Us on Crowdcast!)
About the Book 
"Lakes is my favorite kind of natural history: meticulously researched, timely, comprehensive, and written with imagination and verve."—Jerry Dennis, author of The Living Great Lakes
Lakes might be the most misunderstood bodies of water on earth. And while they may seem commonplace, without lakes our world would never be the same. In this revealing look at these lifegiving treasures, John Richard Saylor shows us just how deep our connection to still waters run.  
Lakes is an illuminating tour through the most fascinating lakes around the world. Whether it's Lake Vostok, located more than two miles beneath the surface of Antarctica, whose water was last exposed to the atmosphere perhaps a million years ago; Lake Baikal in southern Siberia, the world's deepest and oldest lake formed by a rift in the earth's crust; or Lake Nyos, the so-called Killer Lake that exploded in 1986, resulting in hundreds of deaths, Saylor reveals to us the wonder that exists in lakes found throughout the world. Along the way we learn all the many forms that lakes take—how they come to be and how they feed and support ecosystems—and what happens when lakes vanish. 
About the Author
John Richard Saylor, PhD, is a professor of mechanical engineering at Clemson University. He has spent the better part of his career studying phenomena that occur at the interface between air and water. In addition to lakes, his scientific interests include the physics of drops, bubbles, and waves, and he has applied his research to applications such as the use of water sprays and ultrasonics to clean diesel exhaust and methods for using radar to study raindrops. He was a student at the Santa Fe Science Writing Workshop in 2017 and was a literary artist resident at the Herlene Wurlitzer Foundation in 2018. He lives in Clemson, South Carolina