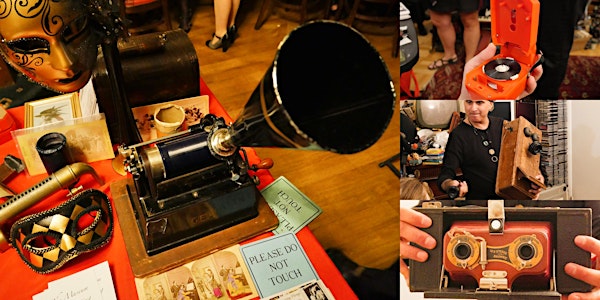 The History of Invention Show at The Museum of Interesting Things
New York Adventure Club | www.AdventureClub.com
When and where
Location
Lofts at Prince (See Confirmation Email for Entry Instructions) 177 Prince Street New York, NY 10012
About this event
The smallest record player in the world. An original Ford Model T car horn. The Thomas Edison cylinder phonograph. The industrial revolution and mechanical era produced some of the world's most brilliant — and bizarre — inventions, many of which we still use to this very day. Now's your chance to uncover the secrets behind these incredible gadgets and gizmos, all inside a secret loft in SoHo.
Join New York Adventure Club for a showcase of the history of inventions with The Museum of Interesting Things, a traveling interactive exhibition of antiques and inventions inspiring innovation and creativity.
Led by Denny Daniel, Founder of The Museum of Interesting Things, our unique experience featuring tons of interactive demonstrations will include:
An introduction to The Museum of Interesting Things, and how the vast and eclectic collection of antiques and artifacts was put together back in 2007
A show & tell of the museum's collection of amazing inventions, from an Enigma Machine rotor, to a piece of the 1858 Trans-Atlantic Cable, to box wooden cameras
An educational overview of every featured invention, along with the inventors that created them
A Q&A with Denny during, and after, the showcase
Afterward, you'll get complimentary access to the Museum of Interesting Thing's monthly Secret Speakeasy, which features even more themed antiques and oddities!
See you there! 
*Entrance instructions are shared in the 'additional information' section of the confirmation email, which is sent immediately upon registration
**This is mostly a seated experience
About Denny
Denny Daniel started working as a freelance filmmaker/documentor and photo retoucher/restorer for such companies as The Statue of Liberty/Ellis Island, Songs of Love, and the New York Times.
Amassing his collection of antiques since the 1980's, and having had over 20 museum and gallery exhibitions of his own work at locations like the Chelsea Art Museum, he decided to use his knowledge, experience, contacts and extensive collection of over 300 antiques to start an enterprise that would inspire students and some of us in the "real" world to learn from the past and innovate a better future.
Disclaimer
By attending a New York Adventure Club experience, you accept our terms of service.
By attending this specific New York Adventure Club experience, you allow The Museum of Interesting Things to contact you afterward.
Categories: In-Person, Museums & Galleries