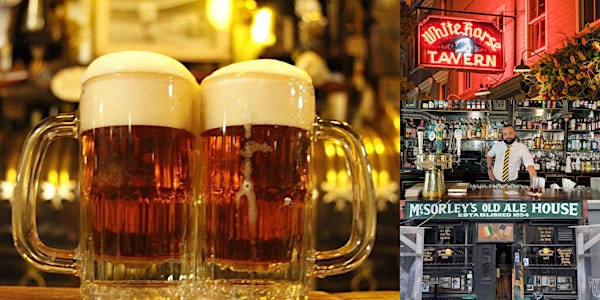 The Historic Taverns of New York City Pub Crawl
New York Adventure Club | www.AdventureClub.com
When and where
Location
St. George Ukrainian Catholic Church (Outside) 30 East 7th Street New York, NY 10003
About this event
While New York City has some of the trendiest and most cutting-edge bars in the country, it's also home to some of the most historic...if you know where to look. How did these watering holes keep their doors open through World Wars, Prohibition, the Great Depression, and infamous sky-high Manhattan rents? It's time to uncover the secrets behind these historic taverns — ale in hand, of course!
Join New York Adventure Club as we embark on a pub crawl to some of New York City's most historic taverns that date back to the 1800s, ranging from Manhattan's East Village to the West Village.
Led by Alex Tervooren, local expert and owner of Food Strolls Guided Tours, this adventure through parts of Lower Manhattan will include:
A custom-made pub crawl route that showcases a variety of NYC landmarks, historical points of interest, and some of the most historic watering holes in New York
A visit to several taverns with historical connections to New York City for a round of drinks and light snacks, including McSorley's Old Ale House, where no piece of memorabilia has been removed from its walls since 1910
Light snacks and some gourmet foods along with way
A reserved table at each tavern, which isn't an option for the general public at some of the locations
The stories, myths, and legends about these taverns, including their origins, how they lasted through two World Wars and Prohibition, and contemporary New York City lore
The possibility of meeting the current owners of each tavern
As a special treat, we'll finish the neighborhood pub crawl with an exclusive Prohibition-style experience of cocktails inside a swanky private apartment!
See you there!
*Your ticket includes several rounds of drinks and light snacks
**Restrooms are available at various points throughout the tour
***Additional food and drinks can be purchased at each location
****Must be 21 or older to consume alcoholic beverages
*****This experience ends at White Horse Tavern at the corner of Hudson Street and W. 11th Street
About Alex
Alex is a licensed tour guide, professional blogger, and active member of the Guides Association of New York City. His passion is New York's food, history, and culture, and his tours are one of a kind NYC experiences. He also created, owns, and operates the popular tour business Food Strolls Guided Tours right here in New York City!
Disclaimer
Event takes place rain or shine.
By attending a New York Adventure Club experience, you accept our terms of service.
Photo Credit: Main and Bottom Right - McSorley's Old Ale House, Top Right - Whitehorse Tavern, Middle Right - Pete's Tavern
Categories: In-Person, Food & Drink