About this Event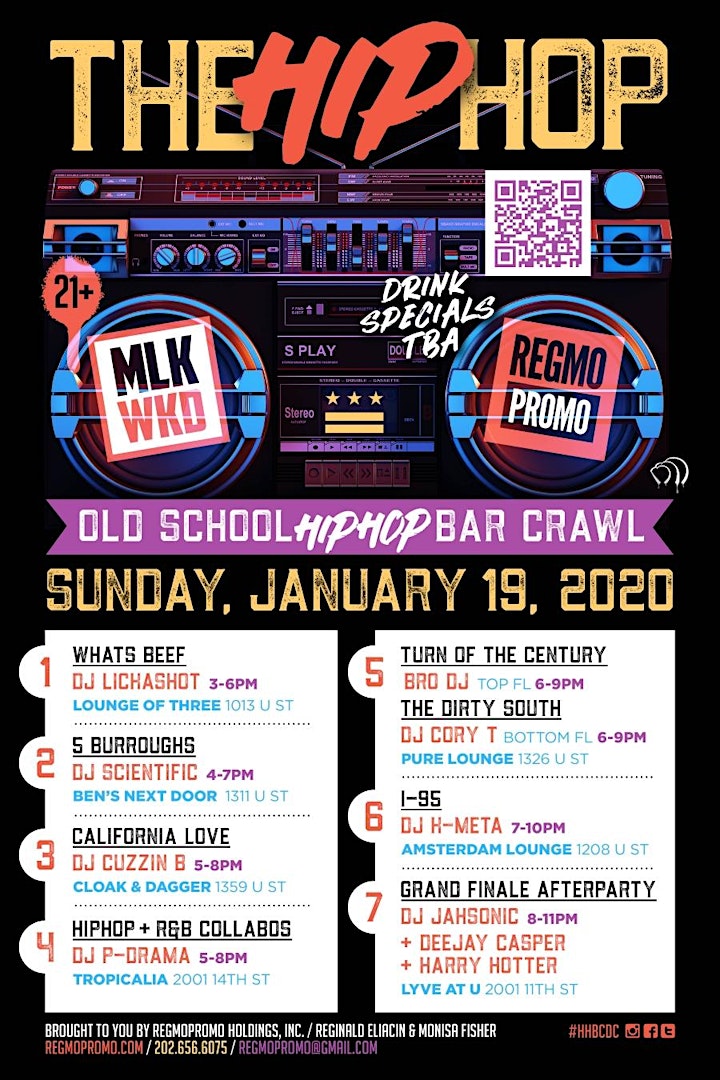 No work on Monday for most, so it will be extra lit!!
10 of the best DJs in the DMV will be spinning that classic Hip Hop that you just don't hear often away from your personal space, all day at 7 different bars walking distance from each other.
Every bar will have drink deals exclusively for bar crawlers.
Free bar crawl swag will be given out at the first bar while they last.
Tickets sell out every year so advanced ticket purchase is highly recommended to guarantee your spot on the crawl.
If you are new to this, here's how it works:
-There will be a DJ at each one of the bars spinning a different genre of classic Hip Hop for 3 hours.
-The twist to this bar crawl is that each DJ will spin a different theme at the bar that they are in.
-Bar crawlers will receive exclusive drink specials, giveaways, and admission to each venue.
-The Bar Crawl is from 3-11pm. Registration locations will be announced soon.
-Limited discount advanced tickets are available now through Eventbrite:
-Only a limited amount of wristbands will be available on the day of the crawl for $30. YOU MUST HAVE A WRISTBAND TO PARTICIPATE IN THE BAR CRAWL.
**MUST BE 21+ YEARS OLD TO CRAWL**
DJS, DRINK SPECIALS, THEMES, & BARS:
STOP #1 - Lounge of Three - 1013 U St. NW - 3-6pm
DJ Lickashot - "What's Beef"
Drink Specials:
$5 Heineken , $5 Corona, $7 Jameson
STOP #2 - Ben's Next Door - 1211 U St. NW - 4-7pm
DJ Scientific - "5 Burroughs"
Drink Specials:
$4 Stella, $5 Rum Punch, $ 5 Margarita , $6 Hennessy Sangria
STOP #3 and #4 - Cloak & Dagger and Tropicalia
Cloak & Dagger - 1359 U St. NW - 5-8pm
DJ Cuzzin B - "California Love"
Drink Specials: $7 Jameson Punch, $6 Modelo Tall Boys
$6 Captain Morgan White Rum, $6 Rail Vodka
$5 Heineken
Tropicalia - 2001 14th St. NW - 5-8pm
DJ P-Drama - Hip Hop and R&B Collabos
Drink Specials:
$7 "Jay-Z" Tropicalia Punch
$7 "P Diddy" Watermelon Cucumber Vodka
$5 "LL Cool J" - Heineken
$5 "Queen Latifah" Jack Apple Shot $5
$5 "Flava Flav" - Jameson shot
STOP #5 - Pure Lounge - 1326 U St. NW - 6-9pm
DOWNSTAIRS - DJ Cory T - "The Dirty South"
UPSTAIRS - Bro DJ - "Turn of the Century"
Drink Specials: $5 Miller Lite, $6 Pure Punch, $7 Jameson
STOP #6 - Amsterdam Lounge - 1208 U St. NW - 7-10pm
DJ K-Meta -"I-95"
Drink Specials: $4 Beer, $6 Amsterdam Punch
STOP #7 - Lyve at U - 2001 11th St. NW - 8-11pm
Grand Finale Afterparty featuring:
DJ Jahsonic
Deejay Casper
Harry Hotter
Drink Specials: $5 Heineken, $5 Corona | $8 Hennessy / Vodka Punch
Don't drink and drive. U Street Cardoza Metro and Metrobus stops are along the bar crawl route. Lyft, Uber, Via, and Cabs are all around.
Brought to you by RegMoPromo
Follow us at www.regmopromo.com
IG: @regmopromo
#hiphopbarcrawldc #hhbcdc #regmopromo
Facebook event link: https://www.facebook.com/events/542854706273018
Eventbrite event link: https://hiphopbarcrawlmlk2020.eventbrite.com
RegMoPromo reserves the right to use any photograph/video taken at any event sponsored by RegMoPromo, without the expressed written permission of those included within the photograph/video.
Release From Liability. Attending "THE HIP 'HOP' OLD SCHOOL BAR CRAWL" releases any and all claims, causes of action, or demands against RegMoPromo Holdings, Inc, its successors, assigns, officers, agents, representatives, employees and crawl organizers (collectively or individually, "Releasees") for any personal injury, death, property damage, or loss sustained by me as a result of participation in a crawl offered by Releasees due to any cause whatsoever, including without limitation, negligence on the part of Releases or other participants.