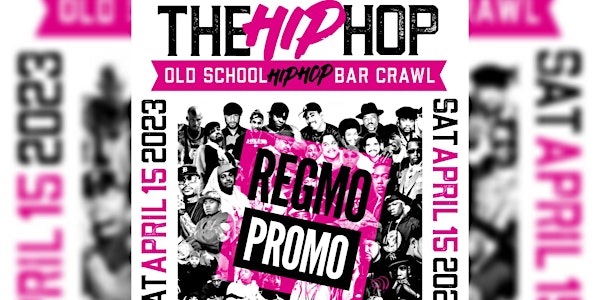 The Hip Hop Bar Crawl Spring Edition
Kick in the door, it's time for the big 34! If you love all things Hip Hop then gather the crew for the 34th Hip Hop Bar Crawl!!!
Date and time
Saturday, April 15 · 2 - 10pm EDT
Location
U Street - Multiple Venues 1357 U Street NW Washington, DC 20009
Refund Policy
Refunds up to 7 days before event
About this event
Mob out on Saturday, April 15th from 2p-10p and join thousands of Hip Hop Heads bar hopping on U Street!
We're hitting up all your favorite bars and each stop on the crawl featuring the best DJs spinning in the city with booze specials guaranteed to get you lit!
HERE IS WHAT YOU GET WITH A TICKET PURCHASE
💥 Free entry to 7 Bars and Clubs along U Street
🎧 7 DJs spinning Hip Hop Classics from the East Coast, Down South, Midwest, and West Coast
🎚 A different DJ spinning a different genre at each location.
🍻Tons of exclusive Drink and Food Specials
🛍Plenty of Free Swag and Giveaways to go around
It's time to ante up! Don't sleep on getting your tickets because they sell out fast!
~~~~~~~~~~~~~~~~~~~~~~~~~~~~~~~~~~~~~~~~~~~~~~~~~~~~
MORE TICKET INFO:
-Tickets are available now on Eventbrite. Prices are subject to change as we get closer to the event.
-Discount Group Tickets are available while they last (10 minimum).
-Only a limited amount of wristbands will be available on the day of the crawl at a higher price. YOU MUST HAVE A WRISTBAND TO PARTICIPATE IN THE BAR CRAWL.
-Registration will be at each location during their scheduled time.
-After checking in, you will receive a wristband which will give you free entrance to all clubs that are part of the bar crawl during their scheduled times (full schedule ).
-For Table Reservation and Bottle Service at select venues, please contact Monisa at monisa@regmopromo.com
DJS, THEMES, BARS, & DRINK SPECIALS:
2-5 pm District Alley -1351 U St. NW
Drink Specials: $5 Corona, $6 Captain Morgan, $8 Jameson, $10 Avion
DJ RBI - "Sample This"
~~~~~~~~~~~~~~~~~~~~~~~~~~~~~~~~~~~~~~~~~~~~~~~~~~~~
3-6 pm Alice - 1357 U St. NW
Drink Specials: $6 Corona, $9 Captain Morgan, $10 Jameson, $11 Dusse
DJ SHABLAST - "50 Years, 50 Emcees"
~~~~~~~~~~~~~~~~~~~~~~~~~~~~~~~~~~~~~~~~~~~~~~~~~~~~
4-7 pm Cloak & Dagger - 1359 U St. NW
Drink Specials: $6 Heineken, $9 Jameson, $10 Absolut, $11 Milagro
CORY T- "C.U.I. - Crunk Under the Influence" ~~~~~~~~~~~~~~~~~~~~~~~~~~~~~~~~~~~~~~~~~~~~~~~~~~~~
5-8 pm Red Lounge - 1334 U St. NW
Drink Specials:$5 Miller Lite, $7 Tito's, $8 Jameson, $9 Milagro,
DJ HARVEY DENT - "NY Thugs and West Coast Gangstaz"
~~~~~~~~~~~~~~~~~~~~~~~~~~~~~~~~~~~~~~~~~~~~~~~~~~~~
6-1 pm Pure Lounge - 1326 U St. NW
Drink Specials:$5 Bud Light, $7 Jameson, $9 Ciroc, $10 Deleon
DJ NATE GEEZIE- "Taking Over the 99s and the 2000s"
~~~~~~~~~~~~~~~~~~~~~~~~~~~~~~~~~~~~~~~~~~~~~~~~~~~~
7-10 pm Amsterdam Lounge - 1208 U St. NW
Drink Specials: $5 Stella, $7 Jameson, $8 Titos, $9 Dusse, $11 Casamigos, $12 Wing Platter
MISS H.E.R. - "Grand Finale"
~~~~~~~~~~~~~~~~~~~~~~~~~~~~~~~~~~~~~~~~~~~~~~~~~~~~
MORE DETAILS TO COME!!!!
GET TICKETS EARLY AND SAVE SOME DOUGH!
Brought to you by RegMoPromo
Follow us at www.regmopromo.com
IG/FB/TWITTER/TIKTOK/: @regmopromo
#HipHopBarCrawl34 #hiphop #barcrawl #regmopromo
Eventbrite event link: https://hiphopbarcrawl34.eventbrite.com
Don't drink and drive. U Street Cardoza Metro and Metrobus stops are along the bar crawl route. Lyft, Uber, and Cabs are all around.
RegMoPromo reserves the right to use any photograph/video taken at any event sponsored by RegMoPromo, without the expressed written permission of those included within the photograph/video.
Release From Liability. Attending "The Hip Hop Bar Crawl Spring Edition" releases any and all claims, causes of action, or demands against RegMoPromo Holdings, Inc, its successors, assigns, officers, agents, representatives, employees and crawl organizers (collectively or individually, "Releasees") for any personal injury, death, property damage, or loss sustained by me as a result of participation in a crawl offered by Releasees due to any cause whatsoever, including without limitation, negligence on the part of Releases or other participants.
About the organizer
RegMoPromo - Where The Party At!!
For over 12 years, we've created a unique vibe through our music themed events that have brought people from all backgrounds and ages into an energetic and fun atmosphere. Whether it's The Hip Hop R&B Boat Party or any of our themed Bar Crawls - Old School Hip Hop, Caribbean, R&B, or Holiday, you'll always get top-notch service and a party with the best DJ's in the area. Don't read about it, come experience it for yourself! See you at a RegMoPromo event soon!