The Himeros Experience - In Person Retreat
From October 2 - 7, 2021, join Himeros.tv and friends on a journey of exploration and discovery in upstate New York.
When and where
Location
Greenwich Easton Mountain 391 Herrington Hill Rd Greenwich, NY 12834
About this event
Facilitated by tantric sex coach Jason Tantra, join the Himeros.tv family for a transformative week of sexual evolution. You'll connect with other gay and bisexual men through workshops, playshops and fun activities to increase pleasure, build community and evolve your experience of sex and sexuality. This retreat is for men of all ages (18+), shapes, sizes and levels of experience. There will be no filming at this retreat.
We are asking that all participants of this retreat be fully vaccinated. Proof of vaccination will be required.
The Himeros Experience is at Easton Mountain Retreat Center in upstate New York, a short taxi or Uber ride from the Albany International Airport.
Learn from your favorite Himeros.tv coaches - including Jason Tantra and Will Tantra - through powerful workshops and playshops
Discover new tools and techniques for deeper connections and better sex
Connect with like-minded men in a supportive and nourishing environment
Participate in exclusive Himeros.tv screenings each night with Davey Wavey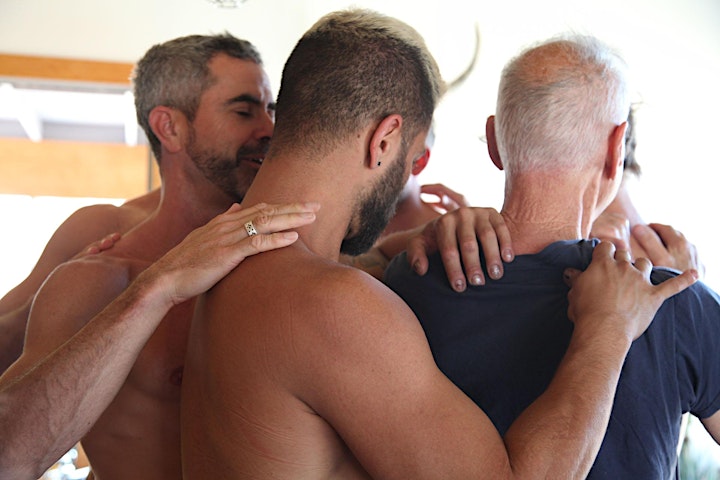 THE HIMEROS EXPERIENCE PROGRAM:
Days start with Morning Meditation and Yoga. Or you can sleep in! The choice is yours.
Then it's time for our Buffet Breakfast – hang out with your friends and have your breakfast wherever you'd like.
After breakfast, we will hold our Morning Meeting in which teachers will present their workshops of the day - so you know exactly what's available.
This is followed by the day's first selection of Tantra Workshop Sessions - see below for an idea of what awaits you.
Then it's Lunch, followed by some Free Time to hang out in the spa or do whatever your heart desires.
Each participant is assigned to a Family - a group of guys who will be your buddies for the retreat. In the early afternoon, the families come together for an hour to share and spend some time together.
Then, later in the afternoon, enjoy another selection of Tantra Workshop Sessions - see below for the variety of workshops you can expect.
This is followed by Dinner with dessert.
After Dinner, it's time for an exclusive Himeros.tv Movie Screening and audience discussion presented by Davey Wavey. 
Lastly, end your night with a selection of Tantra Workshop Sessions - these evening sessions are often very special rituals to go deep!
Before bed, spend some time in the spa or in the love temple.
SAMPLE WORKSHOPS:
Each retreat is different, but here are some workshops from our facilitators:
The Tantric Bliss Toolkit
The Multi-Orgasmic Man
What You Really Want
Tantric Erotic Massage
Opening to the Freedom of the Heart
Touch, Flex, Flow
Tantric Cuddle Share
Tantric Energy Healing
Intense Sensation and Ecstasy
Separating Orgasm from Ejaculation
Conscious Power Exchange
Erotic Playfighting
Journey Through The Senses
The Power of Letting Go
Traditional Kriya Tantra
Meeting Your Inner Essence
Sacred Sound Immersion
Riding The Breath of Life
Bodyflow Massage
From Fear To Love
Ecstatic Self-Pleasuring
Flogging for Fun and Erotic Connection
Play Parties
WHAT TO EXPECT:
A total of 25 - 50 men will attend The Himeros Experience. You'll be working in smaller groups alongside some of your favorite Himeros.tv coaches. While these workshops and playshops involve intimate contact between the participants, everyone will have the opportunity to express their boundaries - and we will ensure a safe environment for all participants. You'll never do anything that you don't want to do.
This retreat is not a sex party or orgy; it is an opportunity to respectfully explore your sexuality, experience pleasure and connect with a community of like-minded men.
WHAT'S INCLUDED:
Your ticket includes lodging and delicious meals for the duration of the retreat. You'll be able to select from different accommodation levels depending on preference and budget. You'll also have access to Easton Mountain's grounds including the wood-fired sauna. Airport transfers and airfare are not included.
CANCELLATION POLICY
If you need to cancel your ticket within four months prior to the event, no refund will be given. This is because we have made financial commitments on your behalf to the venue, chefs, teachers and other suppliers for the festival. If you need to cancel and it is at least four months before the event, you'll receive a 50% refund for the ticket price.
PERSONAL BEHAVIOR
The Himeros Experience will not tolerate any form of aggressive or inappropriate behavior directed at teachers, masseurs, venue staff or other group members. Any such behavior will be addressed and, if not rectified immediately, could result in you being asked to leave the retreat. If you are asked to leave, no refund will be given.