EARLYBIRD applied. A $100.00 discount is available.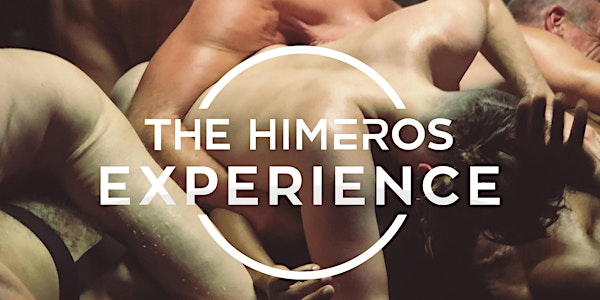 The Himeros Experience 2023 - In Person Retreat
From October 1 - 5, 2023, join Himeros.tv and friends on a journey of exploration and discovery in upstate New York.
By Davey Wavey, Himeros.tv
Date and time
October 1 · 5pm - October 5 · 1pm EDT
Location
Greenwich Easton Mountain 391 Herrington Hill Rd Greenwich, NY 12834
About this event
3 days 20 hours

Mobile eTicket
Facilitated by tantric sex coach Jason Tantra, join the Himeros.tv family for a transformative week of sexual evolution. You'll connect with other gay and bisexual men through workshops, playshops and fun activities to increase pleasure, build community and evolve your experience of sex and sexuality. This retreat is for men of all ages (18+), shapes, sizes and levels of experience. There will be no filming at this retreat.
The Himeros Experience is at Easton Mountain Retreat Center in upstate New York, a short taxi or Uber ride from the Albany International Airport.
Learn from your favorite Himeros.tv coaches through powerful workshops and playshops
Discover new tools and techniques for deeper connections and better sex
Connect with like-minded men in a supportive and nourishing environment
Participate in exclusive Himeros.tv screenings each night with Davey Wavey
As required by Easton Mountain, all participants must provide one of the following: Proof of vaccination, proof of medical exception or proof of a positive Covid recovery in the last six weeks (i.e., letter signed by doctor) AND proof of a negative COVID test result with the results received within 72 hours of arrival. This can be a photo of at-home rapid test results OR test results sent from a lab for a rapid or PCR test.
MEET THE COACHES:
Jason Tantra is a pioneer in the field of tantra for men who love men. With 18 years experience in creating tantra events with love, intimacy, sex, connection and spirituality, Jason has led over 16,000 people across Europe and the United States. "I love to create spaces where I witness men in their ecstasy and in love. When that happens, there is more truth in those moments than anything else I see around me."
Jason will be your host for this event where you are guaranteed to feel love and connection with other participants.
Dillon Diaz is an award-winning adult entertainer and Himeros.tv alumni. Diverse is the word best used to describe his catalog. Whether it's gay, bi or straight sex, it's all about the chemistry and sensations for Dillon. "Working in adult entertainment has given me the opportunity to explore my own sexuality and get to know my body and spirit better. I am all about breaking down boundaries and enjoying the sex that I have, whether it's with my partner or on set. Now I'd like to share what I've learned."
Matthew Shur is a stubborn slut, a funky fag, and a goofy geek—but with lovely shoes. He discovered the power of conscious connection back in the summer of 2019 when he participated in the first Himeros.tv Tantra Retreat. Together with eight men from around North America and two tantra coaches, he filmed a series of erotic films with the intention of empowering, affirming, and uplifting other men who would later bear witness. The videos captured men of different backgrounds learning, practicing and experimenting with tantra in a sacred space while cultivating a sense of authentic loving community. Matthew considers this a transformative, life-changing experience.
In October 2021, Matthew stepped into his role as an in-person facilitator at the first Himeros Experience retreat. He led men of all ages as they laughed, cried, danced and harnessed the whole-body power of their sexual energy. He has since gone on to collaborate with Himeros.tv as a writer and sex & intimacy coach on five different shoots! If you had told Matthew five years ago that he'd be holding space for pornstars and offering them tools to embody their own authentic pleasure, he wouldn't have seen that cumming!
John Baldwin completed his first tantra workshop more than 10 years ago - and knew it was the beginning of something beautiful. Through his continued journey, John has met some amazing human beings and has felt so much love in all directions. He wants to share that same love with others, and offer something back to them. Becoming a massage therapist and body worker has allowed John to do that. One of John's massage teachers gave him lasting advice: It's all about intention.
THE HIMEROS EXPERIENCE PROGRAM:
Days start with Morning Meditation and Yoga. Or you can sleep in! The choice is yours.
Then it's time for our Buffet Breakfast – hang out with your friends and have your breakfast wherever you'd like.
After breakfast, we will hold our Morning Meeting in which teachers will present their workshops of the day - so you know exactly what's available.
This is followed by the day's first selection of Tantra Workshop Sessions - see below for an idea of what awaits you.
Then it's Lunch, followed by some Free Time to hang out in the spa or do whatever your heart desires.
Each participant is assigned to a Family - a group of guys who will be your buddies for the retreat. In the early afternoon, the families come together for an hour to share and spend some time together.
Then, later in the afternoon, enjoy another selection of Tantra Workshop Sessions - see below for the variety of workshops you can expect.
This is followed by Dinner with dessert.
After Dinner, it's time for an exclusive Himeros.tv Movie Screening and audience discussion presented by Davey Wavey. 
Lastly, end your night with a selection of Tantra Workshop Sessions - these evening sessions are often very special rituals to go deep!
Before bed, spend some time in the spa or in the love temple.
THIS YEAR'S WORKSHOPS:
This year's workshops and playshops will include:
Sex Like a Porn Star
Dillon's Erotic Massage
Partnered Masturbation
Getting Bare Naked
Introduction to Massage
Love Expression
The Ecstatic Body
Therapeutic Massage Techniques
Tantra Techniques 101
Lomi Lomi Massage
A Tantric Ritual
Tantric Massage
Naked Poetry Meditation
Consensual Playshop
Authentic Pleasure
Full Moon Ritual
Nightly Himeros.tv film screenings with Davey Wavey
and more!
This list is subject to change.
WHAT TO EXPECT:
A total of 44 men will attend The Himeros Experience. You'll be working in smaller groups alongside some of your favorite Himeros.tv coaches. While these workshops and playshops involve intimate contact between the participants, everyone will have the opportunity to express their boundaries - and we will ensure a safe environment for all participants. You'll never do anything that you don't want to do.
This retreat is not a sex party or orgy; it is an opportunity to respectfully explore your sexuality, experience pleasure and connect with a community of like-minded men.
WHAT'S INCLUDED:
Your ticket includes lodging and delicious meals for the duration of the retreat. You'll be able to select from different accommodation levels depending on preference and budget. You'll also have access to Easton Mountain's grounds including the wood-fired sauna. Airport transfers and airfare are not included.
CANCELLATION POLICY
If you cancel at least 4 months before the event, you'll receive a 50% refund.
If you need to cancel your ticket within four months prior to the event, no refund will be given. This is because we have made financial commitments on your behalf to the venue, chefs, teachers and other suppliers for the event.
PERSONAL BEHAVIOR
The Himeros Experience will not tolerate any form of aggressive or inappropriate behavior directed at teachers, masseurs, venue staff or other group members. Any such behavior will be addressed and, if not rectified immediately, could result in you being asked to leave the retreat. If you are asked to leave, no refund will be given.
About the organizer
Davey Wavey created Himeros.tv to help gay and bisexual men have better sex through exploration, pleasure and connection.