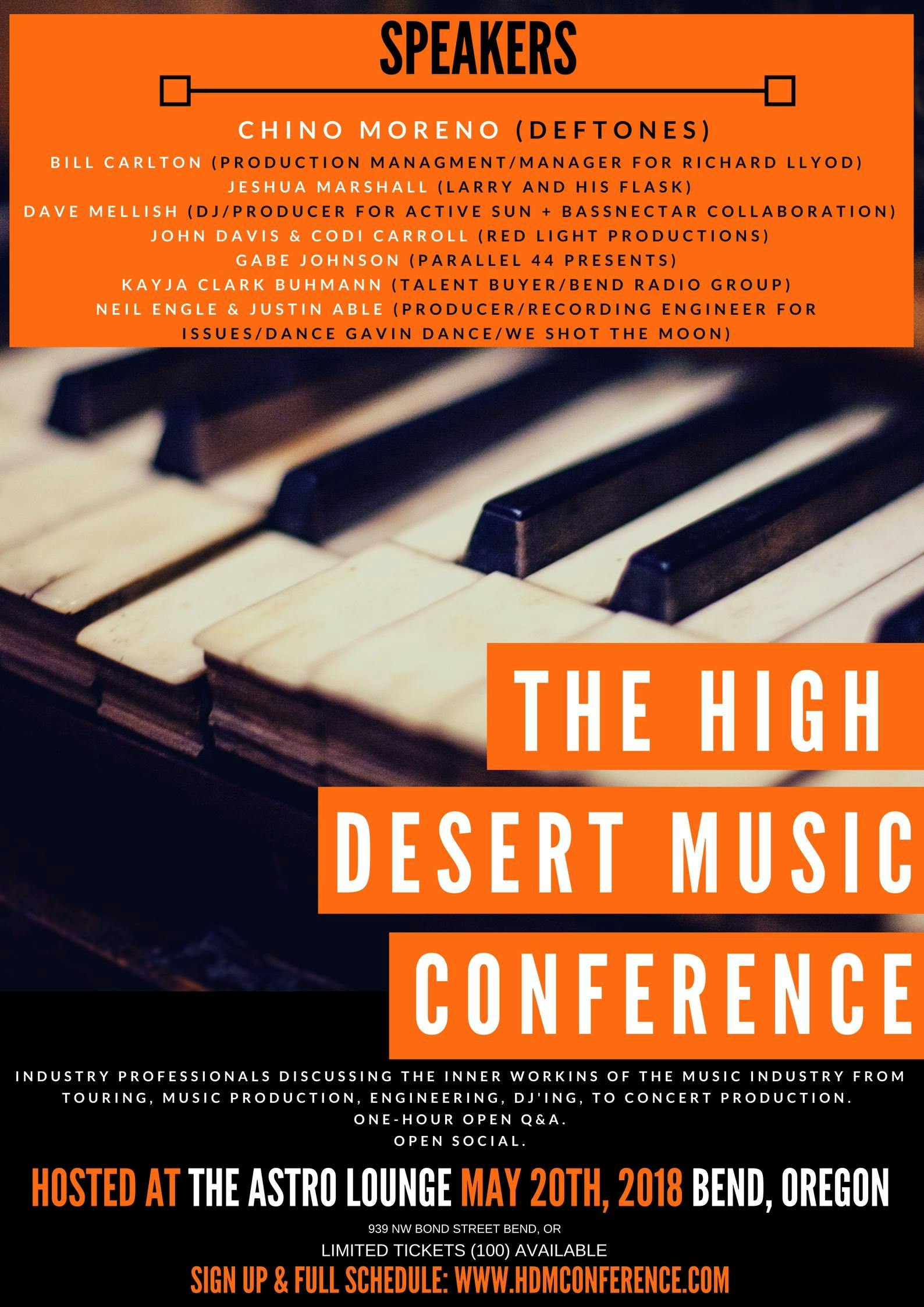 About this Event
MEET THE PANEL
Speakers
Chino Moreno (Deftones)
Bill Carlton (Artist production management/ manager for Richard Lloyd)
Jeshua Marshall (Larry And His Flask)
Dave Mellish (Music collaberator with Bassnectar, producer with Active Sun, Birdseye)
John Davis & Codi Carroll (Owner and Artist relations at Red Light Productions)
Gabe Johnson (Owner of Parallel 44 Presents)
Kayja Clark Buhmann (Talent buyer/ Bend Radio Group)
Neil Engle (Producer/Engineer for Dance Gave Dance, Issues)
Justin Abel (Producer/Engineer for We Shot the Moon, The Talbott Brothers) 
SCHEDULE
Doors 5:00 PM
6:00 PM - 8:00 PM each member of the panel will have a talking point to discuss with the panel
8:00 PM - 8:30PM will be intermission and dinner.
8:30PM -10:00PM will be an open Q&A with the panel.
10:00PM - Midnight will be an open social for all attendees and the panel
We are only doing 100 tickets for the first year which are to be purchased in advance we will NOT be selling tickets at the door, each ticket will come with a custom laminate with your name on it, a poster of the event, 1 dinner token and 1 drink token for all those 21+.
ABOUT OUR PANEL
Chino Moreno:
 is an American musician. He is best known as the lead vocalist and contributing guitarist of Deftones which have sold over 10 million albums world wide. He is also a member of the side-project groups Team Sleep, Crosses, Saudade, and Palms. Moreno is well known for his distinctive screams, as well as his soothing and dramatic tenor voice while singing melodically. In 2007, he was placed at number 51 in Hit Parader's "Top 100 Metal Vocalists of All Time".
Bill Carlton (The Gunslinger):
Bill Starting out working for many Illinois acts, Bill
Carlton moved to Minneapolis, and worked
with several large regional acts in the late 70's.
In 1979 Bill, then in NYC, worked as Tour
manager for Johnny Thunders and other
popular acts.
Next was Nashville in the mid 80's where he
managed, booked and production managed
Cantrell's and The Cannery, followed by a five
year stint with ASCAP.
In 1993 Bill relocated to Hollywood and started
touring with acts; Hubert Sumlin, ABC, Ozzfest,
and many others.
Bill booked and managed the legendary Mint,
Los Angeles oldest live music club in from 1999-
2001.
Bill also known as The Gunslinger, then
became the Tour / Production Manager for
John Cale in Europe during 2001- 2002. Bill
then joined Booking Entertainment in 2003 as
Head of Production for 100 + dates a year with
high profile A list artists such as, Bon Jovi,
Stevie Nicks, Don Henley, Billy Joel , and many
others.
In 2009 moved to Bend Oregon to semi-retire
He worked shows for C-3, The Seahawks, and
other corporate dates.
During 2012- 2016, Bill served as Production
Director for Dante's and The Star Theater in
Portland.
Gunslinger is back in Bend and does not tour
any longer. He now does Career Direction and
Management for former Television guitarist
Richard Lloyd, who he has just signed a new
360 deal for him with a major label in Nashville.
Jeshua Marshal:
Jeshua Marshall is a long time community member of the Central Oregon music scene. His musical background stretches over the last 15 years, playing bass in the Punk Americana act Larry And His Flask, and side projects, Onward Etc. Guardian of the Underdog, Tom Vandenavond, Hot Club Of Bend and Willy Tea Taylor. Larry and his flask have toured extensively and have released 9 recordings over the years with a brand new album titled 'This Remedy' coming out fall 2018. 
Larry and His Flask are an American punk-bluegrass musical group from Central Oregon. Touring extensively they have supported several bands such as Frank Turner, Dropkick Murphys, Streetlight Manifesto, Strung Out, The Reverend Peyton's Big Damn Band and Trampled By Turtles as well as embarking on full Canadian and American tours by themselves. Since shifting to acoustic instruments busking has also been a part of their tours stating in an interview, "We play a lot of street corners if we are low on gas money."They have played at various festivals; the largest to date being the 2011 Vans Warped Tour, with Alternative Press putting them on their 10 Must See Under-The-Radar Warped Tour Acts list.
Dave Mellish:
is an American singer songwriter/composer and producer that has toured around the world and played at some of the most prestigious venues in America like Red Rocks Amphitheater and Terminal 5, festivals like Coachella and Lighting In A Bottle. He has written solo albums, collaborated with such artists as Bassnectar and composed songs for shoe and apparel giants Nike. David is currently writing 2 albums and in preparation to go back out on tour starting 2019.
John Davis:
John Davis began his career in music by sneaking into a Misfits concert at age 14. Not wanting to miss his favorite band and low on cash, Davis was caught by Jerry Only, who "punished" him by making him work the merchandise booth at the show. By the end of the night, Davis was hooked the allure of the independent music scene. Jerry Only left him with a promise that when he turned 18, he had a job with them. The story could have ended there, with a great story about a kid's favorite band throwing him a bone. Rather than let a simple anecdote become his legacy, Davis went on to form Red Light Productions with friend Mikee Snyder, a concert production company out of Bend, Oregon. John has worked with artist like Gogol Bordello, Pennywise, George Clinton & Parliament Funkadelic, Sage The Gemini, James McMurtry, Rhiannon Giddens, T.I., Trapt, Built To Spill, Eve 6, Andrew WK, Downlink, Granger Smith, Jim Adkins ( Of Jimmy Eat World), Warren G, Everlast, Bring Me the Horizon, We Came as Romans, As I Lay Dying, The Game, Make America Rock Again Music Festival, Granger Smith and countless other scene giants as a concert producer and talent buyer. Davis is unique in that he has spent much of his time not only cultivating Red Light but touring the world with various acts having been to 38 states and 2 countries as a touring musician and being a endorsed guitarist with Orange Amplifiers. To round it out Davis is also a college certified engineer and mentor at his boutique recording studio in Bend, OR which works closely with The Film and Recording Institute based out of L.A.
Codi Carroll:
Codi Carroll is 28 years' young born and raised in Bend, Oregon. At the age of 14 he began assisting John Davis produce concerts under Red Light Productions. At the age of 20 Codi got a sharp taste of the music industry as he was hired as a tour manager for Pacific Northwest pop-punk band Capture The Flag on a self-made 50 date tour across the United States. Shortly thereafter Codi was introduced to the world of electronic dance music and DJ'ing from his close friend, confidant and rising techno producer Tyler Rouse. Codi has been performing at top notable dance clubs across Oregon with his unique mixing style and aggressive, foreword-thinking music selection. Codi also works closely with iconic DJ and producer Tommie Sunshine as the Head of Promotion for Brooklyn Fire Records. Brooklyn Fire is a platform for new, up and coming artists to showcase their unknown talents. Codi works closely with some of the biggest DJ's and producers in electronic dance music like, Laidback Luke, Benny Benassi and more, to ensure the newest singles from Brooklyn Fire are in the arsenal of every major DJ across the globe. When Codi is not sending fuego promos with BFR he spends most of his time working directly with Red Light Productions on artist development, talent buying and the head of artist relations. 
Gabe Johnson:
Parallel 44 Presents has been presenting concerts of all varieties for over 11 years in Central Oregon and just celebrated their 1000th show in the region in March. The company's founder/owner, Gabe Johnson, moved to Bend in late 2006 from Massachusetts, as a booking agent (In The Pocket Artists, Inc.) and musician, and started presenting shows in Bend simply out of a desire to bring artists to Bend that he loved and couldn't see live because they hadn't been typically coming to Bend. This original inspiration of simply wanting to bring more diverse musical options to Bend has snowballed over the last decade into what is now a highly active and successful concert promotions company, that is highly regarded for its taste, its excellence and its "fans first" mentality. Parallel 44 Presents now presents concerts at nearly every venue in Central Oregon, and has a loyal and prodigious following of music lovers who know that if P44P puts its name on a show, then it must be high quality. Fans also know that Gabe always fosters an environment of sweetness and safety where music lovers can embrace and rejoice in great live music. As an example, despite having presented over 1000 shows in the market, there has never been a fight or any situation at one of P44P's shows that has led to the authorities being called. In short, P44P shows are positive, loving, community-minded events where anyone and everyone who attends can feel safe as well as musically and spiritually nourished. Gabe's background as a touring musician and a booking agent not only means that he has a very diverse and strong network of contacts nationally but it's also helped him foster a fantastic reputation as one of the most artist friendly concert promoters in the national scene today. Touring artists frequently praise Gabe for his keen awareness of not just fans' needs but the needs of the artists he brings through. His care and attention to detail in all aspects of concert promotion is well known to anyone who has worked with him, and has led to many artists, agents, fans and venues showing him and P44P an uncannily fierce loyalty.
Kayja Clark Buhmann:
Talent Buyer and Concert Director for Bend Radio GroupOver the past 20 years, Kayja has done nearly every imaginable job at a concert- from being a coat check girl and bartender, to cleaning the toilets, to her current position of booking and managing concert series and festivals with a combined annual budget of over a $1 million. She has been able to combine her passion for live music with her "day job" experience and education in math, finance, and logistics to bring artists, music lovers, and businesses together to create a profitable yet fan-friendly concert experience.  Though her love of the music community has been heavily influenced by growing up immersed in the ideas and sounds of 90's Grunge-Era Washington, Kayja has embraced the unique concert and musician environment of Central Oregon to turn a side-gig into a dream career. 
Neil Engle:
Neil Engle is a Producer/Engineer who is quickly rising as a top music industry producer. He has studied under some of the greatest ears/minds in the industry today: From Kris Crummett to Paul Leavitt, from Shawn Milke to Stephan Hawkes. For the past 12 years he has been a "fly on the wall", absorbing everything that goes on behind the scenes of several Billboard charting artists including Issues, Dance Gavin Dance, Alesana, Capture The Crown, Johnny Craig and A Skylit Drive and more.    
   After graduating from Full Sail University he interned under RIAA gold certified Producers Kris Crummett and Stephan Hawkes while also maintaining his own recording studio which he successfully grew out of a storage shed on his parents property. At the age of 23 Neil moved to Raleigh, NC to help start independent record label Revival Recordings (founded by Alesana's Shawn Milke) as their in-house Studio Engineer/Producer. He then moved back to the Pacific North West to become the full time Engineer for Producer Kris Crummett before finally opening his own studio in January 2017. Neil has turned a passion for music and an internship into a life long career as a producer and engineer.
Justin Able:
Justin is a producer and mix engineer at Tone Lab Studio based in Portland, OR. He has worked with artists such as We Shot the Moon, The Talbott Brothers, Andrew Serino, Bo Baskoro and many more. After attending The Conservatory of Recording Arts and Sciences in 2012, Justin moved to Nashville to intern at OmniSound Studios where he gained the experience to start taking on his own clients. He has been working full-time in the industry ever since.