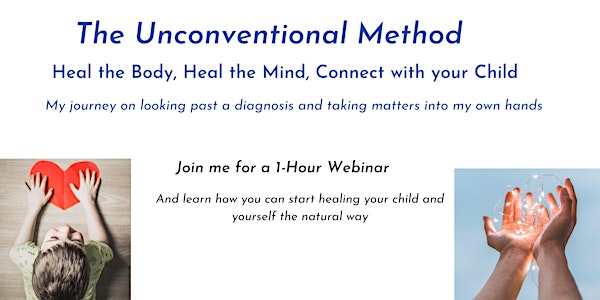 Multiple dates
The Hidden Truth about Autism - Portland
Dealing with Autism, ADHD, Anxiety, on a daily basis with your child? Were you told this is a life sentence? Stress an issue for YOU?
Date and time
April 27 · 8:30am - June 29 · 9:30am PDT
Location
Portland Virtual via Zoom Portland, OR 97201
Refund Policy
Contact the organizer to request a refund.
Eventbrite's fee is nonrefundable.
About this event
Are you a mom who struggles just to get through the day? Has Autism, ADHD, or Anxiety overtaken your home life? Do you have trouble connecting with your child? Do you feel like your other children take a backseat because there's so much attention for your neurodivergent child? Has the medical model of western medicine failed your family?
Are you stressed out beyond belief? Are you an emotional wreck most of the time? Have you exhausted all options trying to help your child manage his/her symptoms?
If this is you, then you have come to the right place. The truth of the matter is that, YES, there is a lot you can do! You just haven't been told because many aren't aware that a diagnosis of Autism, ADHD, or Anxiety can actually be more than just managed. It can be healed.
Let me be clear on what to expect during this webinar. I will be going over many strategies that work at getting to the root of the issues that come with this life. I will be outlining what it is exactly that will set you on the path of healing. I will go over in detail what it is that you NEED to start doing if you seek normalcy, better health, and a life full of possibilities for your child. And so much more! I have done years of research so you don't have to!
Before you click that 'register' button, I want to be 100% blunt. NONE of what I am talking about is a quick fix. That is not reality and not what will get you the result you seek. It will be hard work. That is the truth. BUT, it will not be hard forever. Once you start seeing the impossible unravel in front of your eyes, it will be all worth it. When you first see your child make eye contact with you, say 'I love you,' focus, be present in YOUR world, and connect with you on a level you never thought you could, you will be in awe and will want to continue your life this way. That is a promise!
So join me for this one powerful hour, and discover the possibility that you thought was impossible. I will see you on the inside.
About the organizer
I am on a mission to totally flip your life around for the better. I listen and absolutely never judge. That is not who I am. Your life is your own and I am not here to tell you what to do (unless you want me to). I am here to guide you and be your person for any of your health needs and more. Health and wellness for the body and mind as well as freedom to make your own choices for yourself and your family is what I embody. I will see you soon!