The Hidden Holocaust

Sunday, April 8, 2018 from 2:00 PM to 3:30 PM (CDT)
Event Details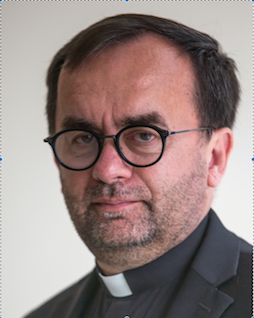 The Hidden Holocaust 

Featuring Father Patrick Desbois
Catholic Priest, Vatican Consultant & Founder of Yahad-In Unum
Sunday, April 8, 2018, 2:00 p.m. - 3:30 p.m.
Held at Bishop McGuinness High School (see map on right side)
Father Patrick Desbois is the President of the international organization Yahad-in-Unum. For the past 10 years, he has interviewed over 4000 eyewitnesses of the execution of Jews and Romas perpetrated by Nazi units and has identified more than 1500 execution sites in Eastern Europe.  
The Jewish Federation of Greater Oklahoma City is honored to be bringing Father Desbois to Oklahoma City to speak at our annual Yom HaShoah, Holocaust Remembrance Day, program. This program is free to attend and open to adults of all ages, middle school and high school students (please note this is not a program for children younger than middle school age).
Pre-registration is required - guests will need to bring their Eventbrite ticket along with a photo ID for admittance to the program. If you are registering for other people, please be sure to indicate their names and email addresses (do not "hold" spots by registering your name multiple times).
Note that there are two tickets to choose from - Ticket #1 is for the Auditorium, where Father Desbois will be speaking, Ticket #2 is for the Commons Area, which will have a live feed of the program. Ticket #1 seats will be filled on a first come first serve basis.

The Jewish Federation appreciates the generosity of the following Underwriters and Sponsors
Underwriters
Guardian ($7500 - $9999): Bishop McGuinness Catholic High School, Oklahoma City Jewish Foundation
Advocate ($5000 - $7499): The Journal Record, Nikki Singer
Champion ($3000 - $4999): Archdiocese of Oklahoma City, Bank SNB, Lori & Jeff Blumenthal, Gold Family Foundation, Kennedy Consulting Team, Joan & Michael Korenblit
Sponsors
Leader ($1800 - $2999): Lawrence H. & Ronna C. Davis, Glenna & Dick Tanenbaum
Partner ($720 - $1799): Jackie & Jerry Bendorf, Frank & Malia Love, Shirley & Ben Shanker
Supporter ($360 - $719): Ron & Julie Arvine, Kathy & Larry Bookman M.D., Christ The King Catholic Church, Hahn-Cook/Street & Draper Funeral Directors, Dr. Allan & Ellen Metz, Temple B'nai Israel
Friend ($180 - $359): Anita Barlow, Karen & Patrick Craine, Jon & Laurie Epstein, Richard & Louise Fritz, Linda Gardner, Eddie & Susan Goldman, Herling-Moore Family, Deborah & Joseph Johnson, Hilary & Donald B. Karchmer, Loren & Julie Plotkin, Mark & Janet Price, Dr. Carl & Deborah Rubenstein, Debra & Mark Wolraich
Contributor ($18 - $179): Joel & Harriet Carson, Stanley Newman, Michael & Jiji Pollack
When & Where

Bishop McGuinness Catholic High School
801 Northwest 50th Street
Oklahoma City, OK 73118


Sunday, April 8, 2018 from 2:00 PM to 3:30 PM (CDT)
Add to my calendar