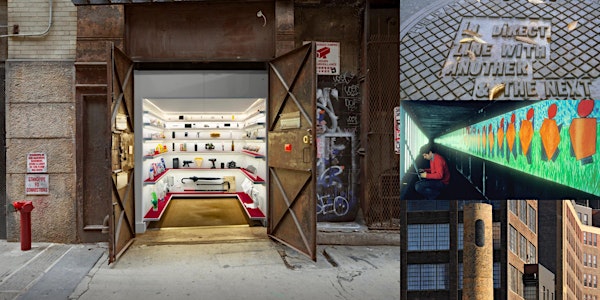 'The Hidden, Forgotten, and Under-the-Radar Art of New York City' Webinar
Can't make it live? Register and get access to the full replay for one week! New York Adventure Club | www.AdventureClub.com
About this event
While New York City is home to some of the country's most prestigious art institutions, there are incredible works of art outside their walls throughout the five boroughs...if you know where to look. Where exactly are these pieces that reveal the city's complex layer of history and culture, and why aren't they all hanging on a museum wall? It's time to uncover the old and new New York art that's easy to miss, but once found, hard to look away from.
Join New York Adventure Club as we explore the hidden, forgotten, and under-the-radar art gems of New York City, which collectively share a fascinating part of the city's rich cultural fabric that mostly goes unnoticed.
Led by museum educator and art historian Sylvia Laudien-Meo, our virtual experience of this unique subset of local art will include:
Art works and spaces that are hidden or no longer open to the public
Fragments of buildings or sculptures no longer in their original location, like the eagles of the former Penn Station or details from Gilded Age mansions
Curious, easy-to-miss details carved on building walls that tell stories, commemorate people, or share wisdoms
Special and incredibly intriguing treasures in art institutions that fly under the art radar, even though they're accessible to the public
Subterranean works of art that were never meant to be seen by the public
Public art or fragments from past temporary public art projects
Afterward, we'll have a Q&A with Sylvia — any and all questions about New York's covert art are welcomed and encouraged!
Can't make it live? Don't worry, you'll have access to the full replay for one week!
See you there, virtually!
*Immediately upon registering, you will receive a separate, automated email containing the link to join this webinar
**For the best possible viewing experience, please ensure you're using the latest version of your internet browser — Google Chrome is the most compatible. Exact technical requirements and a webinar user guide will be shared in the automated confirmation email upon registration.
***A full replay of the experience will be available to all registered guests for up to a week
About Sylvia
Sylvia Laudien-Meo is a freelance Art Historian who works in and around the city in various capacities, specializing on Modern and Contemporary art, with a strong focus on Public Art. She teaches art history at Fairleigh Dickinson University and has been working as a museum educator at MoMA, the Guggenheim and the Jewish Museum for over many years, engaging visitors in conversation based, interactive art experiences of permanent collections and changing exhibitions.
For the Municipal Art Society, UFT, Brandeis Univ., and private clients, she has been touring the city for over 20 years, exploring art and architecture, parks, neighborhoods and history. Working in various different capacities gives her a unique opportunity to make intriguing connections and weave together the complex perspectives that make out the tapestry of our fascinating city.
SLM holds a Masters Degree in Art History (with minors in History and American Studies) from the Joh. Gutenberg University in Mainz, Germany, as well as a Tourism degree from the EST in Paris France.
Disclaimer
By attending a New York Adventure Club experience, you accept our terms of service.
Photo Credit: Main - Mmuseumm
Categories: Virtual, Art & Entertainment