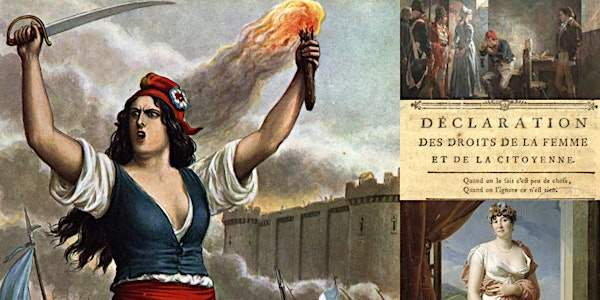 'The Heroines of the French Revolution' Webinar
Can't make it live? Register and get access to the full replay for one week! New York Adventure Club | www.AdventureClub.com
About this event
When the French Revolution began in 1789, French women were assumed to stay confined within the private sphere. After all, their "role" in French society at the time was to tend to their home and family obligations, and leave public matters to men. However, some women wanted liberty, equality, and fraternity for themselves...and were willing to die for it. Who were these women who participated in the French Revolution, and how did they play a prominent role during this volatile period of French history in their own unique ways? It's time to uncover the incredible contributions of four courageous women during the French Revolution like never before.
Join New York Adventure Club as we explore the legacies of Charlotte Corday, Olympe de Gouges, Marie-Jeanne Phlipon (Madame Roland), and Thérésa Cabarrus (Madame Tallien) — four women who played an active role during the French Revolution even when their ideas could lead them (and for the majority, did lead them) to the guillotine.
Led by Edith de Belleville — French licensed tour guide, author, and attorney-at-law — our digital showcase of these remarkable women will include:
The most dramatic individual act of resistance to the Revolution, which was made by a woman
How a romantic love story stopped the Reign of Terror (1793-94), a period when tens of thousands of people were sentenced to public execution by guillotine
The story of how Liberté Égalité Fraternité inspired fashion during the French Revolution
The influence of famed writer of the Enlightenment, Jean-Jacques Rousseau, on the subject of women's role in society
Why French women and men from the 21st century wanted the audacious Olympe de Gouges to be re-buried at prestigious Panthéon of Paris
A look at why these four great women are still inspirations for French feminists all these centuries later
Afterward, we'll have a Q&A session with Edith — any and all questions about these legendary women are welcomed and encouraged!
Can't make it live? Don't worry, you'll have access to the full replay for one week!
See you there, virtually!
*Once registered, you will receive a separate, automated email containing the link to join this webinar
**For the best possible viewing experience, please ensure you're using the latest version of your internet browser — Google Chrome is the most compatible. Exact technical requirements and a webinar user guide will be shared in the automated confirmation email upon registration.
***A full replay will be available after the experience for all registered guests
About Edith
Edith de Belleville is a native Parisian woman. She is a licensed tour guide, lawyer, author and a qualified French teacher for foreigners. She wrote a book about Beautiful Rebels of Paris in French ("Belles et Rebelles" , Éditions du 81) She is also a professor and teaches the Jewish heritage in Paris at Gustave Eiffel University (Marne-la-Vallée) She just published a new book in English about her memoirs in Paris "Parisian Life, adventures in the City of Light." And she spends so much time at Le Louvre and Orsay Museum that it's her second home.
Disclaimer
By attending a New York Adventure Club experience, you accept our terms of service.
Categories: Virtual, Moments in History