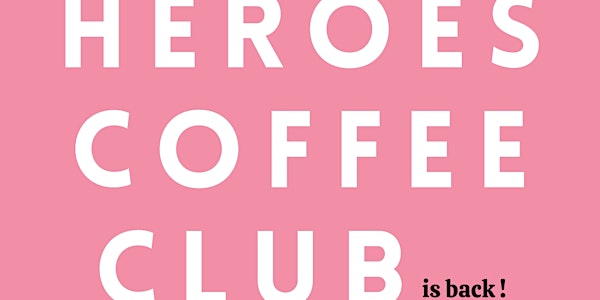 The Heroes Coffee Club
A Virtual Support Group Meet Up for People Living With Cancer hosted by Wigs for Heroes
About this event
The Heroes Coffee Club is back and if you are someone who has been affected by cancer you are officially invited to join our monthly virtual Coffee Club!
The past 2 years has been a rollercoaster for many but for people living with cancer, it has been particularly tough. Shielding due to COVID19 took away the little freedom we often have away from hospital visits and treatment days, and as a charity we were unable to continue supporting people in the way that we hoped - Q the Heroes Coffee Club!
Attendees who plan on joining us for our wonderful support meeting will be sent a free Coffee Club Box* which will be packed with all your Coffee Club essentials like tea bags, coffee and some nibbles too for when elevenses hit!
Joining us is simple!
1. Book your place via Eventbrite, ensuring contact details are entered and we will send your Coffee Club Box in the post*.
2. At least 24 hours before the meeting, your meeting link will be sent via email so make sure you check the junk folder in case you don't see it ! Please ensure you have Microsoft Teams downloaded as that is the platform we use.
3. After booking your place today, please ensure you email info@wigsforheroes.org with your name address mobile or contact number and booking reference so we can ensure your box is posted out to you in time:) let us know if you have any allergies as some products will contain nuts. Otherwise please provide us with a contact number when booking as we will call to confirm your attendance a few days before the meeting takes place.
4. Unable to make it? Please contact us as soon as possible to notify us of your absence on officesupport@wigsforheroes.org . We usually have a waiting list for people who want to attend so please consider others if you are likely to not attend.
We are here to uplift each other, share stories, advice and tips and be a digital shoulder to lean on. Remember you are never alone.
And thats it!
We will see you all soon !
*This event is sponsored by the Selby Food Hub and the Eve & Philip Morrisons Trust. Overseas residents may join the meeting however only UK residents will receive a box at this time
Wigs for Heroes is a registered UK charity who support people living with cancer with Wig grants, pamper bags and support group meet ups.
https://www.wigsforheroes.org/privacy-policy
By submitting an order for a ticket you consent to us utilising and sharing your email address with other attendees to enable the online facilitation of meetings using Microsoft Teams.