Description
Does your team have what it takes to win the first inaugural HEROES CUP? Grab your friends and co-workers and come out for some team building American Gladiator style in support of our local HERO military families.
Teams of 5
All Proceeds Benefit Local Currently Serving Military Families & Veterans through local 501c3 Heroes Supporting Heroes.
---
PACKAGES:
Team Competition Only (2pm - 6pm): $750 (5 Players)
Team Compeition & M'erica Mania Event (6pm - 10pm): $1,000 (**$125 savings in evening ticket)


**To complete registration offline via check - please contact Kristi Hilbert kristihilbert@trwmg.com
---
CORPORATE SPONSORSHIPS:

- $2,500 Team Registration, 5 Tickets to M'erica Mania, Company Banner Display at Both Events, Recognition Online in Promotion Of Both Events (Websites, Social Media, Posts, etc.)
- $5,000 Team Registration, 10 Tickets & Reserved Table at M'erica Mania plus addition of Sponsorship of Project with Heroes Supporting Heroes (housing repair work, family deployment support, family events) including accompanying photos of projects & recognition.
(Please contact Kristi Hilbert at kristihilbert@trwmg.com for sponsorships)
---
RAIN DATE: TBD
---
Competitions Will Include:
WARRIOR OBSTACLE COURSE:
Take on our double laned inflatable obstacle course. What will face you on your journey? Pop Ups, Climb Overs, Rock Wall, Slides....whose time will take the most points!


GENERAL'S JOUST:

Competitors use inflatable poles to attempt to knock each other from suspended platforms. Points earned for each successful dethroning of competitor!


NINJA MELTDOWN CHALLENGE:
Not one but TWO spinning booms try and knock competitors off their platforms. Will you duck or jump? Who will be left standing and collect the most points??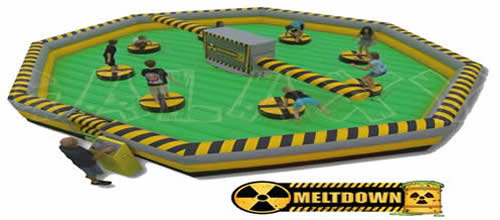 WRECKING BALL EXTREME:
Ready, Aim......You control the wrecking ball as you seek to target your opponents to knock them off their spots. Can you survive the demolition?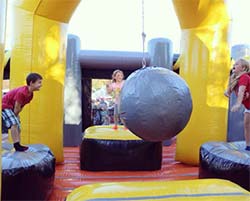 FATIGUE FOOSEBALL
Get on your game face and suit up for some human fooseball. Which team will score the most points?


BOOT CAMP BOWLING:
Get into tip top shape inside your human bowling ball. Roll yourself down the lane for a STRIKE! The higher the number of pins your team knocks down, the more points you score!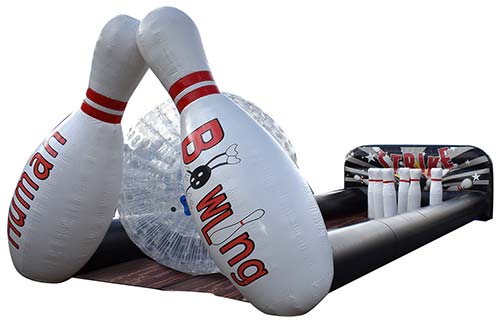 TOUGHNESS TOUCHDOWN:
2 players stand atop an inflated "football field" and are attached to 2 ends of a bungee cord. The object of the game is to score footballs in the "goal" before their opponents. In order to get close to the goal the player has to stretch the bungee cord while their opponents tries to do the same putting both players on the offense and defense at the same time.