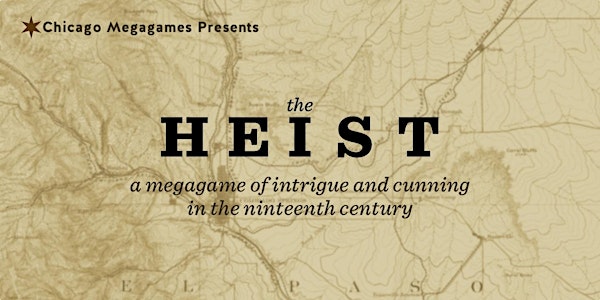 The Heist megagame Audition Day
When and where
Location
Columbia College 600 S Michigan Ave 8th Floor Chicago, IL 60605
Description
Heist is a megagame that tests your ingenuity and cunning in the late nineteenth century. Players have three hours to barter, buy, steal, lie, beg or shoot your way to your own role-specific goal, be it as a member of the Police, a part of the family (Mafia), an antagonistic Criminal, or a regular townsfolk trying to get out of Dodge with as much money as possible.
Remember that everyone has their own reasons for helping you, just as you have yours.
Nobody ever said winning the West would be easy.
---
Click here to go to the game page for more info.
Heist will last 3-4 hours with no intermission.
---
FAQs
Can my friends and I sign up as a team?
Groups can definitely sign up for this game, but for some roles, the mechanics don't express themselves in very team-focused ways. The police roles are probably the most cooperative, while the thieves and mafia are semi-cooperative-ish, and the townies are basically in it for themselves. We allow you to sign up with a maximum of five but I'd suggest 3 at most if you want to have the best shot at being in the same role, and even then, you may not be working together directly - however, free interaction is a vital part of every megagame, so you may get opportunities to work together as the game progresses.
Most of the uncertainty here comes from our previous playtest experience, which had only ~15 people playing. Considering we're aiming for 40 people this time, we're honestly just not sure how team-play will shake out! We're excited to figure this out with you as we go along.
Are there ID or minimum age requirements to enter the event?
Megagames are fun for all ages, but we are not fully licensed for an event involving minors, so we ask that you refrain from bringing anyone under 18 years of age.
What can I bring into the event?
Please see our website for our complete code of conduct
How can I contact the organizer with any questions?
Please email us with any questions! We try to get back to you within 24 hours. When we're in production for a games, the Head Designer usually answers emails in a digest format each evening.