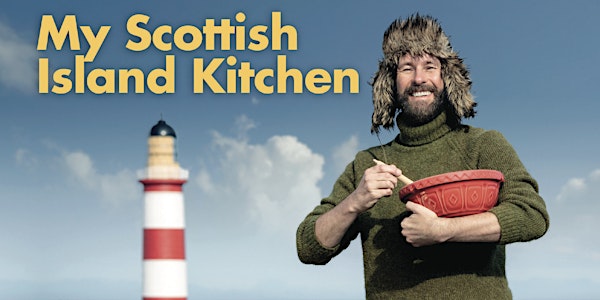 The Hebridean Baker: My Scottish Island Kitchen7/12, 5pm @Provincetown Arts
The Hebridean Baker: My Scottish Island Kitchen7/12, 5pm @ Provincetown Arts Society at The Mary Heaton Vorse House
Date and time
Wednesday, July 12 · 5 - 7pm EDT
Location
Provincetown Arts Society 466 Commercial Street Provincetown, MA 02657
Refund Policy
Contact the organizer to request a refund.
About this event
East End Books Ptown is happy to welcome back Coinneach MacLeod -   The Hebridean Baker: My Scottish Island Kitchen 7/12, 6pm @ Provincetown arts Society at Mary Heaton Vorse House.
We helped launch the books North American tour in March at a sold-out event at our Boston bookstore and Woods Hill Pier 4 Restaurant. Last year's event in Ptown sold out quickly. We advise getting your tickets right away! We have a number of ticket options available.
Meet Coinneach MacLeod, "The Hebridean Baker" at a very special event that will be held at the Provincetown Arts Society at The Historic Mary Heaton Vorse House (466 Commercial St). This event will feature a reading, plus Q&A. Coinneach will be bringing special treats from Scotland including some cookies, crackers and more from the new Hebridean Baker product line - soon to be available at east End Books in Ptown and Boston!
The book event will begin at 6:00 pm. The reception will begin at 5pm for people who buy a reception ticket, a reception w/hors d'oeuvres & libations (open bar) inspired by the cookbook will be held during the book event (limited tickets available).
The reception ticket includes a copy of the book, admission to the reception & the book event.  Support the Provincetown Arts Society at The Mary Heaton Vorse House. Donations welcome. Donation option available by clicking the donate button on Eventbrite or by emailing gene@provincetownartssociety.com.
*Note: If you purchase a ticket to the book event only, it will begin at 6pm. If you purchase a reception ticket which includes an open bar and tapas, you should arrive at 5pm. If you just want to attend the book event and get a signed copy of the book, there is a ticket available for the book event plus book with no reception.
(*The reception ticket price covers the cost of the food, libations, staff and tips paid to the Provincetown Arts Society at The Mary Heaton Vorse House.) It also includes a copy of the book.
Signed copies will be available for those who attend in person and virtually. We recommend you buy the book in advance. Your book purchases & tickets help us continue to hold these exciting book events. Thanks so much! 
Fàilte, I'm Coinneach, the Hebridean Baker, and welcome to my Scottish island kitchen.
The landscapes, stories, history and culture of the Outer Hebrides of Scotland are what make our islands unique. In this book, I'm sharing recipes filled with tradition, Scottish flavors and local ingredients that you will love to make in your kitchen, from hearty dishes and comforting desserts to delicious cakes and perfect biscuits to dunk in your tea!
The book is jam-packed with the stories behind the recipes; some I've found in my much-loved old cookbooks, others I've persuaded friends and family to share, as well as lots of new recipes which put a twist on a classic dish. So, get the oven on and choose your first recipe!
Praise for The Hebridean Baker:
'Beautiful recipes and what looks like a perfect life.' - Philip Schofield, This Morning
'Serving his sumptuous food with a side of Hebridean folklore, Scottish Gaelic & traditional music.' - BBC Travel
Coinneach MacLeod was born and raised on the Isle of
Lewis, the most northerly of the Outer Hebrides of Scotland.
Inspired by traditional family recipes and homegrown
produce, Coinneach rose to fame as the Hebridean Baker on
TikTok in 2020.
He has motivated his worldwide followers to bake, forage,
learn Gaelic, enjoy a dram or two of whisky, and to seek a
more wholesome, simple life.
Along with his partner Peter and their Westie pup Seoras,
Coinneach's aim is to bring the best of the Scottish islands
to a worldwide audience.
237.8K TikTok Followers
Over 16 Million TikTok Video Views
11.7K Instagram Followers