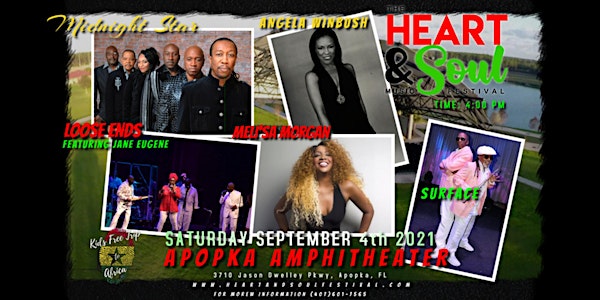 The Heart & Soul Music Festival
Midnight Star, Angela Winbush, Meli'sa Morgan, Surface & Loose Ends Featuring Jane Eugene. Saturday, September 4, 2021 4pm
When and where
Location
Apopka Amphitheater 3710 Jason Dwelley Pkwy Apopka, FL 32712
Refund Policy
Refunds up to 7 days before event
About this event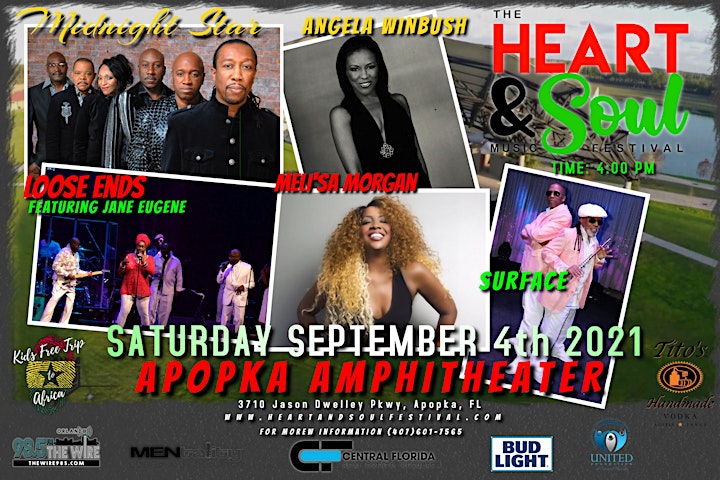 Update: August 5, 2021 - We have reduced the capacity significantly to allow extra social distancing. All the reserved seats will be sanitized before the event starts. We will have sanitizer stations throughout the venue.
Tickets that are on the Left Side of the Stage all have even numbers.
Tickets that are on the Right Side of the Stage all have odd numbers.
Tickets that are at Center Stage have normal sequence numbers.
ORLANDO, FL – May 17, 2021 – Last year marked a bleak time as the pandemic shut down the world; confining us to our homes and forcing us to communicate virtually. National events were postponed or canceled altogether. Now after more than a year in isolation, conditions in numerous places are drastically improving, many are fully vaccinated, and it is becoming safe to travel and enjoy events as we have in the past. What was supposed to be an inaugural music fest last year was postponed due to the pandemic. However, we are proud to announce the "2021 Heart & Soul Music Festival." Hosted by The Wire, WHPB 98.5 FM on Saturday, September 4, 2021 at the Apopka Amphitheatre in Orlando, Florida.
The Heart & Soul Music Festival is a unique event that celebrates African American history with entertainment, education, food, and art. The festival will feature live entertainment by National Recording Artists, an art exhibition featuring a full display of work from local artists and craftsmen, an assortment of key health screenings including the dissemination of health education information, a variety of top food vendors, and more. "By promoting Unity in the Community, the festival seeks to promote community development, economics, education, social, and cultural development", said Paul Billings, General Manager of WHPB 98.5 FM.
The inaugural 2021 Heart & Soul Music Festival has an incredible music lineup featuring internationally acclaimed headliners Midnight Star. The audience will enjoy their timeless classics hits Midas Touch, Operator, Curious, Wet My Whistle, Slow Jam, and No Parking on the Dance Floor. Also set to take center stage Loose Ends featuring Jane Eugene with their hit singles Slow Down, Hanging on a String, and Watching You, just to name a few. Surface will perform their #1 hit "The First Time," along with their classics Happy and Shower Me With Your Love. Singer, songwriter, and producer, Angela Winbush is always a crowd pleaser with hits songs such as Angel, You Don't Have to Cry, Treat U Rite, and many more. Finally, hit maker Meli'sa Morgan will grace the stage with Do Me Baby, Love Changes, and Do You Still Love Me?
Proceeds from the festival will benefit The Student Mentorship Program at the United Foundation of Central Florida and 98.5 The Wire "Kids Trip to Africa Program," an educational and cultural exchange trip to Ghana, West Africa. The 2021 Heart & Soul Music Festival provides an ideal platform for your organization to highlight its brand, products, and services, while showcasing the community engagement to our audience. To learn more about sponsorship opportunities call 407-601-7565.
Tickets to the event go on sale June 14, 2021. Advance ticket prices range from $40 to $80. Capacity will be reduced by 25% to allow social distancing. For more information on tickets to the Heart & Soul Music Festival on September 4, 2021, go to www.heartandsoulfestival,com or visit https.//heartandsoulmusicfestival.eventbrite.com